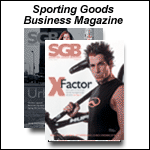 News...9/30/04

SEPTEMBER 30, 2004 -- Scarce Lance Armstrong Bracelets Become eBay Item

Nike and the Lance Armstrong Federation have been offering simple bracelets that carry the LIVESTRONG message. Profits go to the LAF along with donations from Nike. It had been expected that five million would be sold, but it's now 13 million and counting. The bracelets are tough to find at local stores as they have sold out. As a result, a trade has developed on eBay that offers the $1 bands for $10. The bracelets are still available on the LAF website.


Backcountry.com Sponsors Avalanche Education Program

The Forest Service's Utah Avalanche Center will partner with Backcountry.com, a destination for high-end specialty outdoor gear, to develop a first-of-its-kind avalanche safety campaign specifically developed for and targeted to school-age children in Utah. Called "Know Before You Go," the one-hour education program will be taught in participating junior high and high schools in Utah as an annual assembly, to any gathering of young outdoor enthusiasts such as Boy Scout troops and to outdoor recreation programs at universities. As of early September, more than 30 area schools had expressed interest in the program.


Australian surfwear company Billabong International acquired Palmers Surf. As part of the deal, Billabong gets the Kustom surf shoes business. Billabong said the purchase price is in the range of A$20 million to A$25 million, including earnouts. The transaction, effective October 1, includes the purchase of the 15-year-old Palmers surf wax and surf accessories business, as well as the four-year-old Kustom surf shoes and sandals business. Kustom has just started to sell outside Australia.

Hat World signed a 10-year lease on a new headquarters building in Indianapolis. The new building is 195,000 square feet and is double its existing facility. The company received $1.1 million in tax incentives from the state and Indianapolis to remain there and not move to Genseco's headquarters in Nashville.

Susquehanna Financial initiated coverage of The Sports Authority, Brown Shoe and Shoe Carnival with net neutral ratings. It also initiated coverage of Payless Shoe Source with a net negative rating.

Casper, WY, will be the home of a new Sportsman's Warehouse.






Breaking Headlines
News...10/08/04
OCTOBER 08, 2004


News...10/7/04
OCTOBER 07, 2004


News...10/6/04
OCTOBER 06, 2004


News...10/5/05
OCTOBER 05, 2004


News...10/4/04
OCTOBER 04, 2004


News...10/1/04
OCTOBER 01, 2004


News...9/30/04
SEPTEMBER 30, 2004


News...9/28/04
SEPTEMBER 28, 2004


The Top Seven Sales Blunders
SEPTEMBER 28, 2004


News...9/27/04
SEPTEMBER 28, 2004