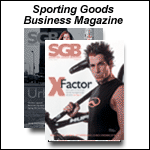 News...10/5/05

OCTOBER 05, 2004 -- Cabela's Eyes New York Metro NY Market

Cabela's is in negotiations to build one of its retail stores at the Meadowlands Sports Complex in East Rutherford, NJ. The 175,000-square-foot store could open in August 2007, with construction scheduled to begin in August 2006. The store will be part of the Meadowlands Xanadu sports, leisure, family entertainment and shopping complex. There is some question whether the leases the state has with the pro teams who already play in the Meadowlands would permit such a complex being open on Sundays in the fall when teams are playing.


JJB Definitely In Play

The UK papers are full of speculation as to what will happen to the country's largest sporting goods retailer, JJB Sports, now that it's in play. Apax Partners, the private equity firm partnered in a buyout of a women's fashion retailer in March, is seen as a strong potential rival to Cinven. Mike Ashley, the owner of a JJB's competitor, Sports World, has been tipped as a potential bidder for JJB and could cut costs by merging parts of the retail chain with Sports World. Barclay's Private Equity and PPM Ventures have also been named. CBR Holding GmbH & Co KG, the German fashion company behind the Street One, Cecil and One Touch labels.


Underwriters Exercise Lowrance Over-Allotment Option

Lowrance Electronics announced the exercise of an over-allotment option granted to underwriter, JP Morgan Securities of its previously announced offering of 2,160,758 shares of common stock, which was completed on September 22, 2004, for an additional 308,978 shares of common stock at a price of $24.00 per share. A total of 150,000 shares are being sold by the company, and the remaining shares are being sold by stockholders, including 150,000 shares by Darrell Lowrance, CEO. The net proceeds to the company of the over-allotment shares, after underwriting discounts and commissions, will be approximately $3,384,000 million and will be used for general corporate purposes. The company did not receive any of the proceeds from the sale of shares of common stock by the selling stockholders. The company closed the sale of the additional shares on October 4, 2004


Ellesse Suing P. Diddy

Ellesse USA has surfaced. It sued rapper Sean "P. Diddy" Combs and his Sean John apparel company, claiming his clothes use a tennis-ball logo similar to one protected by an Ellesse trademark. The suit claims Combs violated Ellesse's trademark by selling clothing that infringes the mark at Macy's Department Store retail and online outlets. The mark in dispute is comprised of a "fanciful design of a half tennis ball incorporating tips of two skis," according to the suit filed in federal court in Wilmington, DE.


Bass Pro Shops will open its first Canadian store in the new Vaughan Mills mall north of Toronto. It will be part museum, part art gallery, part education, conservation and entertainment center. The 140,000-square-foot mega outdoor store is scheduled to open November 4.


Samuel Grecco, VP/accessories, a named executive officer of Remington Arms, resigned from his position effective immediately.


DA Davidson has downgraded Quiksilver to neutral from buy.


Adidas will sponsor Major League Soccer, a US professional soccer league, and supply all 12 teams for 10 years starting in 2005. Reportedly, the deal is worth an astounding $100 million.






Breaking Headlines
News...10/12/04
OCTOBER 12, 2004


News...10/11/04
OCTOBER 11, 2004


News...10/08/04
OCTOBER 08, 2004


News...10/7/04
OCTOBER 07, 2004


News...10/6/04
OCTOBER 06, 2004


News...10/5/05
OCTOBER 05, 2004


News...10/4/04
OCTOBER 04, 2004


News...10/1/04
OCTOBER 01, 2004


News...9/30/04
SEPTEMBER 30, 2004


News...9/28/04
SEPTEMBER 28, 2004