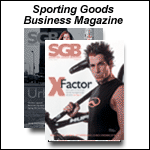 News...10/6/04

OCTOBER 06, 2004 -- Rocky Still Expects 3Q EPS of 95¢

Rocky Shoes & Boot anticipates record 3Q net sales and record EPS for the three months. For 3Q, Rocky expects net sales to be approximately $50 million and fully diluted EPS to meet the consensus estimate of 95¢ per share. The company reported net sales of $41 million and fully diluted EPS of 77¢ in 3Q03. Mike Brooks, CEO, commented, "The preliminary third quarter results reflect the strength of our business and a commitment to achieve record performance despite challenging conditions. Our factories in Puerto Rico and the Dominican Republic were impacted by multiple hurricanes during the second half of the third quarter. This primarily resulted in loss of power for several days, but the facilities did not incur severe structural damage. We were able to achieve our third quarter production objectives as a result of dedicated efforts throughout the company."


Wolverine Has Strongest 3Q In Its History

Wolverine World Wide's 3Q revenue totaled $260.9 million, a 13.2% increase. 3Q EPS were 55¢ compared to 40¢ reported in 3Q03, an increase of 37.5%. The EPS figure was 8¢ above estimates. For the YTD, revenue reached $684.5 million, a 12.9% gain over $606.1 million. YTD EPS grew to $1.12 per share, up 38.3%. The board of directors authorized the repurchase of an additional two million shares of common stock, reflecting confidence in the company's growth prospects. This approval is the fourth two-million share repurchase authorization since October 2000.


Weather Hurt Shoe Carnival's September Biz

Shoe Carnival reported October sales increased 4.2% to $46.3 million. Comp-store sales decreased 1.9% in September. Sales for the first eight months of 2004 increased 5.3% to $406.1 million. Comp-store sales decreased 1.8% for the 35-week period. Mark Lemond, president/CEO, stated, "Unusual weather in September negatively affected our sales during the month. Multiple hurricanes and the accompanying flooding hampered our sales in the Southeast and Mid-Atlantic States while warm weather throughout the Midwest slowed the sales of our fall footwear. As fall progresses and cooler weather becomes the norm, we expect sales of boots and other types of fall footwear to accelerate. If, however, sales of fall merchandise do not accelerate in October, it is unlikely we will achieve our previously stated third quarter earnings guidance 38¢ to 42¢ per diluted share." Given lower than expected same-store sales performance in September, as well as lower product margin levels, Susquehanna Financial Group is lowering its 3Q EPS estimate from 40¢ to 39¢. It is also lowering its FY04 EPS estimate from 95¢ to 94¢, and its FY05 EPS estimate from $1.06 to $1.05.

Wells Fargo Securities initiated coverage of Pacific Sunwear with a buy rating.

The New York Times reported that the Xanadu entertainment complex into which Cabela's plans to begin construction next year is no lock. Some local politicians and the Sierra Club oppose the entire New Jersey development.






Breaking Headlines
News...10/12/04
OCTOBER 12, 2004


News...10/11/04
OCTOBER 11, 2004


News...10/08/04
OCTOBER 08, 2004


News...10/7/04
OCTOBER 07, 2004


News...10/6/04
OCTOBER 06, 2004


News...10/5/05
OCTOBER 05, 2004


News...10/4/04
OCTOBER 04, 2004


News...10/1/04
OCTOBER 01, 2004


News...9/30/04
SEPTEMBER 30, 2004


News...9/28/04
SEPTEMBER 28, 2004