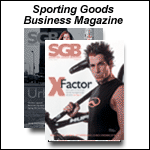 News...9/27/04

SEPTEMBER 28, 2004 -- Brooks Sports To Be Sold

Brooks Sports is up for sale. Wachovia Corp. is handling the deal. The shoe mark may fetch $145 million, more than eight times its EBITDA, according to The Deal. The books were sent out in early September, with first round bids due in a few weeks, sources say. The company is now owned by an investment firm.


Russell Deploying RFID Tech In Activewear BU

Russell Activewear, a Russell Corp. BU, is deploying an RFID compliance solution provided by The Danby Group, a supply chain systems integrator, with partner Franwell, an RFID software solutions provider.

The Danby Group had been working with Russell, a Wal-Mart Top 100 supplier, to upgrade existing barcode technology inside its distribution centers when the retail mandates for RFID from Wal-Mart were announced. Russell decided to deploy RFID technology in conjunction with its barcode project implementation to meet the mandate as well as to build an integrated barcode and RFID technology foundation for future deployment. Russell chose Franwell's rfid>Genesis solution, provided by The Danby Group, to meet the compliance deadlines.

The initial phase of implementation includes setting up compliance stations where RFID labels with specific SKUs are printed and applied to the cases and pallets going to designated Wal-Mart distribution centers. Franwell's rfid>Genesis solution will be integrated with hardware provided by The Danby Group, including Printronix SL5204e printer/encoders, stationary and mobile RFID readers and tags. After retail compliance requirements have been met, Russell plans to evaluate other areas of their business for process improvements, such as deploying RFID technology within their international operations.

"Deploying Franwell's software package gives us the ability to print and validate both RFID and barcode information on one label, saving both time and money while meeting mandate requirements," said Russ Brown, IS director of Russell Activewear. "rfid>Genesis is integrated completely with our backend warehouse management system, making the whole process seamless."

"With the combined solution from Danby and Franwell, Russell can satisfy the compliance requirements and data integration needs," said Jeff Wells, president and CEO of Franwell. "rfid>Genesis provides the capabilities for associating case and pallet tags to order numbers as well as providing the appropriate UUCNet and EPC Global specification requirements."


SIA Reshuffles Management Team

SnowSports Industries America made a series of management changes designed to enhance productivity and streamline decision-making. Effective immediately, a new sales and marketing management team will report directly to SIA president David Ingemie.

Chris Semon, an eight-year sales veteran at SIA, will assume an elevated role as national sales and product manager. "Chris has extensive experience in our product range and sales systems. He has recently brought to market our two latest offerings, CCR and inSight, and has proven his ability to create revenue growth through a tightly managed system," said Ingemie.

Mary Cecile (MC) Neville will continue to lead all trade and trade-show marketing efforts as trade marketing manager. During Neville's five-year tenure at SIA, she has played a vital role in enhancing the authentic and strategic capabilities of SIA's overall marketing vision. "MC has a connection with our industry that proves invaluable in our communication with the industry. I am highly confident that she will continue to grow our trade show attendance and deliver valuable tools for our members and the industry at large," continued Ingemie.

Alicia Allen will continue to manage SIA's consumer marketing initiatives, including the recently unveiled relationship with VERB and the VERB Project Zero Degrees campaign. "SIA's consumer marketing activities are a very important component of our mission. Alicia has done an amazing job with our snowlinkjr.com project and we're equally confident of her ability to manage this department with equal authority," stated Ingemie. She has been with SIA for nearly four years, will continue to manage SIA's public relations activities.

Scott Mellin, who has served since November 2002 as director of sales and marketing, has been appointed CEO at Factory Design Labs in Denver. "Scott developed our current sales and marketing platforms and brought SIA to a new level of professionalism, authenticity and sales volume. He will continue to bring ideas and vision to SIA through his new role at SIA's agency of record," concluded Ingemie.


Sheels Jumpstarts Fargo Superstore Construction

Construction of a new flagship store in Fargo Scheels All Sports store was supposed to begin next year. But work on the $32 million project will begin within 30 days. The branch will have 265,000 square feet on three levels. Even with the early groundbreaking, it will not be completed until 2006, according to GranfForksHerald.com. CEO Steve Sheels said the store is a response to good business in his Midwest stores and not a reaction to the other big box outdoor retailers coming into his markets. The new door will feature a 50-year-old Ferris wheel. There will be 88 departments. The Fargo store also will have a day-care center for 65 children, for use by employees.



Harold Zinkin, Sr. passed away at 82. Who is he? He won the first Mr. California bodybuilding title in 1941. In 1961, he patented the Universal Gym that enabled people to multiple exercises on one machine.

Wilson Sporting Goods and the International Tennis Federation have re-signed their sponsorship agreement solidifying Wilson as the official ball of Davis Cup for the next three years.

Wayland Golf is liquidating its eight stores in Boston, Wayland, Westwood, Burlington, Needham, Peabody, Marlboro and Bedford, NH. In business for 25 years, it was the largest golf retailer in the Boston market. The chain is closing up without a bankruptcy filing.

Ryan, Beck & Co. initiated coverage of The Nautilus Group with an outperform rating.






Breaking Headlines
News...10/08/04
OCTOBER 08, 2004


News...10/7/04
OCTOBER 07, 2004


News...10/6/04
OCTOBER 06, 2004


News...10/5/05
OCTOBER 05, 2004


News...10/4/04
OCTOBER 04, 2004


News...10/1/04
OCTOBER 01, 2004


News...9/30/04
SEPTEMBER 30, 2004


News...9/28/04
SEPTEMBER 28, 2004


The Top Seven Sales Blunders
SEPTEMBER 28, 2004


News...9/27/04
SEPTEMBER 28, 2004