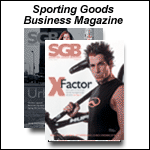 News...9/28/04

SEPTEMBER 28, 2004 -- More Turnover At adidas US Marketing

Turnover continues at adidas headquarters in Portland. After 18 months on the job, Kevin Wolff is leaving the company in November. He was head of US sports marketing. During his tenure, he signed Kevin Garnett and Dwight Howard, but missed out on LeBron James. He is being replaced by Martin Brewer. He ran global sports marketing some years ago and has worked as a consultant to the company since then. Brewer will relocate to Portland. Wolff's marketing boss was replaced after the arrival of Erich Stamminger from Germany to head global marketing and be CEO of the US company.

Did Goldsmith Sell Lynx Mark In Canada & Europe?

The word in Europe is that Golfsmith sold its trademark rights for Lynx in Europe and Canada. According to German trade mag SAZ, not even the European affiliate company, Golfsmith Europe LLC (St. Ives/Cambridgeshire) knows the buyer. Golfsmith International bought Lynx for about $9 millions in 1998. Two weeks later it also took over the club manufacturer Snake Eyes for about $1.7 million. Why Golfsmith sold the Lynx mark, has not been made public by (Source: SAZ)


Karstadt Will Sell Off Runners Point And Golf House

KarstadtQuelle has announced its restructuring plan. It has 180 department stores across Germany. As a first step toward selling 77 of the smaller stores, they will be transferred to a new company. Through its department stores, sporting goods stores and specialty stores, Karstadt is Germany's largest sporting goods retailer. But some bad moves by the department store's prior management have sent the chain spiraling down.

The company will also sell its ill-conceived 82% stake in a joint venture with Starbucks. It also plans to sell the Runners Point, Golf House, SinnLeffers and Wehmeyer outlets in an effort to concentrate on its core business. Golf House, together with Karstadt Sport stores, is Germany's largest golf retailer. It also wants to divest its investment in a chain of fitness centers. The company's core retail business portfolio is worth around EUR4.5 billion in turnover, while those non-core activities set to be abandoned are worth EUR700 million in sales.


3rd ispovision Will Highlight ispo Winter

ispovision winter 05 (February 6-9) will take place for the third time at ispo Visitors to Hall A4 will see a mixture of established and newcomer brands, exhibited in the Winter and Premium Sports Style sectors. A new concept is represented by the "Best-of-Area," in which fashion-relevant collections will be shown from the four ispo communities. More than 50% of the ispovision exhibition area has already been reserved two weeks after start of registration. Brands such as Bogner, Casall, Chervo, Girbaud, Francesco Rossi, Marinepool, Matador, Misericordia, Sebago and Sportalmhaben have confirmed their participation. ispovision is an trade fair concept of the Messe Muenchen GmbH. Global Sports Style Awards is to distinguish innovative and successful products and brands and to provide sports and fashion professional traders with an overview of sports style manufacturers and trends.

The fashion show concept will be maintained at ispovision winter 05, because professional traders welcomed the chance to plan purchases and become inspired during the day within the confines of their tight schedules. Conde Nast is presenting the GQ Style Night exclusively and will again provide a stylish after-show event for select guests. One of the main program items will be the presentation of the Global Sports Style Award 2005.

The focal point of fashion at ispovision winter 05 will be on the transfer of inspiration from sport into fashion. Brands will be exhibited, which have their roots mainly in sports, but which also have a large share of their sales in the fashion trade.


PrimaLoft - Insulation Technology promoted Arnie Liati to Western US Territory Manager and recently hired Steve Cuthbert as Eastern US territory manager. Both Liati and Cuthbert will be responsible for directing and implementing strategy, account management, and continued territory growth in their respective territories. They report directly to Eileen Berner, PrimaLoft director of sales.

Race Face Performance Products hired apparel designer Cheryl Knopp to its soft goods designed team. Knopp is a Vancouver, BC-based veteran designer with experience as VP/product development for Arc'teryx, as well as freelance project work with Mountain Hardwear and Blurr.

Everlast Worldwide signed a licensing agreement with FuDa International Ltd., New York, for the development of a line of Everlast women's outerwear, overcoats and windwear. The Everlast line produced by FuDa will be distributed in the US and sold through sporting goods and athletic footwear retailers as well as department stores and others.

First Albany initiated coverage of Gander Mountain and Hibbett Sporting Goods with buy ratings. The 12-month target price is set to $26. First Albany anticipates annual EPS growth of more than 30% for the company over the next five years, driven by its robust sales growth and continued operating margins expansion…RBC Capital Markets began coverage of Quiksilver with an outperform rating. The target price is $32. RBC began coverage of Oakley and Pacific Sunwear with sector perform ratings. PSUN's target price was set at $26. OO's target is $14.







Breaking Headlines
News...10/08/04
OCTOBER 08, 2004


News...10/7/04
OCTOBER 07, 2004


News...10/6/04
OCTOBER 06, 2004


News...10/5/05
OCTOBER 05, 2004


News...10/4/04
OCTOBER 04, 2004


News...10/1/04
OCTOBER 01, 2004


News...9/30/04
SEPTEMBER 30, 2004


News...9/28/04
SEPTEMBER 28, 2004


The Top Seven Sales Blunders
SEPTEMBER 28, 2004


News...9/27/04
SEPTEMBER 28, 2004