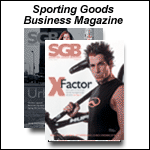 News...10/08/04

OCTOBER 08, 2004 -- Edwin Watts Cancels Golf Show

Edwin Watts Golf and Sandestin Golf and Beach Resort announced the cancellation of their regional golf show, originally scheduled for November 19-21, out of respect for the Florida residents who were impacted by the severe weather that recently hit the Southeast. "The people of Florida, and much of the Southeast, have much more pressing issues than our golf show," said Lincoln Cox, VP/marketing of Edwin Watts Golf. "There will be a more appropriate time in the future to conduct the golf show as right now our primary focus and concern is for the residents of Florida."


Callaway Extends Asian Distribution Deal

Callaway Golf appointed Pan-West (Private) Limited as the distributor for Callaway Golf's Top Flite and Ben Hogan products in China, Taiwan, Singapore, Malaysia and Thailand effective October 15, 2004. The appointment covers all of Callaway Golf's golf club, golf ball and accessory products sold under the Top-Flite and Ben Hogan brands. Pan-West has been a distributor for Callaway since 1988. Founded in 1970 by entrepreneur Dato Loh Ah Joo, Pan-West is one of Asia's original specialist golf companies, covering both wholesale and retail activities and with operations currently in Singapore, Malaysia, Indonesia and Thailand.


Pro Image Hires National Franchise Manager

Pro Image Franchise hired Matt Mackay as national franchise manager. He brings with him 12 years of experience in the licensed business. Mackay has been the GMM of FANZZ for nine years. FANZZ is a chain of 32 stores throughout the Western US. Dave Riley, president of Pro Image, stated, "Matt's experience in running operations of a chain the size of FANZZ is going to be very valuable for all of us. Matt's position is exciting to fill. It is necessary because of our growth. We have opened stores in Des Moines (two), Pierre, SD, Fayetteville, NC, Torrance CA, and the DC area (two), St. Louis, Long Island, NY, and St. George UT. Stores still to open this year are in Valencia, CA, Philadelphia, Miami and Minneapolis." Pro Image stores represent the only independent, officially licensed sports apparel and novelty franchise outlets in the US.


Morgan Stanley reiterated its overweight rating on adidas-Salomon. It raised estimates for the company. The target price has been raised from EUR119 to EUR127.


According to WHTR (Indianapolis), "Of the nearly 300 people that worked at Galyans' corporate headquarters in Plainfield, only about 30 to 40 have taken jobs with Dick's Sporting Goods in Pittsburgh. A Dick's spokesman says the recently built Galyans corporate office building will shut down completely sometime next year."






Breaking Headlines
News...10/12/04
OCTOBER 12, 2004


News...10/11/04
OCTOBER 11, 2004


News...10/08/04
OCTOBER 08, 2004


News...10/7/04
OCTOBER 07, 2004


News...10/6/04
OCTOBER 06, 2004


News...10/5/05
OCTOBER 05, 2004


News...10/4/04
OCTOBER 04, 2004


News...10/1/04
OCTOBER 01, 2004


News...9/30/04
SEPTEMBER 30, 2004


News...9/28/04
SEPTEMBER 28, 2004