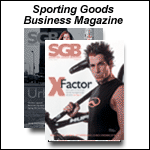 News...10/4/04

OCTOBER 04, 2004 -- Equity Investor Identified As JJB Bidder

Venture capitalist Cinven is bidding for the UK's largest sporting goods retailer, JJB Sports. Cinven has a record of bidding on struggling retailers. Even with its problems of recent years, JJB is still a profitable operation with 448 stores. Cinven is said to be offering 600 million pounds for the chain, which issued a profits warning in July.

Cinven is belived to have approached Dave Whelan, the football club owner and COB of JJB. Whelan built the chain from a single store over 30 years ago. He still owns 25% of the chain. Last year, he attempted to take the business private, offering 220p a share, but his plan was blocked by the non-executive directors. Toaday, shares were 237p each


237 Schools, Organizations Get $$ To Fight Childhood Obesity With PE

More than 230 schools and community organizations throughout the US and Puerto Rico have received the news that they will receive millions in federal assistance over the next three years to combat the burgeoning childhood obesity crisis, according to P.E.4LIFE, the non-profit advocacy group for physical education based in Kansas City, MO. The Department of Education announced the 237 winners of the 2004 Carol M. White Physical Education for Progress (PEP) grants. The grants totaled $69 million for 2004. The PEP Program provides grants to local educational agencies and community-based organizations to pay 90 percent of the total cost of initiating, expanding, and improving physical education programs designed to assist students in making progress toward meeting state standards for physical education.

The PEP grant funds will be used to provide equipment and support to enable students to participate actively in physical education activities and to train teachers and staff. Anne Flannery, president/CEO of P.E.4LIFE, said, "Over the past four years, the PEP program has provided $170 million to help schools and physical education programs across the country receive the training and equipment needed so all students have the opportunity to be healthy and active. In addition, it has helped raise awareness about the value of quality physical education in the fight against childhood obesity."


Spalding Goes To Distributor In Canada

Spalding has entered into an agreement making TFG Marketing International the exclusive Canadian distributor of Spalding products, effective October 4, 2004. Canadian distribution was previously handled by Spalding Canada. Spalding is a division of Russell, while TFG Marketing International is owned by The Fry Group of Companies.

According to TFG president Audrey Fry, "We are proud to have a marquee brand like Spalding come on board and join the other major lines of outdoor and sporting goods we represent. We will continue to pride ourselves on outstanding customer service to our retail customers and factories." As a result of the new distributorship, TFG Marketing will expand its warehouse facilities. Founded in 1974 Jim Fry, TFG Marketing International is a family-owned and operated business, and is part of The Fry Group of Companies.

Under the TFG Marketing banner, the company is a Canadian sales agency for major US-based brands including: Huffy Sports, Igloo Corp., Variflex; Century Sports, Century Manufacturing, Tippmann Sports and others.


American Sporting Goods Is The Latest On The Block

First it was Saucony. Then it was Brooks Sports. Another shoe company may be sold. American Sporting Goods Corp. is officially up for sale. Wachovia Securities has been hired to manage the deal, but no book has been published. The price may be as high as $300 million, or 8X EDITDA. The company has a portfolio of shoe brands, including Avia, Turntec, Ryka, Nevados, Yukon and NSS. It is owned by long-time shoe industry veteran Jerry Turner and his wife, Margaret Ouong.


Bicycle Lock Companies Being Sued

Following published reports on how easy it is to break into bicycle locks with an empty Bic pen shaft, lawsuits have been filed vs Kryptonite and Master Lock. They allege consumers who bought the locks were deceived into believing they would protect their bicycles from theft, even though the hollow shaft of a Bic pen can pick some locks. The lawsuits allege the manufacturers should have known about the flaw as long ago as 1992, when reports about the problem first surfaced, but did nothing to fix it.


TSA Will Get Its EAS Tags From Universal Surveillance

Universal Surveillance Systems Corp. reached agreement with The Sports Authority to be the sole supplier of EAS hard tags for the next three years. USS has been able to demonstrate how the use of the Milli-Lanyard enabled TSA to save on shrinkage and labor in excess of $1 million a year. The sporting goods industry in general used a three-piece tagging solution, i.e. tag, pin and lanyard. By developing a one-piece tag, USS was able to eliminate the need for multi-inventory EAS supplies in multi-bins, eliminating tag sorting costs and reducing work-place injuries, said Adel Sayegh, president/CEO of USS.


Sportsman's Warehouse is bursting into Wisconsin. It will open a store in New Berlin, near Milwaukee. The 61,000-square-foot branch will be open October 19. Another will be seen in De Pere, WI, on October 29. In addition, it has plans for another door in the state, in Green Bay.


Golfsmith International is returning to the San Diego market. After a two-year absence, it will shortly open in the Mission Valley. The new door will be smaller than its predecessor, only 10,000 square feet, but additional stores will be opened in the market.


Tax increment financing for a development to be anchored by an Academy Sports and Outdoor store is being considered by Joplin, MO.






Breaking Headlines
Short news...10/29/04
OCTOBER 29, 2004


Short news..10/28/04
OCTOBER 28, 2004


Short news...10/27/04
OCTOBER 27, 2004


News shorts...10/26/04
OCTOBER 26, 2004


News shorts...10/25/04
OCTOBER 25, 2004


News Shorts...10/22/04
OCTOBER 22, 2004


Short news...10/21/04
OCTOBER 21, 2004


News...10/20/04
OCTOBER 20, 2004


Short News...10/19/04
OCTOBER 19, 2004


Short News...10/18/04
OCTOBER 18, 2004