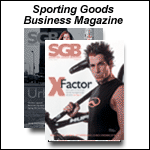 Short news...9/23/04

SEPTEMBER 23, 2004 -- Volvo SportsDesign Forum Honoring Designers Of Women's Sports Products

On Saturday, February 5, Volvo Car Corp. is going to present the First Volvo SportsDesign Award with in the framework of the Volvo SportsDesign Forum. The Forum takes place the day before ispo Winter opens in Munich. This new product design contest was established to honor innovative products and design developments in the sports industry. At the same time, it will demonstrate the potential of these product categories to young designers. The Volvo SportsDesign Award will be presented in the following categories:
· Women's Ski Equipment (skis, shoes, binding, poles, etc.);
· Women's Board Equipment (snowboards, boots, bindings, skateboards, surfboards, kiteboards, etc.);
· Women's Fitness Equipment or other product developments for women (stationary bikes, treadmills, weights, etc.);
· Women's Outdoor Equipment (shoes, climbing equipment, etc.);
· Women's Footwear Equipment (running shoes, soccer shoes, sports shoes, etc.);
· Women's Accessories and Components (helmets, glasses, watches, backpacks, gloves, etc.).

The products submitted will be judged according to the criteria of formal quality, function and benefits for women, innovation and concept, material used as well as colors and patterns. The Volvo SportsDesign Award Concepts for Students will be award for the same categories at the same time. The winner of these awards will receive a prize of 5,000 euros. The prizewinning products will be acclaimed appropriately in a ceremony before a select audience of celebrities, the ispo sports community, designers and personalities from the Munich scene.

The nominated products will be exhibited during ispo winter 05 and at ispo china 05 (March 14-17, 2005)in Shanghai. You can obtain more detailed information about participation conditions and participation forms in the Internet at http://www.ispo-sportsdesign.com/ or from Daniel Kugler, Pascher + Heinz SportsMarketing, mailto:[email protected], (+49 89) 9441960. Submission deadline is December 20, 2004. You can find more information about ispo at http://www.ispo.com/.

Outlast Files Countersuit Vs Baychar

Back In August, Baychar Holdings, L.L.C. and Baychar, Inc. have filed a lawsuit in federal court in the District of Maine vs. Burton Corp., New Balance Athletic Shoes, Nordica USA and Deckers Outdoor Corp. (Teva) for infringement of their patent rights in a composite liner. The liner is used in ski boots, snowboard boots, hiking boots and other footwear. Baychar Holdings, L.L.C. is an intellectual property holding company. Baychar, Inc., is a materials R&D and manufacturing company specializing in technical performance products. In response to the Baychar Industries patent infringement suit filed against several of its customers, Outlast Technologies filed a countersuit vs Baychar, claiming Monte Magill and Outlast are co-owners of claim eight stated below. Outlast has always, and will continue to, vigorously protect its intellectual property and patents. In a letter to its customers, Outlast's legal counsel advises that:

Baychar's patent is entitled "Waterproof/Breathable Moisture Transfer Liner for Snowboard Boots, Alpine Boots, Hiking Boots and the Like." It was issued on April 11, 2000. Recently, Chris Caseiro, of the Verrill & Dana law firm in Portland, ME, has written to a number of Outlast customers suggesting that products incorporating Outlast materials might infringe Baychar's patent. Outlast products feature phase change material technology. The only claim of the Baychar patent that conceivably could cover Outlast's PCM technology is claim 8.

8. A liner comprising:
An inner moisture transfer material;
A first layer of foam attached to the inner moisture transfer material;
A non-woven top sheet attached to the first layer of foam; and wherein the first layer of foam is treated to have reversible enhanced thermal properties.

It is important to understand several significant points concerning the Baychar patent, Outlast claims.

The patent is very narrow, Outlast asserted. It only covers a three-layer composite formed of (a) an inner moisture transfer material; (b) a first layer of foam treated to have reversible enhanced thermal properties; and (c) a non-woven top sheet attached to the first layer of foam. Products that do not have this configuration do not infringe the Baychar patent.

Claim 8 clearly does not cover the current principal uses of Outlast technology: Fabrics made with yarn embedded with PCMs, or materials in which the Outlast technology is laminated to a non-woven or other fabric. The Baychar patent was issued in the US. There is no corresponding patent coverage of which we are aware in Europe, Asia or elsewhere outside the US.

If it is ever challenged, claim 8 of the Baychar patent should be found invalid, Outlast declared. Prior to filing her application for the patent, Ms. Baychar visited Outlast and actually purchased an Outlast product called "Alpine TRF3." The Alpine TRF3 product had each of the elements of claim 8 of Ms. Baychar's patent. Plainly, Ms. Baychar was not entitled to a patent on a product sold publicly by Outlast more than a year prior to the filing of her patent application, Outlast said.

Outlast SVP/corporate counsel Duncan Edwards, said that, "the more successful Outlast becomes, the more attention we and our customers receive from imitators such as Baychar."

Ryan, Beck & Co. initiated coverage of K2 with an outperform rating… Hilliard Lyons Research reiterated a long-term buy rating on Nike, while raising its estimates for the company. The target price has been raised from $92 to $94. Likewise, DA Davidson maintained its buy rating on Nike and raised its estimates. The target price has been raised from $91 to $94.


Timbuk2 Designs hired Andy Anderson as director of operations. Anderson has extensive experience in the outdoor industry and was most recently the NSM of Dana Designs (a division of K2 Sports). Prior to Dana Designs he spent six years at Mountainsmith as the NSM and the director of operations. His 12 years of industry involvement also include positions at Sweetwater, Head Winter Sports and Gore Creek Clothing.






Breaking Headlines
Short news...9/23/04
SEPTEMBER 23, 2004


News...9/22/04
SEPTEMBER 22, 2004


News...9/21/04
SEPTEMBER 21, 2004


News...9/20/04
SEPTEMBER 20, 2004


News...9/17/04
SEPTEMBER 17, 2004


News...9/16/04
SEPTEMBER 16, 2004


News...9/15/04
SEPTEMBER 15, 2004


News...9/14/04
SEPTEMBER 14, 2004


News...9/13/04
SEPTEMBER 14, 2004


News...9/10/09
SEPTEMBER 10, 2004