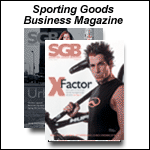 News...9/15/04

SEPTEMBER 15, 2004 -- Kids Are Target Of December Snowsports Effort

SnowSports Industries America and VERB, a national government-funded kid's marketing campaign, are creating the first-ever VERB SnowSports Day on December 4. The event will take place in retail stores nationwide and will serve as a catalyst to introduce kids of all ages to snow sports.

Retailers across the nation will be invited to participate in this annual one-day event along with top performing brands in the snowsports industry. Kids will be provided with a "Snow Pass" access book motivating them to try different winter sports activities from December through March 2005. A variety of other promotions and motivators will also be available to kids visiting participating retail stores on this specific day. Retail stores will have access to branded point-of-purchase items and media kits to drive local traffic into the storefront.

The Snow Pass book will drive participants to verbnow.com and snowlinkjr.com for various activity alternatives, gaming, sweepstakes contests and more throughout the winter months. Prize packs will be awarded to a randomly selected site visitor each week from January through March.

"The goal of this event is to expose 250,000 new kids, children and parents to snow sports as a fun, healthy and exciting option for winter activity," said Scott Mellin, SIA director of sales and marketing. "Partnering with VERB and the USSA to develop this program enables us to reach hundreds of thousands of children in a kid-cool way," he added.

The integrated VERB campaign uses advertising, marketing, events and partnership activities to ensure that campaign messages reach children whenever they are looking for something physical to do. Through multicultural media partnerships, the campaign is designed to reach children in all socio-economic and ethnic backgrounds, including specific outreach for African Americans, Asian Americans/Pacific Islanders, Native Americans and Hispanics/Latinos.

VERB SnowSports Day is one element of SIA's Project Kids initiative aimed at increasing participation in snowsports among kids age 6-13. Snowlinkjr.com and Winter Feels Good are additional programs that are driving increased awareness of snowsports nationally. For complete information on VERB SnowSports Day and SIA's Project Kids initiative please contact Alicia Allen at [email protected]


Callaway Suspends Its 2H Guidance

Callaway Golf has told Wall Street that it could not guide to its future performance. This is the second time this year the company has confounded investors. In June, it lowered its guidance for 2Q and the rest of the year. It is now "suspending" previously announced quarterly and annual earnings guidance in an effort to fully review the business given the appointment of new CEO William Baker.

Specifically, Callaway is re-evaluating the timing of new product launches and the status of products currently in the marketplace as part of a long-term strategic plan. As part of this analysis, it was determined that suspending guidance was the prudent course of action because of several unknowns, including re-order status for the balance of the year and the timing of new product launches, either of which could reduce sales and earnings in 2004 to levels significantly below those that were predicted earlier. As you can see below, investors began another sell-off of the stock.


Entries Sought For ispo BrandNew Awards

It's that time again: From February 6-9, the world's biggest start-up competition for the sports industry, the 11th ispo BrandNew Awards, will be held as part of ispo winter 05. The presenters of ispo and sponsor DuPont SA will give young, innovative companies from the international sports industry the opportunity to present their products to the international trade at ispo winter 05 in Munich, the world's largest industry trade show.

To be part of the action in Munich, you must fulfill the following criteria:
· Your brand or company may not be older than four years;
· You have never been registered as an exhibitor at ispo;
· You present innovative products, designs or marketing concepts.

A world-class expert jury composed of international representatives of the sports industry will handle the difficult decisions on who will be the champions in the individual categories: Hardware Winter, Hardware Summer, Boarder, Sportswear, Style, Accessories and Hardware Accessories. The lucky winners will each receive a completely equipped booth of 20 square meters in BrandNew Village, honors during the official award ceremony, PR support including a press conference, and much more. An additional 32 select finalists will look forward to a 10-square-meter booth in BrandNew Village.

The ispo BrandNew Awards allow young entrepreneurs the unique chance to present their innovative ideas for the first time to an international expert audience of approximately 55,000 trade fair visitors from over 100 countries and about 2,000 journalists from all over the world in the attractive and heavily frequented BrandNew Village and to forge the network crucial for business success with important contacts to retail merchants, distributors and industry partners.

Steve Palessiro of Surfsling USA, winner in last year's accessories category said: "The ispo exceeded all our expectations. On the first day alone we were able to make more contacts than at all the American trade fairs we visited this year." The application deadline for the 11th ispo BrandNew Awards is November 5. Send your written application along with a product sample, a short video self-presentation and relevant marketing material to Hansen+Heinz GmbH SportsMarketing, Siegmund-Riefler-Bogen 2, D-81829 Munich, Germany, [email protected], tel.: (+49 89) 9441960. For further information and to submit applications, go to www.ispo-brandnew.com.


Reebok Will Offer Big & Tall Apparel

Reebok International has joined with Streetwear Inc. to launch a collection of Reebok "Big and Tall" men's fitness, core and NBA licensed apparel. Ideal for large athletes and fitness enthusiasts, the collection debuted last month exclusively at 430 "Casual Male Big & Tall" stores across the country, as well as through its consumer catalogs and via its website. In 2005, the "Reebok Big and Tall" line will be offered by Streetwear to retailers nationwide.

"Reebok is excited to partner with Streetwear to offer athletic apparel for big and tall consumers," said John Frascotti, senior vice president of licensing and new business. "Standard sizes don't meet the needs of many of our athletes and sports fans. Our new 'Reebok Big and Tall' collection will provide these men with workout gear made with their unique size and performance demands in mind."

The new "Reebok Big and Tall" apparel collection features seamless materials and PlayDry moisture management technology. The extensive collection will include core basics such as warm-ups, running shorts, T-shirts and tennis gear as well as NBA replica jerseys as part of the NBA BigMan collection, the league's own big and tall apparel line.









Breaking Headlines
News...9/16/04
SEPTEMBER 16, 2004


News...9/15/04
SEPTEMBER 15, 2004


News...9/14/04
SEPTEMBER 14, 2004


News...9/13/04
SEPTEMBER 14, 2004


News...9/10/09
SEPTEMBER 10, 2004


News...9/9/04
SEPTEMBER 09, 2004


News...9/8/04
SEPTEMBER 08, 2004


News...9/7/04
SEPTEMBER 07, 2004


News...9/2/04
SEPTEMBER 02, 2004


News...9/1/04
SEPTEMBER 01, 2004