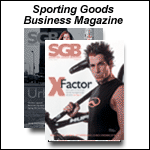 News...9/14/04

SEPTEMBER 14, 2004 -- SportScan Operations Are Open

Full operations have been restored to the offices of SportScanINFO. The SportScanINFO online system were closed following Hurricane Frances. The online information will be updated on Thursday of this week with sales data ending 9/5/04. Please check the web site for additional updates.

Implus Licenses Ernhardt Name For Shoelaces

Implus Footcare is teaming up with Dale Earnhardt Inc. to offer licensed shoelaces featuring two of NASCAR's most recognized names, Dale Earnhardt and Dale Earnhardt Jr. "Creating these laces in conjunction with Dale Earnhardt Inc. was a natural for us," said John Andrews, director of marketing at Implus. "For the past two years, our Airplus brand of foot care products has been a part of NASCAR racing, sponsoring race teams, creating innovative racing merchandise programs and sampling our products at the track. These laces address the increased demand loyal race fans have for race-related merchandise." Targeted toward NASCAR fans, the laces will initially be available in four different styles depicting the two drivers' numbers, signatures and colors beginning October 2004. The laces will retail for $3.99 and will be distributed across Implus distribution outlets, including food, drug and mass market stores, sporting goods chains and convenience stores.


Jaeggi May Buy Insolvent German Chain

This morning, The Daily Dispatch reported the bankruptcy of Garant Shuh + Mode, a German shoe-buying group that had acquired Salamander, a 230-store chain of footwear/apparel stores. Word is out that former adidas CEO Rene Jaeggi is interested in buying the chain. When the company was up for sale, Jaeggi expressed interest in acquiring it, but lost out to Garant. Jaeggi is now president Kaiserslautern, a German soccer club. He had earlier been the Head shoe licensee.


Sport 2000 Austria 1H Turnover Up 4%

Sport 2000 Austria had an increase in turnover of 4 % in 1H04 vs 1H03. General manager Gerhard Schwab said: "If our dealers are able to keep the gain, we are going to reach EUR 300 million this year." Austria's biggest buying group has incorporated two new members in 2003 (with five shops) and has at the moment 197 members with 308 shops. In addition there are 37 partner-dealers with 42 shops, who joined Sport 2000 four years ago. In 2003, Sport 2000 had a sales gain of 9.6 % (that means that all members had a turnover of EUR 284 million). (Source: SAZ)


Norma Hansen, the VP/member services of the Outdoor Industry Association, has been named the director of sales administration of SmartWool. She will be based in SmartWool's Steamboat Springs headquarters, beginning October 25, after her duties with OIA are complete.

Hi-Tec Sports named Hy Rosario its new global outdoor category director. Rosario joined the group from the Stride Rite where he was leading the product development on the Tommy Hilfiger license. Prior to that he held various product management positions during an 11-year career with Reebok.

Desjardins Securities lowered its 12-month price target for Forzani Group to C$13 a share from C$15.

Calgary Flames right-winger Jarome Iginla has agreed to a multi-year endorsement contract extension with Easton Sports. Iginla has been with the sports equipment manufacturer for the past two years.

Nike Golf began participation in The PGA of America's Golf Retirement Plus program. Founded in 1997, Golf Retirement Plus is a supplemental retirement program for PGA Professional and apprentices, GCSAA superintendents, and CMAA club managers, that allows them to make their own contributions or have their employers contribute to their Golf Retirement Plus account on their behalf. PGA Professionals may also earn personal incentives by participating in over 40 Golf Retirement Plus Sponsor Programs.






Breaking Headlines
News...9/16/04
SEPTEMBER 16, 2004


News...9/15/04
SEPTEMBER 15, 2004


News...9/14/04
SEPTEMBER 14, 2004


News...9/13/04
SEPTEMBER 14, 2004


News...9/10/09
SEPTEMBER 10, 2004


News...9/9/04
SEPTEMBER 09, 2004


News...9/8/04
SEPTEMBER 08, 2004


News...9/7/04
SEPTEMBER 07, 2004


News...9/2/04
SEPTEMBER 02, 2004


News...9/1/04
SEPTEMBER 01, 2004