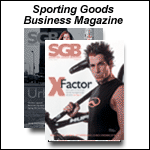 News...9/16/04

SEPTEMBER 16, 2004 -- Gay Group Plans To Embarrass Foot Locker At WNBA Games

According to Out In America, a gay group representing individuals who allege workplace harassment is taking its case to the WNBA and its fans. Lambda Legal plans to embarrass Foot Locker as it protests vs the chain outside WNBA games in several cities, including a game in New York tonight. The protests have arisen from a suit in which a gay employee alleged that he was harassed on the job at Foot Locker and got no relief from management. Lambda Legal, joined by other lesbian and gay New Yorkers, will distribute leaflets about Foot Locker's alleged discrimination and talk to passers-by and people attending a WNBA game.

Protestors will distribute information on Foot Locker's alleged antigay discrimination, along with postcards for people to send to the company's CEO, Matt Serra, urging Foot Locker to treat all of its employees equally. Similar protests are set for Houston, Los Angeles and Seattle this week, on the heels of the announcement of a multi-year partnership between Foot Locker and the WNBA. Foot Locker protests are part of "Blow the Whistle on Workplace Discrimination," a broad nationwide campaign against anti-gay discrimination (including at Foot Locker) that Lambda Legal launched, according to OIA.

"This week, we're 'Blowing the Whistle' on Foot Locker outside WNBA games to make it absolutely clear that antigay discrimination won't be tolerated," said Michael Adams, Lambda Legal's director of education and public affairs, OIA said. "We're holding Foot Locker accountable for its deplorable actions. Bigotry isn't just wrong. It's also bad business."

Kevin Dunbar charged he suffered antigay harassment and discrimination at the hands of his co-workers, supervisors and a customer. When Dunbar formally complained, the discrimination grew worse, he said. Dunbar was transferred from one South Carolina store location to another and eventually fired. Foot Locker promises a harassment-free workplace and includes sexual orientation in its policies on discrimination and harassment.


Nike Moving New York Showroom

Nike signed a 10-year deal for approximately 83,000 square feet of space at the massive 111 Eighth Ave. in Chelsea. Nike outgrew space at 620 Avenue of the Americas and wanted to lease a "large contiguous block of raw space and build it out to their specifications," according to the building ownership. The company will use the space for its local headquarters and for its showroom.


Ajay Sports Plans To Release Four Years Of SEC Filings -- Finally

Ajay Sports plans to file all past due 10Qs and 10Ks required for years 2001, 2002, 2003 and YTD 2004. Brian Donnelly, president/COO, stated, "Ajay's new management team instructed its auditors to complete required audits for 2001-2003. We are clearly focused on providing shareholders with ongoing, accurate and timely reporting of Ajay's overall financial and operational performance. Management will focus on restructuring the company to improve the bottom line and profitably grow Ajay's remaining assets with an emphasis on its ownership in Pro Golf International. Scheduled reporting dates which Ajay has targeted include 10/31/04, 11/15/04, 12/01/04 and 12/31/04."

Ajay Sports, which owns Pro Golf International, operates Pro Golf of America, the largest retail chain of franchised golf stores in the world, and ProGolf.com, the licensee for the e-commerce business of Pro Golf of America.


Spanish Buying Group Gives Up

After trying to solve their financial problems, the final 10 retailers who were still members of the Spanish buying group Futur Sport, decided close its doors. Futur Sport owed EUR3 million (EUR1 million to Nike), and according to its president, "Even if Nike has helped us to solve the situation, the fact that only few members have been faithful makes the things very tough."…Intersport Spain is planning to open three new stores in September, one in the Canary Islands and the other two in Seville. The buying group will have a new shop close to Madrid that will open in October. It will be one of its biggest doors with a selling area of 11,360 square feet. This opening will be followed by five more all over the country. Intersport Spain has 123 members and 344 stores, and it will add, thanks to the above projects, nearly 43,000 square feet to its actual selling area. (Source: CMD Sport)


Pride Sports Names Dennco A US Distributor

Pride Sports, maker of Pride Golf Tees and Softspikes-brand cleats, named Dennco, of Salem, NH, as an official U.S. distributor of Pride Sports products to the retail market. Dennco will kick-off its representation of Pride Sports at booth #784 during the PGA Fall Expo, September 20-22, in Las Vegas. "Dennco is largely regarded as one of the top retail distribution companies in golf, and we are excited to form this new partnership," said Dan Tilton, VP/sales, Pride Sports.

Reebok has signed a multi-year endorsement agreement with Los Angeles Clippers draft pick Shaun Livingston. Selected fourth overall in the 2004 NBA Draft by the Clippers, Livingston was named co-MVP of Sonny Vaccaro's EA Sports Roundball Classic held this past spring. The 6'7" point guard finished his high school career by being named Illinois' Mr. Basketball while leading Peoria Central to a 62-3 record and Class AA state titles in 2003 and 2004.


Ron Rupert has been named GM of the 165,000-square-foot Las Vegas Bass Pro Shops superstore scheduled to open November 11. Rupert has more than 30 years of retail experience beginning with Ames Department stores on the East Coast. He moved to Texas in 1992 as a regional manager with Oshman's sporting goods. He joined Sports and Recreation in 1996 as a district manager covering areas in the West including Las Vegas. After a brief period in the golfing industry, he worked with Service Merchandise and joined Bass Pro Shops in 2004.


West Marine said that Hurricane Charley forced it to close temporarily about a dozen stores while keeping its Punta Gorda, FL, store closed for the foreseeable future. Hurricane Frances has forced the temporary closure of about two dozen stores. West Marine expects Hurricane Ivan to affect a larger number of stores if it hits a heavy boating area. The company said it will likely open fewer stores in the 3Q because of clean-up efforts but hopes to catch up in 4Q.


Pony, which got enormous promotion value in the 70s and 80s with its activities in the boxing world, is returning to the ring. James "Lights Out" Toney (67-4-2, 43 KOs) will debut the brand's return to championship boxing when he wears Pony shoes in the ring during his September 23 12-round WBC Continental Americas Heavyweight Championship bout vs Rydell Booker.


RBC Capital Markets maintains its sector perform rating on Callaway Golf, but is while reducing estimates. The target price has been reduced from $13 to $12. The EPS estimates for 2004 and 2005 have been reduced from 44¢ to 19¢ and from 84¢ to 42¢, respectively. The P/E estimates for 2004 and 2005 are 64.74x and 29.29x, respectively.






Breaking Headlines
News...9/16/04
SEPTEMBER 16, 2004


News...9/15/04
SEPTEMBER 15, 2004


News...9/14/04
SEPTEMBER 14, 2004


News...9/13/04
SEPTEMBER 14, 2004


News...9/10/09
SEPTEMBER 10, 2004


News...9/9/04
SEPTEMBER 09, 2004


News...9/8/04
SEPTEMBER 08, 2004


News...9/7/04
SEPTEMBER 07, 2004


News...9/2/04
SEPTEMBER 02, 2004


News...9/1/04
SEPTEMBER 01, 2004