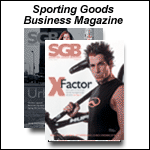 News...9/17/04

SEPTEMBER 17, 2004 -- Lowrance Offering 2.2 Million More Shares

Lowrance Electronics priced a secondary public offering of 2,160,758 shares of its common stock at $24.00 per share. A total of 1,000,000 shares are being sold by the company and the remaining shares are being sold by stockholders, including 1,000,000 shares by CEO Darrell Lowrance. EVP Ronald Weber is selling 97,816 shares. VPs Bob Callaway, Jane Kaiser, Mark McQuown and Douglas Townsdin are each selling 13,102 shares. Director George Jones is selling 10,482 shares. The company and the selling stockholders have granted JP Morgan Securities, the underwriter of the offering, an option to purchase an additional 308,978 shares of common stock to cover over-allotments, if any.

Phoenix Footwear Group Won't Make Guidance

Phoenix Footwear Group lowered its 3Q04 guidance. As a result of several factors, including changes to the expected timing of contracts and product deliveries at Phoenix Footwear's Altama Footwear unit, and to a lesser extent, softness with the company's Trotters brand, the company will not meet its previous full year guidance of $1.00-$1.10 per diluted share for 2004. First Albany immediately downgraded Phoenix from buy to neutral, while reducing estimates for the company. The analyst believes that Phoenix 4Q results would also be negatively impacted by the sluggish performance of the Trotters brand. The company is yet to offer a new guidance for FY04. The First Albany EPS estimates for FY04 and FY05 have been reduced from $1.00 to 70¢, and from $1.15 to 80¢, respectively. The P/E estimates for 2004 and 2005 are 14.1x and 12.3x, respectively.

Ballpoint Pens Open Bicycle Locks

Owners of $80-$90 bicycle locks were shocked to learn that a ballpoint pen can open most of these locks, including several models made by Kryptonite. The New York Times reported that videos posted on the Internet show how to do this with ease. Hundreds of thousands of people are logging onto Internet sites offering the guidance. "Mashing the empty barrel of a ballpoint pen into the cylindrical keyhole and turning it clockwise does the trick that struck fears into the hearts of bicycle owners, especially those in New York, where thousands of bikes are stolen each year," the paper reported. The technique also works on vending machines and cable locks for laptops. One cyclist key. Kryptonite said it is already working on more secure locks. Bike-store owners are recommending cheap $20 padlocks.

Rumors in Europe of a possible acquisition of Puma by Nike sent the former's shares up. But the deal is being scoffed at by analysts and industry insiders.

Peter Godber recently joined SMS Clothing as North American SM. Godber spent many years in the sports business in the 80's and 90's with Bic Sport and as GM of Freestyle Watches Canada. Over the past 10 years he has been producing sporting events throughout North America and internationally, as well as working within the technology industry, managing sales and marketing teams. SMS was the first company to start designing for the new youth freeride ski market in the mid-90's.

McDavid appointed Paul Sherratt as country manager/UK & Ireland. Sherratt has 10 years experience in the sports trade, having worked both in the brand and retail environments. His previous roles have included responsibilities for the Head, Penn and Tyrolia brand categories, while working at the then-UK distributor Sportline, and more recently as managing director of the leading eCommerce and mail order retailer, sweatband. (Source: SGBUK)

Jack Bellini is no longer with The Sports Authority. The long-time footwear merchandiser has worked at Foot Locker and Footaction.






Breaking Headlines
Short news...9/23/04
SEPTEMBER 23, 2004


News...9/22/04
SEPTEMBER 22, 2004


News...9/21/04
SEPTEMBER 21, 2004


News...9/20/04
SEPTEMBER 20, 2004


News...9/17/04
SEPTEMBER 17, 2004


News...9/16/04
SEPTEMBER 16, 2004


News...9/15/04
SEPTEMBER 15, 2004


News...9/14/04
SEPTEMBER 14, 2004


News...9/13/04
SEPTEMBER 14, 2004


News...9/10/09
SEPTEMBER 10, 2004