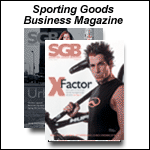 News...9/10/09

SEPTEMBER 10, 2004 -- Ex-Vans VP, Consultant Accused Of Getting Points From Factories

A former Vans VP and an ex-consultant to the company have been arrested for allegedly demanding and taking $4.7 million in points from Chinese factories. Vans initially became suspicious and notified the authorities. Scott Brabson was VP/sourcing of Vans and oversaw the company's manufacturing operations from November 1997 to December 2000. Jay Rosendal worked as a consultant for the company. Both face charges of conspiracy, wire fraud, foreign travel to promote commercial bribery and money laundering. If convicted of all the counts, they could face up to 95 years in federal prison.

Prosecutors allege Brabson and Rosendahl met with owners and managers of the Chinese factories and informed them that to keep orders, they would have to kick back 3% of the orders (or three points). Demanding points from a factory was not all that uncommon in the 1970s and 1980s, but as shoe companies got larger so did their controls. The defendants allegedly gave the factories the number for a Hong Kong bank account where the factories wire transferred the kickbacks. Shortly after Brabson left Vans, he moved almost $3 million into accounts at a Luxembourg bank, prosecutors charge. He then transferred about $1.3 million into Hong Kong bank accounts controlled by Rosendahl, authorities allege.


Huffy Share Write-Down Costs Forzani C$1.8 Million

The Forzani Group, Canada's largest retailer of sporting goods, reported 2Q earnings from operations of C$3.8 million (12¢ per share) vs C$3.9 million (12¢ per share) a year earlier. During 2Q, the company took a 4¢ write-down of a passive investment in Huffy as a result of the sale of Gen-X Sports to Huffy. The retailer received the equity stake as part of the selling price. As Huffy's financial condition worsened this year, it sold Gen-X back to Forzani. As a result of the much lower recent value of Huffy stock, net earnings for 2Q were $2.6 million or 8¢ per share versus 12¢ a year earlier.

2Q retail system sales (sales of both corporate and franchised stores) were $256.4 million, a $6.3 million decrease from 2Q03. Comp sales in corporate stores decreased 4.6%, while franchise stores decreased 4.1%, with total comp retail system sales decreasing 4.4%. The decrease in comp-store sales was primarily weather related, with this summer being much cooler and wetter than in the prior year. However, Forzani was able to improve margins over the prior year, increasing 240 basis points to 36.6% due to improved merchandising and a fresher product mix. This resulted in absolute gross margin dollars of $79.1 million versus $73.7 million in the prior year.


Quiksilver Revenues Rise 34%; Earnings Up 64%

Quiksilver's consolidated 3Q revenues increased 34% to $337.9 million. Consolidated net income increased 64% to $19.5 million. 3Q fully diluted earnings per share were 32¢ vs 21¢. The results include the acquisition of DC Shoes for the first time. Robert McKnight, Jr., COB/CEO said, "We are very pleased with our accomplishments during the third quarter. This represents our 11th consecutive quarter of exceeding expectations and further highlights our excellent track record of generating strong and consistent financial results. Our business trends are solid, and we are encouraged about our prospects for the future."


TIA Offering Facility Operators, Pros New Software Package

The Tennis Industry Association will offer a new membership plan that includes a new software package. TennisConnect.org aims to help facility operators and professionals increase play frequency and communication while using technology. TennisConnect.org has many features to pick from: Website builder; group e-mails; live on-line court reservations; player matching; eCalendar; eNewsletter; promotional announcement of parties, drills and much more. It basically allows facility operator and pros to "connect" with their players and members 24/7 using technology.

Jim Baugh, president of the TIA, explained how the TIA decided to launch TennisConnect.org. "First, we looked at the consumer research. Players want to be contacted; they want their matches set up for them; people's available time is very limited; more and more people are using on line registration and want that ability at any time of the day. The research also made it clear that if we don't 'connect' with our players and keep them active in the game, other influences could pull them away from tennis.

"Then we said to ourselves, 'Can we offer every facility operator a tool or software package that will enable them to connect with their players…to help increase play frequency…that is affordable?' We researched the market and found a company in North Carolina that already had the programs running at several facilities across the country with all the features we were looking for plus the infrastructure to service tennis facilities and pros around the country. The result…TennisConnect.org was created."

Tennis Facilities or Professionals can purchase all the features of TennisConnect.org for $595 per year for the TIA Facility Plus+ Membership. This membership includes many other TIA member benefits as well.


Smith & Wesson Firearms Sales Remain Strong

Smith & Wesson's merchandise sales fell 3.6% to $27.8 million, while license revenues were off 6.1%. However, firearms sales, its core business, were $25.3 million, an increase of $547,000, or 2.2%. Non-firearms sales declined by $1.6 million to $2.5 million due to the discontinued third-party machining business and lower handcuff sales. Demand for Model 500 revolvers has been so strong that SWB had to purchase new production equipment.


Pride Sports Promotes Tilton

Pride Sports has promoted Dan Tilton to VP/sales. In this capacity, Tilton will direct the worldwide sales operation for Softspikes cleats and Pride golf tees and accessories, the world's #1 selling golf cleat and tee lines, respectively. Tilton, who has been with Pride for more than 10 years and is largely regarded as one of the golf industry's leading experts on golf tee manufacturing, previously served as director of sales of Softspikes and Pride Golf Tee. Prior to Pride's acquisition of Softspikes in January 2003, Tilton was involved in golf tee product development, marketing, customer service and sales.






Breaking Headlines
News...9/10/09
SEPTEMBER 10, 2004


News...9/9/04
SEPTEMBER 09, 2004


News...9/8/04
SEPTEMBER 08, 2004


News...9/7/04
SEPTEMBER 07, 2004


News...9/2/04
SEPTEMBER 02, 2004


News...9/1/04
SEPTEMBER 01, 2004


News...8/31/04
AUGUST 31, 2004


News: 8/30/04
AUGUST 30, 2004


News...8/27/04
AUGUST 27, 2004


News...8/26/04
AUGUST 26, 2004