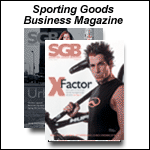 News...9/20/04

SEPTEMBER 20, 2004 -- Nike 1Q Revenues Up 18%, Futures Up 10%

Wall Street expected Nike to earn $1.11 a share. The company breezed by the estimate, coming in at $1.21 a share. 1Q increased 18% to $3.6 billion, versus $3.0 billion for the same period last year. 1Q net income totaled $326.8 million, or $1.21 per diluted share, compared to $261.2 million, or 98¢ per diluted share in the prior year. "We're off to a great start," said Phil Knight, COB/CEO. "Our first quarter revenues reached record levels driven by strong results around the world and across all our brands. These results reflect both the strength of our brands and our ability to execute across our portfolio of businesses. Nike's consistent performance has been the result of the quality of our management team and our commitment to delivering value to shareholders over the long-term."

Nike reported worldwide futures orders for athletic footwear and apparel, scheduled for delivery from September 2004 through January 2005, totaling $4.3 billion, 9.9% higher than such orders reported for the same period last year. Approximately 0.7% of this growth was due to changes in currency exchange rates. By region, futures orders for the US were up 11%; Europe increased 6%; Asia Pacific grew 17%; and the Americas increased 6%. In Europe, three points of the increase were due to currency exchange rates. Currency exchange reduced the growth in Asia Pacific and the Americas by approximately 0.5 points and five points, respectively

SGMA 'Webinars' To Teach How To Do Biz In China

SGMA is presenting a three-part series (via phone/web conferencing) starting in October for executives in the sporting goods industry. This "webinar" contains invaluable information needed to succeed in the Chinese marketplace. Entitled "Doing Business in China," these seminars will touch on subjects ranging from counterfeiting to trade relations to liability issues to the Chinese culture.

The will be conducted under the guidance of attorney/moderators Mark Granger (Morrison Mahoney, LLP) and Kevin Mayer (Steptoe & Johnson, LLP). Both of whom are members of SGMA's Legal Task Force, a group of leading authorities has been assembled to present these topics:

SESSION 1 - October 5th - 12:00 pm to 2:00 pm (EST)

"Getting Started with New Methods" - Ying Huang (Steptoe & Johnson, LLP)
"Advance Your Technology: Working with Chinese Factories" - David Halstead (Southern Impact Research Center, LLC)
"It's Your Product, Protect Your Rights in China" - Alan Towner & Clem Trischler (Pietragallo, Bosick & Gordon)
"Avoid a Cultural Faux Pas: Know the Chinese Customs and Business Practices" - Ed Krauland (Steptoe & Johnson, LLP)

SESSION 2 - October 19th - 12:00 pm to 2:00 pm (EST)

"Advance Your Trade Relations with China" - Charles Freeman, III (USTR - invited)
"Further US-Chinese Business Relations in the Sporting Goods Industry" - Zhong Chuanshui (US Chinese Embassy)
"A Chinese Practitioner's Perspective" - Sara Yang Bosco (Perkins Cole)

SESSION 3 - November 2nd - 12:00 pm to 2:00 pm (EST)

"Product Liability Concerns in China" - Jeffrey Carlson (Carlson, Messer, & Turner, LLP);
"Regulatory Compliance Issues" - David Halstead (Southern Impact Research Center, LLC);
"Bringing It Home - Importing into the U.S." - Greg McCue (Steptoe & Johnson, LLP);

"SGMA Can Help You!" - Tom Cove (SGMA International)

Participants can enjoy this "webinar" from the comfort of their own home or office. The audio portion of the program will be presented as a toll-free dial in teleconference with visual materials "pushed" to your standard Web Browser. Broadband Internet access is recommended, but is optional.

To register to participate in the Doing Business in China "webinar," visit SGMA's website at http://www.SGMA.com/china or call SGMA's Anna Weinman at 202/775-1762 for more information. You may download the full color webinar brochure in PDF format at: http://www.sgma.com/china/webinar-china.pdf

The charge for SGMA members is $295. For non-members, the charge is $395.

Reebok Recalling 140,000 Toddler Shoes

About 140,000 pairs of Reebok "Iverson/Answer" toddler shoes are being recalled in cooperation with the CPSC. The I-3 logo-tag on the tongue of the shoe can be peeled off, posing a choking hazard to young children. Reebok has received a report of an eight-month-old child mouthing the logo-tag. The tag was removed without injury. The recalled Reebok Iverson mid- and low-style athletic shoes were sold in toddler sizes 2 through 10. The logo-tag on the tongue of the shoe reads "I3/Answer," and on the rear and center of the heel is an "I3" logo. The names "Iverson" and "The Realist" are carved into the sole. The model number is printed on a label on the underside of the tongue. Model numbers included in the recall are: 99553, B99553, 99554, B99554, 105155, B105155, 105158, B105158, 108292, and B108292. The shoes were sold at Reebok, independent retailers, children's apparel and athletic shoe stores nationwide from March 2004 through August 2004 for about $35.

Cutter & Buck Adopts Stock Trading Plan

Cutter & Buck adopted a prearranged stock trading plan under Rule 10b5-1 of the Securities Exchange Act of 1934, to facilitate the repurchase of its common stock under its previously announced stock repurchase program. A 10b5-1 plan permits a company to repurchase its common stock during times when it would not normally be in the market due to possible possession of nonpublic information. A broker will have the authority, under the terms specified in the plan, to repurchase shares on behalf of the company. On March 15, CBUK announced its intention to purchase up to $6 million of its common stock. The value of shares repurchased by the broker under this plan will not exceed the remaining capacity of $5.2 million. As previously announced, the stock repurchase program may be discontinued by the board at any time.








Breaking Headlines
News...9/21/04
SEPTEMBER 21, 2004


News...9/20/04
SEPTEMBER 20, 2004


News...9/17/04
SEPTEMBER 17, 2004


News...9/16/04
SEPTEMBER 16, 2004


News...9/15/04
SEPTEMBER 15, 2004


News...9/14/04
SEPTEMBER 14, 2004


News...9/13/04
SEPTEMBER 14, 2004


News...9/10/09
SEPTEMBER 10, 2004


News...9/9/04
SEPTEMBER 09, 2004


News...9/8/04
SEPTEMBER 08, 2004