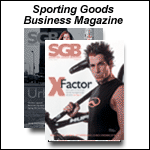 News...9/13/04

SEPTEMBER 14, 2004 -- Gander Gets Tax Benefits In Wichita

Until now Gander Mountain had not generally been the beneficiary of municipal tax breaks. It had only one such deal, in Texas that involved a former oil field. But the city of Wichita has been developing its WaterWalk project that includes retail business and apartments along the Arkansas River. The city begged Bass Pro Shops to join the project and offered a package of tax incentives. Bass Pro passed on the city. Now the city fathers have succeeded in luring Gander Mountain. It has been offered less than the $28.8 million package by the city offered Bass Pro. The new Gander door i said to be 80,000-90,000 square feet.


Hurricane Frances Disrupts SportScanINFO Operations

SportScanINFO was hit very hard as a result of Hurricane Frances. As of Friday, power had still not been restored at its offices in West Palm Beach. Florida Power & Light is working around the clock to get power restored. There were still over 200,000 people without electrical power in Palm Beach County. "Without power, we are still not able to bring up our systems," the research company said. "As soon as power has been restored, we will bring up all systems within a few hours. We are also planning to hold all data so that no week's data is lost as a result of this situation. Once we are back in operations, we will post our plan for reporting back data on the web site. Please feel free to check for updates at www.sportscaninfo.com."

If customers need to contact anyone at SportScan, it is recommended that Neil Schwartz be reached at [email protected]. He can get it to the appropriate person. If you would like for someone to call, please reply with the best number to get in touch with you and someone will get back to you as soon as possible.


German Shoe-Buying Group Goes Kaput

Garant Schuh + Mode AG went bankrupt last week. In Europe, 5,000 dealers are affected, including 490 Fair-Play sports dealers (120 in Germany). The company faced a crisis when its 18 banks were no longer willing to finance it. In 2003, Garant had a central regulated turnover of EUR 1.3 billion. Last autumn, Garant has bought the Salamander chain with 230 shops and became itself a retailer. Volker Kappel, spokesman of Garant, sais that the take over of Salamander is not the main reason for insolvency. But the trade believes there was some correlation.

The insolvency has caused uncertainty in the market among the buying groups, but the heads of ANWR (mother company of Sport 2000) and Intersport remain positive. Intersport chairman Klaus Jost suggested Garant has failed in expoiting synergies throughout the buying group, especially in the marketing area. (Source: SAZ)


Edwin Watts Plans Consumer Golf Show

Edwin Watts Golf and Sandestin Golf and Beach Resort will host the first Annual Edwin Watts Regional Golf Show at Sandestin. This first-of-its-kind event will be held November 19-21, 2004 at the Sandestin Golf and Beach Resort's new 32,000-square-foot Baytowne Conference Center in Destin, FL.

The Edwin Watts Regional Golf Show will be open to the public and provide visitors with the chance to be a part of daily giveaways, clinics and product demonstrations. Attendees will have the opportunity to be fit, and experience new equipment first hand at Sandestin's driving ranges and practice greens under the watchful eye of top industry names such as Adams, Ashworth, Ben Hogan, Burrows Golf, Callaway, Cleveland Golf, MacGregor, Mizuno, Nike, Powerbilt, Precept, Ping, Sonartec, Srixon, TaylorMade, Top Flite, US Kids, Wilson and more.

"We are very excited to be a part of a consumer oriented golf show where people will have a chance to test the latest in equipment," said Edwin Watts, co-founder and Co-CEO of Edwin Watts Golf. "Partnering with Sandestin Golf and Beach Resort has provided us with the perfect opportunity to give consumers of the southeast a glimpse into the future of golf merchandise."

KeyBanc Capital Markets/McDonald upgraded Shoe Carnival from hold to buy.






Breaking Headlines
News...9/16/04
SEPTEMBER 16, 2004


News...9/15/04
SEPTEMBER 15, 2004


News...9/14/04
SEPTEMBER 14, 2004


News...9/13/04
SEPTEMBER 14, 2004


News...9/10/09
SEPTEMBER 10, 2004


News...9/9/04
SEPTEMBER 09, 2004


News...9/8/04
SEPTEMBER 08, 2004


News...9/7/04
SEPTEMBER 07, 2004


News...9/2/04
SEPTEMBER 02, 2004


News...9/1/04
SEPTEMBER 01, 2004