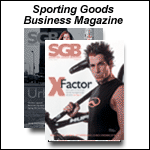 News...9/22/04

SEPTEMBER 22, 2004 -- Huge Seminar Program, Networking Parties Will Be Launched At Super Show

The Super Show is re-inventing itself – finally. The Super Show/2005 (January 17-19) will present attendees with an unprecedented wealth of business information and offer more networking opportunities for buyers, sellers and suppliers than ever before. It's all part of the International Sports Product Experience, a three-day schedule of events that includes The Super Show itself, as well as more than 40 on-site and off-site gatherings for industry professionals.

The centerpiece of the International Sports Product Experience is the International Business Intelligence Series, which will feature presentations by industry leaders such as Doug Morton, president/CEO, The Sports Authority; Robert Corliss, president/CEO, The Athlete's Foot; Kevin Plank, president, Under Armour; and Richard Heckmann, COB/CEO, K-2.

A series of 40 one-hour research-based presentations covering virtually every aspect of the sports product marketplace, IBIS will present the latest research on topics ranging from color and style, forecasting, the Latin market and the impact of health and aging issues on the business of sports.

"We've set up the International Business Intelligence Series in direct response to the changing needs of the industry. We are committed to providing real, tangible value to attendees, and we're confident this jam-packed program will deliver," said Tom Cove, incoming president of SGMA.

Initially formulated as a "stand-alone" conference, it has been combined with The Super Show/2005 as part of the International Sports Product Experience. It will offer a Sports Executive Series geared toward strategic planning issues, as well as a FasTrax Series aimed at buyers and manufacturers in a number of different categories. Admission to each IBIS session is $20 (in recognition of the show's 20th anniversary). A limited number of these passes will also be distributed free to exhibitors, which they may pass on to their customers.

Among the featured topics and presenters for IBIS are:
* A Manufacturers View From The Top from Heckmann and Plank, and other manufacturing executives.
* A Retailer's View from the Top from Morton, Korliss and other retailing executives
* Deferred Compensation for Executives from Jeff Kanter, managing director of Frederic W. Cook & Co.;
* Mergers & Acquisitions from Tom McNeely, Stevenson & Co.
* Go-Fast Program: Improving Business Efficiency from Greg Hagy, manager of Go-Fast Initiative, General Motors;
* Hiring Practices for the Next Decade from Mark Tudi, president, SportSearch;
* Anti-Aging and the $7 trillion marketplace from Dr. Bob Goldman, co-founder,
American Academy of Anti-Aging Medicine
* Romancing the Hispanic Marketplace from Tony Hernandez, president, Latino Broadcasting;
* Doing Business in China from the SGMA Legal Committee;
* Impacting Retail with 100 million New Health Club Members from John McCarthy, executive director, IHRSA.

The International Sports Product Experience also brings business leaders together for two information-filled luncheon presentations: The SGMA State of the Industry Address plus a Manufacturers' View From The Top on January 17 will examine data from 2004 and identify key market trends for 2005 and beyond.

On January 18, the Retailer View from the Top will feature a panel of speakers from mega-retailers and major sports industry executives.

After hours, the International Sports Product Experience continues with 20 networking parties, 10 on each of the first two evenings. These invaluable networking events have been created to enhance the dialogue between buyers and manufacturers in 20 different categories, and are located close enough to one another for attendees to work multiple parties.

The International Sports Product Experience is focused on what is most important to exhibitors: getting information about their products, programs and people to buyers and the media. To make this happen, SGMA will collect information from exhibitors about new products, new programs and celebrity visits planned for The Super Show. They will publicize this information to buyers, trade media and consumer media prior to the show in a series of news items and promotional messages, which will be distributed to buyers by The Super Show and SGMA. The information will be used in two ways for the media.

First, it will be part of a contact program to encourage attendance. Secondly, it will be used to create media kits that will be distributed at the show and sent to key reporters after the show. "In our first 19 years, buyers came to The Super Show for the show," said Peter Haines, show director. "In recent years, the impetus for many industry professionals has shifted toward information-gathering and networking. We recognize, support and encourage this trend as part of the show's evolution. By putting the International Sports Product Experience in play, we now have the best of both worlds and a compelling reason for everyone in our industry to attend a true don't-miss event."

For more information about The Super Show/2005, January 17-19 in Orlando, Florida, please log onto http://www.thesupershow.com/ or call 800/327-3736. For more information on The International Business Intelligence Series, log on to www.thesupershow.com or contact Peter Haines at 800/327-3736, ext. 145 or Valerie Garcia at ext. 170.


Cherokee Extends Licensing Deal With Mervyn's

Cherokee reported that Mervyn's has extended its existing licensing agreement with Cherokee for an additional three-year period through January 31, 2008. The Mervyn's licensing agreement is for Cherokee's Sideout brand. Howard Siegel, president of Cherokee, stated, "During our fiscal year ended January 31, 2004, retail sales of Sideout branded merchandise at Mervyn's were approximately $100 million. We are pleased with Mervyn's performance, and look forward to continuing our good relationship with Mervyn's."


GI Joe's To Set Up Nautilus Fitness Departments

G.I. Joe's will partner with The Nautilus Group to develop its fitness equipment department at each of G.I. Joe's 22 retail locations. The first-ever product marketing agreement between the two companies initially includes placing five SKUs of strength and cardiovascular equipment in suites within each G.I. Joe's location beginning October 15, with installation completed by November 1. The equipment will include stationary bicycles, treadmills, and home gyms bearing the Schwinn Fitness or Bowflex brands.


Susquehanna Financial Group is reiterating a net neutral rating on the shares of Stride Rite. The company reported 3Q04 EPS of 16¢. Sales for the quarter came in flat Y/Y at $140.4 million. Given the expected continued weakness in the company's Keds and Tommy Hilfiger businesses in 4Q, as well as the likelihood of increased promotional events to purge seasonal products, Susquehanna has taken a more conservative stance on the company's near-term earnings outlook. As a result, it is lowering FY03 EPS estimate from 66¢ to 64¢, or below management's guidance of 65¢-67¢. It is also lowering its FY05 EPS estimate from 72¢ to 69¢.







Breaking Headlines
Today's news...11/12/04
NOVEMBER 12, 2004


Today's News...11/11/04
NOVEMBER 11, 2004


Today's news...11/10/04
NOVEMBER 10, 2004


Today's news...11/9/04
NOVEMBER 09, 2004


Today's news...11/8/04
NOVEMBER 08, 2004


News...11/5/04
NOVEMBER 05, 2004


News...11/4/04
NOVEMBER 04, 2004


News...11/3/04
NOVEMBER 03, 2004


News shorts...11/2/04
NOVEMBER 02, 2004


Short news...11/1/04
NOVEMBER 01, 2004