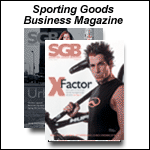 News...9/8/04

SEPTEMBER 08, 2004 -- Umbro Makes US Distribution Deal With Foot Locker

Umbro's pre-tax 1H profits before one-time charges rose 47.1% to 16.5 million pounds. Revenue increased 36.4% to 94.1 million pounds. EBITA increased to to 16.55 pounds from 6.88 million in 2003. Umbro said it was helped by record sales of Umbro-sponsored team uniforms in advance of the recent Euro 2004 tournament, as well as an agreement with Foot Locker to offer Umbro products in more than 1,000 stores in the US by the end of 4Q. Demand for the new England away kit was particularly strong in the run-up to Euro 2004 as Umbro reported a 48% rise in sales of licensed clothing. Other Umbro-branded sportswear rose 7%, with growth over 2H to be helped by the launch of its new Evolution X range. Sales of footwear and equipment were said to have been disappointing. Umbro recently signed a new 15-year sponsorship deal with England striker Michael Owen.


Mitchell & Ness Extends License With NBA

Mitchell & Ness formed a multi-year licensing agreement with the National Basketball Association. As a key partner in establishing the NBA's Hardwood Classics line of retro merchandise, Mitchell & Ness will expand its selection of retro jerseys. For the first time ever, fans can customize Mitchell & Ness NBA jerseys by coupling classic NBA team logos and colors with any name and number desired. Fans can request these customized pieces by logging onto www.mitchellandness.com. Mitchell & Ness will also look to offer fans a unique assortment of NBA jerseys with the creation of "The NBA Reflection Collection." This collection of ten authentic Hardwood Classics jerseys unites uniforms of legendary basketball players from different decades to create what can only be considered the ultimate dream team. With The Reflection Collection, fans will immediately recognize that Wilt Chamberlain's 1963-1964 San Francisco Warriors road jersey is paired with Hakeem Olajuwon's 1994-1995 Houston Rockets home jersey because, aside from both being seven-feet-tall centers, the two perennial all-stars virtually mirrored one another during those periods in their games to define the center position.


Implus Hires Sourcing, Development Director

Implus hired Steve Sousa as director of sourcing and product development in order to keep pace with its stream of new product introductions. Sousa most recently served as director of sales and product development for Stylemaster Apparel, a private label apparel manufacturer based in Union, MO. His previous footwear experience includes product and marketing positions with adidas, Etonic, and Brown Shoe Co.

Mickelson Dumps Titleist For Callaway

Callaway Golf signed a long-term contract with reigning Masters champion Phil Mickelson to play its golf clubs and golf ball and endorse Callaway Golf on the PGA Tour. Mickelson will wear the company's logo on his shirt sleeve, the side of his visor and his golf bag and will wear Callaway footwear and golf glove. He will work with Callaway club designer Roger Cleveland to develop the irons, wedges and putter that best suit his game. The deal is believed to be for $7 million-$10 million. Mickelson has tried unsuccessfully to renegotiate his five-year contract with Titleist, which had 16 months to go. Titleist's relationship with Mickelson went cool following a phone call last year by Mickelson to a Callaway representative who had helped his brother with some equipment. Mickelson praised Callaway for its golf ball and driver. The call, left on the rep's voice mail, was replayed for Callaway salespeople at their sales meeting.

NSGA To Reveal Shoe Brand Share Stats Twice A Year

Traditionally, NSGA footwear research has been available only on an annual basis. Now for the first time, brand share research for footwear is now available for the six-month period of October 2003 through March 2004, providing a more timely view of the market at reduced cost. Thirteen separate footwear reports are now available at a price substantially below that of the annual reports. A single report for NSGA members costs $275, and $200 for the second. The cost is less than $100 for each 28-page report, if the entire footwear category is ordered.

The reports show brand share by type of outlet from which the footwear was purchased, retail price range, major geographic regions, household income, age and sex of major user. The brand share data is based on a representative sample panel of 20,000 US households. This panel is maintained by NFO, one of the most respected research companies in this field. Types of outlets covered in the footwear reports include: sporting goods stores, specialty athletic footwear stores, specialty sport shops, pro shops, discount stores, department stores, family shoe stores, factory outlet stores, mail order and other outlets. Brand data is reported specifically for K mart, Target and Wal-Mart in the discount store category and Sears in the department store category. The reports also profile Internet purchases. To receive an order form that lists the brand share reports available and their cost, as well as a sample page, e-mail NSGA requesting "2004 Footwear Offer." The e-mail address is [email protected]


Asics plans to open a concept store for its retro product in Paris. The company is also considering US locations.

CS First Boston has upgraded Big 5 from neutral to outperform.






Breaking Headlines
News shorts...10/25/04
OCTOBER 25, 2004


News Shorts...10/22/04
OCTOBER 22, 2004


Short news...10/21/04
OCTOBER 21, 2004


News...10/20/04
OCTOBER 20, 2004


Short News...10/19/04
OCTOBER 19, 2004


Short News...10/18/04
OCTOBER 18, 2004


Short News...10/15/04
OCTOBER 17, 2004


Short news...10/14/04
OCTOBER 14, 2004


Sport-Haley Widens Loss in 4Q04; Delays Launch of Top-Flite Collection.
OCTOBER 14, 2004


News...10/13/04
OCTOBER 13, 2004