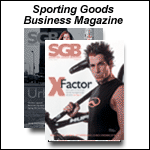 News...9/9/04

SEPTEMBER 09, 2004 -- Sport-Haley COB Passed Away

Robert G. Tomlinson, COB of Sport-Haley, passed away after an extended illness. Tomlinson had been suffering from various respiratory ailments. "Everyone at Sport-Haley and the Tomlinson family is greatly saddened by R.G.'s death," stated Kevin Tomlinson, CEO and R.G.'s son. "We will all miss him dearly, both on a personal level and for his invaluable contributions to Sport-Haley. For the past 12 years, R.G. has ably guided Sport-Haley, as the company's CEO and/or COB, and has been a vital figure in the golf apparel industry." The board of expects to appoint a successor in the coming weeks.

Cutter & Buck Net Profit Surges 196%

Cuuter & Buck's 1Q sales were flat at $31.9 million, but the net profit was up 196.0% to $3.3 million. The company stated: "We are generally pleased with our financial results for (1Q). Net sales grew in most of our target markets. The exception is our golf market, where we are disappointed with results. To turn this around, we are bringing in a new manager for the golf unit, adding a senior golf merchandiser, reviewing our sales operations and programs, examining our product offerings, increasing our marketing activities, and enhancing our customer service. These initiatives have long lead times, and we expect that it will take time for our efforts to produce favorable results. We continue to see that many upscale golf customers and consumers have strong loyalty to our brand."

adidas Links Up With Stella McCarthy

adidas and Stella McCartney formed a long-term partnership, presenting the adidas by Stella McCartney sport performance collection. The high-end fashion designer has created a functional sport performance range for women. The first collection will be available in stores across the US, Japan and Europe starting Spring/Summer2005.

Offering products for running, gym/workout and swimming as well as cover-ups, the adidas by Stella McCartney collection "gives women what they want, products that both perform and look great," said Bill Sweeney, project leader and head of apparel at the adidas Sport Performance division. "We combined Stella's unique design and her instinctive insight into women with adidas' knowledge in creating breakthrough functional sports products." The collection will roll out twice a year, with price points ranging from 40 to 200 euros ($49-$244).

Wedbush Morgan initiated coverage of Phoenix Footwear Group with a buy rating.






Breaking Headlines
News...9/9/04
SEPTEMBER 09, 2004


News...9/8/04
SEPTEMBER 08, 2004


News...9/7/04
SEPTEMBER 07, 2004


News...9/2/04
SEPTEMBER 02, 2004


News...9/1/04
SEPTEMBER 01, 2004


News...8/31/04
AUGUST 31, 2004


News: 8/30/04
AUGUST 30, 2004


News...8/27/04
AUGUST 27, 2004


News...8/26/04
AUGUST 26, 2004


News...8/25/04
AUGUST 25, 2004