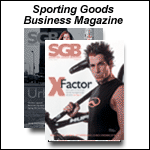 News...9/7/04

SEPTEMBER 07, 2004 -- Tennis Vendors To Trade: We're A Dead Business

Earlier this year, most of the tennis equipment companies suddenly pulled out of ispo summer without warning about two weeks before the show. A coincidence? Now the US manufacturers have essentially delivered the same message to the US trade: We're a dead industry and can't afford to create any excitement about it. The Tennis Industry Association's president Jim Baugh had tried to give the industry an inexpensive way to get the tennis business on the radar screen again. He put together a major program to excite tennis retailers and vendors about the business again. Again, the industry has decided that being below the screen is much more preferable. That no investment in communicating to the trade is worthwhile. The TIA Expo that was proposed and actively developed for The Super Show is dead. It seems some top execs would prefer not to exhibit in case buyers might actually see what the whole industry has to offer. When other execs saw who's refusing to attend, they dropped out too. The tennis category is the only one in the entire industry without its own show or a major presence at one or more shows. There's irony here in that The Super Show's early success was the result in part of a huge tennis contingent. The Super Show will continue to solicit tennis exhibitors.


Prince Trying To Eliminate Arrogant Image In Europe

Managing director of Prince Europe Mike Ballardie says that everything is now in place for Prince racquets to once again become a major force in the European racquet sports market. The company, under Benetton management, lost ground with many retailers and buying groups with an arrogant attitude that talked down to its customers. The head of a major German buying group positively gloated to ISG about how little his group bought from Prince due to its arrogance. Ballardie was one of a group who bought the company from Benetton in May 2003. The new company, he said, has taken steps since then to recruit the right people and regain the confidence of retailers who had lost faith in the brand during the time the brand operated under the Benetton umbrella.

Ballardie told SGBUK: "At one time in the 1990s, when I was at Wilson, Prince was a major competitor and enjoyed a market share in the mid-20s across Europe. Benetton bought the brand, as well as Rollerblade and Nordica, and planned to open stores selling those three brands. What Benetton failed to understand is that people want choice when it comes to sports products and the plan never became a reality."

Ballardie has since brought in personnel with racquet sports experience, a number of former Wilson colleagues have joined him apparently, and they have spent their time working closely with racquet sports specialists trying to re-establish their confidence in the brand. "I needed to bring people in who had credibility in the market and would be able to overcome the resentment that had been caused by Benetton's arrogant approach," he said. "We have now established a solid infrastructure and can provide the service and support our customers need. We have seen a small sales growth this year but next year will hopefully see us increase that growth considerably." (Source: SGB UK)


MBO At Eastern Mountain Sports

Eastern Mountain Sports completed a management-led buyout of the company from American Retail Group. The buyout was led by EMS president/CEO Will Manzer, with financing led by J. H. Whitney & Co., which has made a number of investments in the industry, including Pure Fishing and Brooks Sports. With more than 80 retail locations, EMS outfits outdoor athletes and enthusiasts with authentic gear, clothing, footwear and accessories to participate in a variety of sports including mountaineering, kayaking, climbing, adventure racing, and others.

"Customers of all experience levels trust Eastern Mountain Sports as their guide and community connection to outdoor fun and adventure," said Manzer. "With our new partners, we will continue to strengthen our unique retail model of serving outdoor athletes and enthusiasts. Our offering will reflect our core outdoor values in an aspirational environment, thereby ensuring that the EMS brand embodies authenticity and adrenaline in the outdoors."

"We are excited about our partnership with EMS, and believe the EMS retail and brand experience is poised for tremendous growth," said Peter Castleman, managing partner of Whitney. "In less than a year as its CEO, Will Manzer, has built an outstanding management team which is positioning EMS to be the most sought after brand and retail outfitter in the industry. Whitney has provided significant capital in order to ensure that EMS continues to offer its customers the best products and services." EMS will continue to be headquartered in Peterborough, NH.


Ashworth Signs Fletcher Leisure Group To Sell Callaway Apparel In Canada

Ashworth signed a management agreement with Fletcher Leisure Group to distribute Callaway Golf apparel products throughout Canada. The agreement becomes effective immediately. In 1998 Ashworth, Inc. established Ashworth Canada as a wholly owned subsidiary. Fletcher Leisure Group manages Ashworth Canada and facilitates the direct sales and distribution of Ashworth's complete line of products in Canada. Some of the targeted improvements to the Canadian consumer will include: competitive pricing and a larger selection of Callaway Golf apparel products including men's, women's, outerwear and sportswear lines.


Popular NSGA Management Conference Speaker Indicted

Professor Roger Blackwell has been one of the most popular keynote speakers at the NSGA Management Conference. In fact, he had agreed to speak at next year's Conference. That will have to wait. He has more important issues. He has been indicted on charges of leaking secret details of a merger that federal authorities allege generated $880,000 in illegal profits through stock trading. He is accused of sharing information with family and friends about the imminent sale of a company on whose board he sat. A federal grand jury issued a 48-count sealed indictment vs Blackwell, four others and a business. NSGA said it is already working on a replacement.

Quiksilver promoted Dave Rosenberger to VP/sales of the Quiksilver Boys Division. In this capacity, he will be responsible for overseeing sales and activities for both the Boys and Snow divisions for North America. Rosenberger, a five and a half-year veteran of the boardriding lifestyle company, will also continue his responsibilities as VP/sales of the Quiksilver Wintersports Division.

Horst Widmann, VP/Puma, has been appointed president of the Federation of the European Sporting Goods Industry, replacing, after three-and-a-half years of service, Klaus Uhl.

Golf Pro Shop Supply appointed Brenda Malkin VP/merchandising. Malkin has worked at golf sportswear lines such as Hugo Boss, Fila, Guess? And New/Man. While director of merchandise of American Golf Corp., Malkin coordinated all pro shop activities for the Midwest and Northwest pro shops.

Kombi Limited named Peter Curran product manager. Curran will work on both the Kombi and Akimbo brand, the company's latest line of snowboard gloves and baselayers. Curran's primary responsibility will focus on the direction, design and development of the Kombi and Akimbo baselayer programs. He will continue to develop and use unique fabrics, applications and patterns when designing tops and bottoms for men, women and children. Additionally, Curran will play a part in the development of the company's handwear line for men, women and children. Curran most recently served as a consultant for a number of outdoor related companies helping with their design, development and sourcing efforts.

Morgan Keegan initiated coverage of Hibbett Sporting Goods with an outperform rating. The company mentioned that Hibbett's strategic market position is impressive, since the company is focusing on small footwear markets where large national retailers are unlikely to enter. The recent depreciation in the company's share price offers an attractive investment opportunity, Morgan… RBC Capital Markets upgraded The Nautilus Group from underperform to outperform.

Recreational Equipment, Inc. plans to open a store in Marlton, NJ, in March 2005, at the southwest corner of Route 73 and Brick St. The 22,500-square-foot store will be about 30 miles from the REI store in Conshohocken, PA, which opened in 1991. Both stores serve the Philadelphia market, Conshohocken to the northwest, Marlton to the east. The Marlton store will employ about 55 full- and part-time staff.






Breaking Headlines
News...9/8/04
SEPTEMBER 08, 2004


News...9/7/04
SEPTEMBER 07, 2004


News...9/2/04
SEPTEMBER 02, 2004


News...9/1/04
SEPTEMBER 01, 2004


News...8/31/04
AUGUST 31, 2004


News: 8/30/04
AUGUST 30, 2004


News...8/27/04
AUGUST 27, 2004


News...8/26/04
AUGUST 26, 2004


News...8/25/04
AUGUST 25, 2004


Shorts...8/24/04
AUGUST 24, 2004