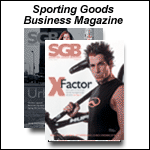 News...9/2/04

SEPTEMBER 02, 2004 -- Kesslers' Dickman Clarifies New Import Program

Kesslers' Bob Dickman sent us this e-mail regarding the conference call of his parent, Collegiate Pacific, and its intent on replacing some domestic manufacturers with Collegiate's direct imports. "We are creating stronger partnerships that ever with all of our brand name suppliers. The only product we will gradually replace with our own import product will be price sensitive generic products already being imported by buying groups throughout the USA and from non-name-brand import suppliers scattered across the country. We will continue to purchase from non-name-brand import companies even though we will be importing some of our own products. Could you please set the record straight so as to not cause undo concern with our traditional name brand suppliers?"

Collegiate president Adam Blumenfeld made the most of his company's new relationships with megabrands Nike, adidas and Wilson in the conference call. But as important was the opportunity to introduce Collegiate's own import products to the team salespeople's "tool kit." He did say the largest impact of the direct imports would come next year with football gear and uniforms, as that is the strongest category for Kesslers-Dixie. In addition, Blumenfeld told Wall Street there are significant baseball SKUs to be introduced in both equipment and apparel. Baseball has not as important to the Kesslers-Dixie business in the past. He said the opportunities to introduce its imports are "staggering."


Sagging Licensed Sales Turn FINL's Apparel Comps Negative

The Finish Line reported record 2Q net sales of $312.2 million, an increase of 15% over net sales of $270.8 million for Q2LY. Comp-store sales for Q2 increased 6% on top of an increase of 21% last year. The company's 2Q apparel comps were down 1%, in comparison to a 38% increase in Q2LY. The blame was placed squarely on fashion-inspired licensed apparel since branded and private label apparel sales were up significantly. The company has included Internet sales from www.Finishline.com in the comp-sales calculation. This change had the effect of increasing Q2 and YTD comp sales by 1%.

adidas To Launch Ali Collection

adidas Originals will launch Ali by adidas, a n apparel and accessories collection developed in collaboration with Muhammad Ali. Ali by adidas includes a complete range of men's apparel and accessories that will debut in Spring 2005, followed by a full footwear range in Fall 2005. The line, which will be available in the US, is part of the adidas Sport Heritage division.


Shoe Carnival August Comps Rose 1.5%

Shoe Carnival reported August sales increased 8.8% to $76.2 million. Comp-store sales increased 1.5%. Comp-store sales in August 2003 increased 5.1%. Sales for the first seven months increased 5.4% to $359.8 million. Comp-store sales decreased 1.9% for the 30-week period.

Mark Lemond, president/CEO, stated, "Without the benefit of the childcare credit refund checks this year our back-to-school sales started slowly in August, but picked up momentum as the month progressed. As we look forward to the transition from the athletic sales of back-to-school to the sale of fashion footwear this fall, we are excited about the strong women's fashion trends which emphasize dressy looks and vibrant colors."

SCVL also announced that it expects to earn 38¢-42¢ per diluted share in 3Q. Included in this earnings estimate is a 2¢ charge to close two stores. The company expects to end the year with 255 stores after opening 22 stores during the fiscal year and closing four.


PacSun August Sales Rose 13.5%

Pacific Sunwear of California reported that total August sales increased 13.5% to $155.2 million. Company same-store sales increased 3.7% on top of a 15.6% same-store sales increase in August 2003. PacSun same-store sales increased 3.9% and d.e.m.o. same-store sales increased 2.0%. Total sales for the first seven months were $675.2 million, an increase of 18.6%. Company same-store sales increased 8.1% for the first seven months with PacSun same-store sales up 8.6% and d.e.m.o. same store sales up 4.1%.


Textile Groups Will Petition To Halt Flood Of Chinese Imports

The American Manufacturing Trade Action Coalition, National Council of Textile Organizations and National Textile Association will file threat-based textiles safeguard petitions later this month. The petitions will be filed with the Committee for the Implementation of Textile Agreements, an interagency group comprised of representatives from the Departments of Commerce, State, Treasury and Labor, as well as the Office of the US Trade Representative.

"It is clear that the special textile China safeguard allows for the filing of threat-based safeguard petitions by textile manufacturers of inputs for apparel products," said AMTAC executive director Auggie Tantillo. "We intend to exercise the right to file threat-based petitions in mid-to-late September to prevent China from causing irreparable damage to the US textile industry and the textile and clothing market." An updated NCTO study indicated that China now controls 72% of the US market in the 29 apparel categories released from quota in 2002.


Famous Footwear Sales Fell 1.8% In August

August retail sales at Famous Footwear, Brown Shoe's chain of 917 family footwear stores, fell 1.8% to $133.4 million. Same-store sales for August decreased 5.5%. Famous Footwear sales for the first 30 weeks of FY04, were $675.3 million vs $665.9 million. Same-store sales for the 30 weeks were down 1.1%. "Business in early August lagged our expectations, and was negatively affected by later school openings and delayed back-to-school shopping at Famous Footwear. While we are encouraged that same-store sales turned positive later in August, and continue positive into September, we believe it is too soon to fully assess the Back-to-School season with several key selling weeks ahead of us," said Brown Shoe CEO Ron Fromm.


Ron Arp joined Nautilus Group as SVP/corporate communications. Arp served as SVP/GM of the Portland office of public relations giant Fleishman-Hillard.

Head signed Donald Young. This worldwide, multi-year endorsement agreement includes Head racquets, bags and accessories and Penn tennis balls. "I have been playing with a Head racquet since I was nine years old," said Young. This past year Young made tennis history by being the youngest player ever to win the Easter Bowl, USTA National Spring Championships boys' 18s singles title.

You can bet Foot Locker can't wait for the end of the Republican Convention. A large format store is on 34th Street, a short walk from Madison Square Garden. Its Footaction New York flagship store is even closer. Retailers and restaurants have been crying the blues each day about dismal traffic thanx to security concerns and demonstrations. What makes this bad news for Foot Locker is that all this is occurring during a sales tax holiday.






Breaking Headlines
News...10/13/04
OCTOBER 13, 2004


News...10/12/04
OCTOBER 12, 2004


News...10/11/04
OCTOBER 11, 2004


News...10/08/04
OCTOBER 08, 2004


News...10/7/04
OCTOBER 07, 2004


News...10/6/04
OCTOBER 06, 2004


News...10/5/05
OCTOBER 05, 2004


News...10/4/04
OCTOBER 04, 2004


News...10/1/04
OCTOBER 01, 2004


News...9/30/04
SEPTEMBER 30, 2004