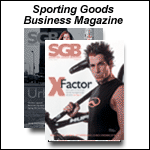 News...9/1/04

SEPTEMBER 01, 2004 -- Collegiate Pacific Sees FY05 Revenues Of $90 Million; Reducing Domestic Team Brands

Collegiate Pacific gave FY05 guidance of revenues of $90 million vs. $39.6 million in FY04. Unfortunately some domestic producers of team equipment and apparel will not share in this growth. The company has identified domestically produced merchandise now bought by its Kessler-Dixie acquisitions that can be replaced by Collegiate's own production in Asia. FY05 operating profit is estimated at approximately $8.0 million vs or $3.2 million. Net income of approximately $5.0 million or greater vs $1.9 million was also anticpated.

"Achieving this level of performance while simultaneously bringing Tomark, Kesslers and now Dixie onto our operating platform is gratifying, and a testament to the dedicated and hard working employee base at Collegiate Pacific," said CEO Michael Blumenfeld. "Having successfully concluded a national training seminar in late July for each of the acquired sales forces, we enter FY05 with high expectations. In addition to maximizing the performance of these acquisitions and our organic business, we will continue to seek strategic partners on the distribution, and/or manufacturing front as opportunities warrant. In particular, we seek those partners who can influence the geographic reach of our sales force, or those with products and brands that can add to the 'tool kit' of our sales teams and catalogs."

Broder Bros., the largest US distributor of imprintable sportswear, acquired NES Clothing Co., the leading distributor of imprintable sportswear in New England. Bain Capital currently owns the majority stake in Broder. NES was privately owned.

The Hockey Co. completed the purchase of 900,000 square feet of land in the Ville St-Laurent borough of Montreal. The site will be home to the company's 240,000-square-foot, $20 million global headquarters and North American distribution center. The new facility will also house a new state of the art Hockey Research and Innovation Center. The distribution center is planned to be in operation by March of 2005 while the headquarters and Innovation Center will be unveiled in May.

Piper Jaffray initiated coverage of Dick's Sporting Goods with a market perform rating. The 12-month target price is set to $34. It reinitiated coverage of Big 5 Sporting Goods with a market perform rating. The 12-month target price is set to $24.

Puma is set to build a new store in New York City. The second location, 421 W 14th St., is in Manhattan's trendy Meatpacking District.






Breaking Headlines
News...9/1/04
SEPTEMBER 01, 2004


News...8/31/04
AUGUST 31, 2004


News: 8/30/04
AUGUST 30, 2004


News...8/27/04
AUGUST 27, 2004


News...8/26/04
AUGUST 26, 2004


News...8/25/04
AUGUST 25, 2004


Shorts...8/24/04
AUGUST 24, 2004


News...8/23/04
AUGUST 23, 2004


News...8/20/04
AUGUST 20, 2004


News...8/19/04
AUGUST 19, 2004