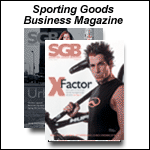 News...8/26/04

AUGUST 26, 2004 -- Baychar Suing Burton, New Balance, Deckers For Infringement

Baychar Holdings, L.L.C. and Baychar, Inc. have filed a lawsuit in federal court in the District of Maine vs Burton Corp., New Balance Athletic Shoes, Nordica USA and Deckers Outdoor Corp. (Teva) for infringement of their patent rights in an innovative composite liner. The composite liner is used in ski boots, snowboard boots, hiking boots and other footwear. Baychar Holdings, L.L.C. is an intellectual property holding company. Baychar, Inc., is a materials R&D and manufacturing company specializing in technical performance products. The Baychar technologies combine composite layers that are breathable, transfer moisture, regulate temperature and increase performance characteristics of consumer products. Baychar makes use of recycled materials, natural fiber blends, and other low-impact technologies to develop consumer products. Baychar, Inc. is licensed under rights held by Baychar Holdings, L.L.C

Body Glove Licenses Performance Activewear, Underwear

Body Glove has licensed a new line of performance activewear and underwear for men. It will be designed, manufactured, marketed and distributed by Basic Resources, New York. The line includes a technical range of "intelligent fabrics" which offers the athlete a more comfortable way to perform. The performance activewear product will include compression technology ranging from core basics like the compression short to the more fashion driven styles inspired by Body Glove's heritage. Some of the fabrications used will be ultra stretch interlock, jacquard mesh and warped knits. Other product innovations used are mesh vents for better cooling through ventilation and engineered swooped seaming which provides a sculptured effect for freedom of movement. The line will launch at MAGIC. Both lines will be delivered to retail for Spring 2005. A coordinated product line for ladies will be launched for Fall 2005.

Susquehanna Financial High On BGFV, HIBB, FL, GCO

Susquehanna Financial Group initiated coverage of Big 5, Hibbett Sporting Goods, Foot Locker and Genesco with a net positive rating: "We believe that Big 5 has created a niche in the athletic retail industry with its unique merchandising and proven advertising strategies designed to connect to its target shoppers. The company generates one of the highest operating margins in the athletic retail industry, has recorded 34 consecutive quarters of positive same-store sales results, and continues to steadily improve its balance sheet."

The company said of Hibbett: "Hibbett is a leading low density sporting goods retailer with stores in the Southeast, Southwest and the Midwest, has significant store expansion opportunities, and generates strong free cash flow. Furthermore, we believe that the recent contraction of the company's share price, due to weakness in licensed apparel and fitness equipment, was likely unwarranted. We also believe that the company has provided fairly conservative earnings guidance. These factors, coupled with Hibbett's common shares trading at what is, in our opinion, particularly attractive P/E multiples for both FY04 and FY05, leads us to believe that the company's stock offers significant upside potential to investors."

The company noted of Foot Locker: "We believe that it is clearly evident that the core Foot Locker operation continues to exceed management's stated expectations. The Footaction chain is, as we noted earlier, now poised to generate accretive earnings for the parent company, now that this chain's inventory position is more in-line with current consumer demand. Foot Locker's gross inventory level increased 23%, due in part to the significant increases in product purchases for the Footaction chain, as well as a shift in the back-to-school selling season, which in 2Q04 occurs one week later than a year ago."

As for Genesco, the company said: "We believe that Genesco enjoys a strong position in the nation's malls with its 1,500+ specialty retail stores, including Journeys and Underground Station – the premiere shopping destinations for teenage fashion-focused athletic and brown footwear needs – as well as its Hat World, and Johnston & Murphy specialty chains. We believe that management's repositioning efforts at Journeys, J&M, and the Dockers brand have begun to show positive signs of achieving a successful turnaround, which collectively, we believe, will substantially enhance the company's top- and bottom-line performance in 2H05 and FY06. In addition, we anticipate Genesco's newly acquired Hat World business to further contribute to margin and earnings momentum, the potential of which was clearly evident in the company's 2Q05 results."

Burton Closes Acquisition Of Four Marks

Burton has closed the acquisition of Forum, Jeenyus, Foursquare and Special Blend from Four Star Distribution. The acquisition will add four new product lines to Burton's existing family of brands. Each brand will remain autonomous in terms of identity, consumer following, team riders and product offerings. The collection of brands will stay on the West Coast, but will relocate from its present location in San Clemente to a new location in Orange County. Burton has encouraged the sales, marketing and product staff at Forum and its sister brands to remain in their existing positions and continue to work for the brands.

Whitaker Securities initiated coverage of Timberland with a hold rating. The target price is $59…Shore Capital initiated coverage of Umbro with a buy rating. The price target on the London Exchange is 125p. Retail analyst John Stevenson said: "We see reasonable potential for upgrades, driven by new ranges and expansion into Footlocker, Tesco and Arcadia."









Breaking Headlines
News...8/26/04
AUGUST 26, 2004


News...8/25/04
AUGUST 25, 2004


Shorts...8/24/04
AUGUST 24, 2004


News...8/23/04
AUGUST 23, 2004


News...8/20/04
AUGUST 20, 2004


News...8/19/04
AUGUST 19, 2004


News...8/18/04
AUGUST 18, 2004


News...8/17/04
AUGUST 17, 2004


News...8/16/04
AUGUST 16, 2004


News...8/13/04
AUGUST 13, 2004