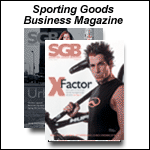 News...8/31/04

AUGUST 31, 2004 -- Former CBUK CFO Gets Three Months In Jail

Stephen Lowber, former CFO of Cutter & Buck, pleaded guilty to being an accessory after the fact to wire fraud in the financial scandal involving the golf apparel company. In April 2000, the company shipped merchandise to three distributors. When the 10-K came out, a merchandise sale of $5.7 million went on the books as revenues. In truth, the distributors were warehousing the merchandise on a consignment basis. When CEO Fran Conley was brought in, she noticed the distributor "sales" and was familiar enough to question the role of any distributors in the golf apparel business. Lowber told the court, "I profoundly regret the failures I had at Cutter & Buck. I know people were hurt, the investing public was hurt." He confessed he took steps to hide the information from the board and outside auditors when he learned of the scheme. He resigned in August 2002.

Retail Athletic Footwear Sales Rose 0.2% In October-March Period: NSGA

Retail sales of athletic footwear rose 0.2% during the six-month period, October 2003 through March 2004, according to data released by the National Sporting Goods Association. Sales for the six-month reporting period were $6.26 billion versus $6.25 billion for the same period the previous year.
Sixteen of the 23 types of sport and athletic footwear covered in the survey showed sales increases during the six-month period.

Among categories with more than $300 million in sales for the six-month period, jogging/running shoes showed the strongest increase, 12%. Basketball shoes followed with a 7% increase. Gym shoes/sneakers showed a modest 2% increase, while fashion sneakers declined 4%.

Among major shoe categories, only cross-training shoes and hiking boots showed significant declines, down 12% and 8% respectively.

Cleated footwear showed respectable increases. Football shoes were up 9%; soccer and baseball/softball shoes each rose 5%.

"In 2002, we saw highly promotional pricing strategies being used by many retailers during this period. The rise in average prices indicates this was less prevalent in 2003," said NSGA VP/information & research Tom Doyle. "Of the 25 types of athletic and sport footwear, only eight posted declines in average price versus 14 last year. The Association had projected a 2% increase in athletic footwear sales for 2004. Ground needs to be made up if that projection is to be met," Doyle said.

The largest categories – in terms of dollars spent by consumers during this six-month period – were walking shoes ($1.52 billion), running/jogging shoes ($864.7 million), cross training shoes ($727.2 million) and gym shoes/sneakers ($668.7 million).

For the six-month reporting period, full-line sporting goods stores accounted for 13.8% of athletic footwear unit sales, an increase from 12.5% last year. Specialty athletic footwear stores lost market share in athletic shoe categories, while discount stores were flat. Specialty athletic footwear stores claimed 11.5% of the athletic footwear market versus 12.5% the previous year. Discount stores held at 22.0%. Online/internet sales were 3.0% of the total athletic footwear market, up from 2.8% the previous year.

Franklin Sports promoted Joseph Murphy to the newly created position of VP/US sales. Murphy, who joined the sporting goods leader in 1981, served as national sales manager for the past four years. In his expanded role, Murphy will focus his efforts on growing the company's business with major accounts.

Genesco Sports Enterprises, Inc., a Dallas-based, independently owned and operated sports marketing consulting company, hired Rick Peterson as VP/sales. In his new role, Peterson will pursue new business opportunities for Genesco Sports and manage the premiums, promotions and dealer loader divisions.

Keen has set up distribution for the European market, except for France and Greece. The quick distribution success was due to industry veteran Richard Litzel, who set up the Reebok network in Europe from 1987 until 1997. He plans to distribute Keen over an "exclusive and manageable circle of outdoor-outdoor specialists, selected specialist dealers and ambitious shoe dealers. (Source: SAZ)

When Serena Williams appeared at the US Open last night, many thought her knee-high black boots, denim miniskirt, and studded black tank top signaled Nike's intent to start selling into Harley Davidson dealerships. As US interest in tennis waned, the US Open has been viewed more as a fashion event (like the Oscars), a chance to show off new statements.

Robert Bennett is the new owner of Yankee Die Cut, Inc., Northboro, MA, the only custom manufacturing firm producing hand-cut letters and numbers for sports teams' attire in New England, and one of a handful in the US. He acquired the 25-year-old- firm this summer. With the purchase of the firm, Bennett is also announcing its first web site, http://www.yankeediecut2.com/, to bring this special craftsmanship to customers nationwide for the first time. Formerly of Ipswich and Boxford, MA, Yankee Die Cut II supplies product in hand-cut form, sometimes on a 24-hour basis, to sports shops, embroidery and silk screening houses and local sports teams.







Breaking Headlines
News...9/9/04
SEPTEMBER 09, 2004


News...9/8/04
SEPTEMBER 08, 2004


News...9/7/04
SEPTEMBER 07, 2004


News...9/2/04
SEPTEMBER 02, 2004


News...9/1/04
SEPTEMBER 01, 2004


News...8/31/04
AUGUST 31, 2004


News: 8/30/04
AUGUST 30, 2004


News...8/27/04
AUGUST 27, 2004


News...8/26/04
AUGUST 26, 2004


News...8/25/04
AUGUST 25, 2004