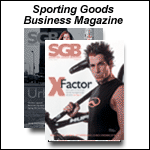 News: 8/30/04

AUGUST 30, 2004 -- Nike Sued For Patent Infringement Of Unique Sleeve-Glove

Marshall Gobuty International USA, Inc., the owner and manufacturer of Handcuffs sweatshirts, with unique patented roll-up hand warmers, has filed a vs Nike. The patented Handcuffs apparel features long sleeve shirts and sweatshirts having extendable cuff-like sleeves which, when unrolled, form built-in hand-warmers, with thumb-hole openings, for keeping hands warm while maintaining manual dexterity and sense of touch. MGI seeks temporary and permanent injunctive relief and damages of $8 million), plus punitive damages and fees for its alleged violation of three US patents held by MGI.

TSA Stock Rated 'Avoid' By S&P Analyst

The Sports Authority was given a two-star rating by Standard & Poors analyst Mark Basham. Two stars means "avoid." Citing 2Q results, he said, "… with August retail sales appearing soft, we think there's risk for further sales and margin erosion. We question Sports Authority's strategy, as the integration of its merger with Gart Sports Company, store remodeling, and new store openings may be too ambitious. We also see risk of a rising balance sheet, with higher inventories and accumulating debt." His FY04 EPS estimate fell to $1.55 from $1.85. His 12-month target price is $17.

Collective Licensing To Market Von Dutch Footwear In US

Collective Licensing International, LLC entered into a joint venture with France-based Footwear Europe Export and Trading (F.E.E.T. s.a.s.). The venture will be called Marque Group USA and involves the distribution rights to Von Dutch Footwear in the US. F.E.E.T., a subsidiary of Groupe Royer, owns the worldwide rights for the Von Dutch footwear license. Marque Group USA will be responsible for all facets of Von Dutch Footwear in the US. Von Dutch features culturally relevant, vintage-inspired fashion footwear for men and women. Marque Group will be led by Collective CEO Bruce Pettet and his team of design, marketing, and sales professionals with more than 100 years combined experience. Marque Group USA has also added industry veteran Bob Landerman as director of sales. Landerman brings 15 years experience to Marque Group USA having served as VP/sales for such brands as Dr. Martens Airwair USA and L.A. Gear.

Banc of America Securities reiterated its buy rating on Dick's Sporting Goods and raised estimates for the company. The target price has been raised to $38.

Messe Muenchen has closed its Chicago office. The show management has felt that its ispo clients needed more market information than simply booth rates. This was difficult without specialists working in the office. American companies needing information about ispo summer, ispo winter and ispo china can contact Dieter Tremp. He has been working as an outdoor advisor for the ispo shows and was a former publisher of Outdoor Retailer. He can be found at: [email protected], 415/868-8882.

After sitting out a few OR Winter Markets, key Nordic brands Fischer and Rossignol are returning as exhibitors after witnessing the success of last year's show. Fischer and Rossignol will join the current line-up of Nordic and backcountry offerings from Salomon, Black Diamond, K2, Garmont, Alpina, Atomic, Karhu, Life-Link and G3.






Breaking Headlines
News: 8/30/04
AUGUST 30, 2004


News...8/27/04
AUGUST 27, 2004


News...8/26/04
AUGUST 26, 2004


News...8/25/04
AUGUST 25, 2004


Shorts...8/24/04
AUGUST 24, 2004


News...8/23/04
AUGUST 23, 2004


News...8/20/04
AUGUST 20, 2004


News...8/19/04
AUGUST 19, 2004


News...8/18/04
AUGUST 18, 2004


News...8/17/04
AUGUST 17, 2004