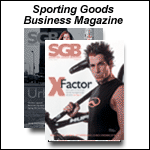 News...8/25/04

AUGUST 25, 2004 -- Gun Dealer Must Pay For Misuse Of Legally Sold Firearm

Jon Sauers, Sauers Trading, agreed to pay $850,000 to the mother of a child killed by a gun that was sold to a middleman who resold the gun illegally on the streets of Philadelphia. The buyer, Perry Bruce, repeatedly made handgun purchases at Sauers. Some children found one of the guns under a parked car in April 1999. One child pointed the gun at another and pulled the trigger. A seven-year-old child was killed. Police believe the gun had been stashed by a drug dealer. Bruce pleaded guilty to federal gun-trafficking charges in 1998. Sauers testified in a deposition that he complied with state and federal law in each sale to Bruce, but that he never asked Bruce why he bought 10 small handguns from him between 1994 and 1997.

adidas America Suing Ralph Lauren

adidas America filed a trademark infringement lawsuit vs Polo Ralph Lauren, according to an Associated Press story. Adidas claims that a Polo jacket with two stripes on its sleeves bears too close a resemblance to an Adidas jacket with three stripes. adidas wants Polo Ralph Lauren to recall all its apparel with a similar logo and deliver it with all accompanying advertising and promotional material "for impoundment and for destruction."

Bluetorch Takes Majority Stake In Island Tribe

Bluetorch signed a definitive agreement with Island Tribe Inc. to purchase the majority interest in the surf apparel brand. The agreement is effective July 31. Domingo "Ming" Clemente will continue to serve as president of Island Tribe, which will become a Bluetorch portfolio company in the same vein as Total Sports Distribution, Inc. and Unboxed Distribution.

Sport Chalet will open a new 42,000-square-foot store, including an on-site pool, at the Metro 580 Shopping Center, in the city of Pleasanton, CA, and a new 37,000-square-foot door at the Highland Reserve Marketplace in the city of Roseville, CA. These will be the company's 32nd and 33rd store locations.







Breaking Headlines
News...8/25/04
AUGUST 25, 2004


Shorts...8/24/04
AUGUST 24, 2004


News...8/23/04
AUGUST 23, 2004


News...8/20/04
AUGUST 20, 2004


News...8/19/04
AUGUST 19, 2004


News...8/18/04
AUGUST 18, 2004


News...8/17/04
AUGUST 17, 2004


News...8/16/04
AUGUST 16, 2004


News...8/13/04
AUGUST 13, 2004


News...8/12/04
AUGUST 12, 2004