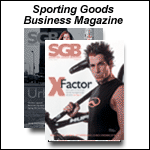 Shorts...8/24/04

AUGUST 24, 2004 -- BB&T Maintains Buy Rating On Foot Locker

BB&T Capital Markets maintained their buy rating on Foot Locker, while raising their estimates for the company. The 12-month target price is now set at $28. The analysts mentioned that the company declared its 2Q04 EPS a penny short of the estimates but Foot Locker's comp-sales are likely to accelerate during 2H04 due to an expected improvement in the pricing environment and the company's merchandising strategies. The EPS estimate for FY04 has been raised from $1.61 to $1.62.

Dick's Looks At First Boston Market Site

Square One Mall in Saugus, MA, may get a sixth anchor store, Dick's Sporting Goods, which wants to build a two-story door there. The Saugus Zoning Board will hold a public hearing on a request by Square One for relief from parking requirements for construction of a 70,492-square-foot Dick's unit. Square One already has two other sporting goods tenants, Olympia Sports and Champs. The Saugus store would be the first Dick's Sporting Goods in the Boston metropolitan area.

NSGA Participation Survey Tracks 19 Lower Profile Sports

Rink roller skating attracted 8.2 million participants in 2003, and windsurfing attracted 314,000 participants, the highest and lowest among 19 new sports surveyed by the National Sporting Goods Association. In conjunction with Irwin Broh & Associates, NSGA has launched a new participation survey of sports with lower levels of participation, "Sports Participation in 2003 – Series III." Using a 40,000 household-sampling versus the 10,000 household-sampling in other NSGA participation studies, this survey provides a more reliable picture of participants in these sports.

The other 17 activities included in the survey are: badminton (4.7 million participants), croquet (4.4 million), horseshoe pitching (6.7 million), table tennis (7.8 million), boxing (700,000), fencing (400,000), racquetball (2.5 million), roller hockey (1.0 million), scuba diving (open water) (2.0 million), snorkeling (6.4 million), snowmobiling (3.1 million), snowshoeing (1.4 million), mountain/rock climbing (3.3 million), wakeboarding (1.4 million), surfboarding (1.2 million), wrestling (1.5 million), and Pilates (4.9 million).

Chicago NikeTown Charged With Racial Discrimination

Chicago's Niketown is the subject of a racial discrimination suit brought by African-American employees. They charged iun the federal suit that NikeTown segregated them into stockroom jobs and denied them promotions to better paying sales positions. The store employed 63 stockroom workers between January 2001 and May 2003, the suit said. Of those, 46 were African-Americans and three were Caucasian. The starting hourly wage was less than $8 an hour, the suit said. Nike was waiting to see the complaint before responding.

ADT Is Again Title Sponsor Of NSGA Management Conference

ADT Security Services, Inc., a part of Tyco Fire & Security, has been named title sponsor of the 41st Annual NSGA Management Conference to be held May 22-25, 2005, at the JW Marriott Starr Pass Resort & Spa, Tucson, AZ. ADT, through its Sensormatic electronic article surveillance technology, is the leading provider of anti-theft systems to the sporting goods industry. Source tagging is the process whereby anti-theft tags are placed on products during the manufacturing process. The benefits of source tagging include less retail theft, more accurate inventory control, better in-stock positions in the stores, reduction of lost sales, higher inventory turns and, ultimately, higher profitability. For the past two years, NSGA has conducted panel discussions on source tagging at the Management Conference and will update the industry at the 2005 Conference on progress being made to implement industry-wide source tagging of athletic footwear.

Rao Signs With Pony For Tennis

Rising star Sunitha Rao has signed an exclusive endorsement agreement with Pony International to wear Pony footwear, apparel and accessories. The hard-hitting 18-year-old American of Bradenton, FL, was top ranked throughout her junior career, winning one National title and reaching the semifinals of the Australian Open Junior Championships. In 2003, she reached the quarterfinals of the Wimbledon Juniors and achieved a singles world ranking of 152 on the WTA Tour. This year, Rao was a singles semifinalist at the USTA Women's Challenger of Rockford in February, and reached the singles semifinals at two back-to-back Challenger events in Korea.

Collective Licensing International, LLC, owner of the Airwalk brand, entered into a Master Licensing Agreement with Brand Direct to license the Airwalk brand. Brand Direct be responsible for all Airwalk-branded product, including footwear, apparel, accessories and hard goods throughout Australia and New Zealand.






Breaking Headlines
Shorts...8/24/04
AUGUST 24, 2004


News...8/23/04
AUGUST 23, 2004


News...8/20/04
AUGUST 20, 2004


News...8/19/04
AUGUST 19, 2004


News...8/18/04
AUGUST 18, 2004


News...8/17/04
AUGUST 17, 2004


News...8/16/04
AUGUST 16, 2004


News...8/13/04
AUGUST 13, 2004


News...8/12/04
AUGUST 12, 2004


News...8/11/04
AUGUST 11, 2004