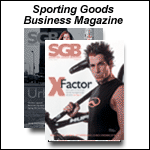 News...8/20/04

AUGUST 20, 2004 -- Puma Accused Of Using Sweatshops In China

The National Labor Committee has charged some of Puma's plants in China are sweatshops where employees work up to 16.5 hours a day, for as little as 31¢ an hour. A joint report issued this month by NLC and China Labor Watch claims that the workers suffer from "gruelling hours, pitifully low wages, exploitation, abuse." The report signaled out the Taiwanese-owned PouChen Group plants in Gaobu Town, Dongguan, China, with particular focus on the 'Pou Yuen Plant F' site. Puma said that it makes frequent checks on its sites and was not aware of any truth behind the claims. Puma's code of conduct specifies a "relevant legal minimum wage," and that working hours are restricted to 60 hours a week, including overtime.

NB Launches 'Fit in the City' Online Campaign On MSN

New Balance launched a "Fit in the City" campaign on MSN that offers consumers an online resource through relevant local information about walking, running and other activities that promote an active and healthy lifestyle. Christine Madigan, corporate marketing services manager, said "Through MSN and the Fit in the City campaign, we can reach millions of people daily to bring them the New Balance brand experience and also support our local and national retailers." Creative components for the campaign includes different site sections featuring national and city editorials, a Fitness Calendar, featured retailers, and an eShop Module. The editorials will all focus on fitness, hiking, health, family, performance and active lifestyles. Beside the general fitness content, the site also focuses on ten metropolitan areas - New York, San Francisco, Boston, Dallas/Fort Worth, Chicago, Denver, Los Angeles, Philadelphia, Seattle, and Washington DC. The site will also provide information on more than 800 key health and fitness activities and events across the US.

The campaign targets active men and women, ages 25-54, who are interested in running, walking, hiking, fitness, family activities, yoga, cross-training, etc. The online branding effort will run approximately six months at http://newbalance.msn.com.

Smith Sunglasses Get Lifetime Warrantee

Smith Optics will now warrant all sunglasses for the life of the product. Prior to the change, Smith offered a one-year warranty. This change stems from the company's desire to express its commitment to quality and performance further while ensuring all customers who purchase Smith sunglasses will further develop trust in the brand. Sunglasses will be repaired or replaced at no charge for manufacturer defects. Additionally, Smith offers a repair and replacement policy. In simplest of terms, this means that if Smith sunglasses are damaged for any reason other than loss or manufacturer defect, Smith will repair or replace the sunglasses for a nominal fee.

Schwinn-Branded Bike Helmets Recalled

The CPSC and PTI Sports have announced a recall of 9,000 Schwinn-branded toddler bicycle helmets. The helmets do not comply with impact testing requirements in the Consumer Product Safety Act. No injuries were reported. They were sold Wal-Mart, Target, Academy and Mills Fleet & Farms stores nationwide from January 2004 through July 2004 for between $17 and $20.

Delta Apparel Pleased With Strong Soffe Results

Robert Humphreys, Delta Apparel CEO, reported, "The acquisition of Soffe, coupled with solid results in the Delta business, drove record sales and earnings for Delta Apparel during the year. In addition, the integration of the Soffe business with Delta has gone very well, and our combined financial results continue to exceed our expectations. Delta continued to grow its business by servicing new accounts in the catalog direct segment of our business while strong retail demand for Soffe branded products drove increased sales on the Soffe side of our business.

"In addition to the strong sales and earnings achieved, we also exceeded our inventory and debt reduction goals during the fourth quarter. While we will continue to ship product with higher raw material cost during the first part of fiscal year 2005, we are looking forward to the year with great anticipation. We will have the Soffe business for the full fiscal year, the benefit of our cost reduction efforts should be more apparent and we should start shipping product with lower cost raw materials in the second half of the year. We also expect to expand our marketing efforts in both business segments during the upcoming year."

The Soffe business contributed $32.2 million in sales during 4Q and $71.8 million for the year ended July 3. Selling prices and gross margins in this branded apparel business continued to be robust and demand for the Soffe brand remained strong. Operating income in the Soffe business 4Q and FY04 were $6.1 million and $9.6 million, respectively.

LPGA To Launch Its Own Apparel Collection; Rockey Helps

According to the Boston Globe, "After successful sales in Asia, Canada, and the United Kingdom, the LPGA is bringing its own clothing line to the United States, featuring athletic fabrics, tighter silhouettes, and finer detailing, said Helen Rockey, who works with the LPGA. The styles are meant to work on and off the golf course, whether or not you play the sport. 'You see a lot of people wearing it as everyday streetwear,' Rockey said."

The Warnaco Group completed its previously announced acquisition of Ocean Pacific Apparel Corp. for $40 million in cash and the assumption of $1 million in debt.

The Forzani Group Ltd. and Nevada Bob's International have signed a letter of intent, which contemplates the acquisition by Forzani of the Canadian business of NBI.






Breaking Headlines
News...9/24/04
SEPTEMBER 24, 2004


Short news...9/23/04
SEPTEMBER 23, 2004


News...9/22/04
SEPTEMBER 22, 2004


News...9/21/04
SEPTEMBER 21, 2004


News...9/20/04
SEPTEMBER 20, 2004


News...9/17/04
SEPTEMBER 17, 2004


News...9/16/04
SEPTEMBER 16, 2004


News...9/15/04
SEPTEMBER 15, 2004


News...9/14/04
SEPTEMBER 14, 2004


News...9/13/04
SEPTEMBER 14, 2004