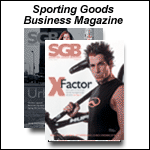 News...8/23/04

AUGUST 23, 2004 -- Billabong's full-year profit rises 14%

Australian surfwear company Billabong International said that fiscal 2004 net profit rose 14% to Australian $87.0 million, from A$76.2 million in the same period a year earlier. Revenue in the year ended June 30, 2004, rose 8.2% to A$679.8 million, from A$628.3 million a year before. The company said it expects profit to rise about 20% in the current year. "Our forward orders indicate that the buoyant trading experienced in the 2004 year is continuing and that gives us confidence in our outlook for the current year," chief executive Derek O'Neill said in a statement.

Billabong said adverse currency movements hurt sales and earnings growth in fiscal 2004. Sales growth in local currencies was 21%, it said. Sales from its key U.S. unit rose 6.7%, but in local currency were up 30%. It made almost 50% of sales and 42% of earnings in the U.S. market in fiscal 2004. U.S. earnings before interest, tax, depreciation and amortization rose 9.3% to A$60.9 million from A$55.7 million in the year. In Europe, sales rose 5.2% in Australian dollars and 13% in local currencies. However, EBITDA from Europe rose just 1.1% to A$28.8 million. The Australasian region posted sales growth of 14% and EBITDA growth of 34% to A$51.8 million.

Roxy Names Mary Kwan Senior Vice President of Merchandising and Design

Roxy, a division of Quiksilver, has named Mary Kwan as SVP of Merchandising and Design. Kwan most recently served as VP of Merchandise and Licensing for the Levi Strauss Signature brand, where she was responsible for the start-up and execution of the Signature line. Some of her key clients included Wal-Mart, Target and ShopKo. She replaces Carol Christopherson, who was recently named President of Retail for Quiksilver, Americas. Kwan, who also held merchandising posts at Sears Roebuck, The Limited, Mervyn's and JC Penney, will work with key retailers and suppliers while driving growth of the business and exploring profitable brand extensions. She will supervise the development of seasonal product line plans, establish the seasonal line development calendar, and manage inventory procurement. "Mary brings a wealth of senior experience at some of the biggest names in the industry, and we expect her contribution at Roxy to be enormous," said Steve Tully, President of Women's, Quiksilver Americas. "She has excelled in every stage of her career, and I look forward to her joining the Roxy team and helping to spur the division's future growth and innovation."

Speedo To Sponsor FINA

Speedo International has a four-year sponsorship agreement with FINA, the International Federation of Swimming.The agreement is the first ever exclusive four-year deal FINA has made with a swimwear brand and comes following the success of Speedo's sponsorship of the 2003 FINA World Championships in Barcelona and Speedo's continued success in international competitive swimming.The partnership will start at the 2004 FINA World Swimming Championships in Indianapolis in October, where approximately 600 international swimmers, including US phenomenon Michael Phelps, will compete for glory once again.Following the Indianapolis FINA World Swimming Championships, as the official FINA Partner, Speedo will have a presence at all World Championship events up to and including the 2007 FINA World Championships in Melbourne. For each event Speedo will have unique access and branding, recognition in the official printed material related to the championships and exclusive press opportunities which will reinforce the brand's authority in the pool. Speedo will also work with FINA to develop global marketing, promotional and advertising campaigns to extend Speedo's relationship with FINA beyond the FINA World Championships events.

Converse To Make John Lennon Shoes

Yoko Ono has granted Nike and its Converse subsidiary permission to make shoes named after John Lennon.The shoes, which are in the same style as those worn by Lennon on the cover of the Abbey Road album, will have lyrics from the hit Imagine printed around the toe area, a self-portrait of the legendary musician on the side, and Lennon's autograph on the heel. Profits from the sales of the shoe, which is being manufactured by Converse, will go to charity. Nike shook up the advertising industry in the '80s when it used the Beatles' Revolution in an ad.

LaCrosse Footwear Completes PVC Boot Sale

LaCrosse Footwear concluded the sale of certain assets of its PVC boot line to Onguard Industries, LLC. As a result, the company will end its manufacture and sales of PVC boots and close its Claremont, NH, facility. This is another step in LaCrosse's strategic transition away from low-priced footwear to innovative, technical products. LaCrosse will continue to accept orders and ship product from its PVC inventory through September 22, 2004. The Claremont-based facility manufactures PVC boots generating annual revenues of approximately $7 million and employing 70 people. In 3q4, LaCrosse expects to report an estimated charge related to the sale and plant closure of approximately $900,000.

Footstar Agrees To Sell Distribution Center

Footstar, Inc. today announced that it has entered into an agreement to sell its distribution center in Gaffney, South Carolina for approximately $15.1 million. The facility will be acquired by Automated Distribution Systems, L.P., a leading third party distribution and logistics solutions provider. The transaction is subject to certain closing conditions and Bankruptcy Court approval, and is expected to be completed as soon as practicable once Court approval is received following a Court-supervised auction on September 14, 2004.

Wachovia Downgrades The Sports Authority

Wachovia Securities downgraded The Sports Authority to 'market perform' from 'outperform', believing TSA's sales have not picked up since its profit warning last month. "Based on our recent channel checks, we do not believe sales trends have rebounded," Wachovia Securities analyst Ralph Jean wrote in a research note. The stock fell $1.65 to close at $20.50 Monday, adding to losses of about 27 percent seen since the Englewood, Colo.-based company slashed its profit projection for the second quarter on July 22. "We have very low visibility on second-half same store sales despite the benefits of the re-merchandising and re-modeling initiatives, many of which are going well," Jean said, adding that he was also concerned about the slowdown in the core business. Jean was more bullish on the longer-term, however, noting that the company was embarking on an aggressive merger integration and re-positioning of some acquired stores. He expects this will provide a catalyst to accelerating same store sales sometime next year.

Shorts: Sears Roebuck & Co. has hired Luis Padilla from Target Corp. to become its first president of merchandising. Padilla, 50, last served as EVP for merchandising in Target's recently-sold Marshall Field's unit. He managed softlines merchandising for the Target chain from 1994 to 2001...Eddie Bauer plans to open a store at The Shops at Briargat, nearby Colorado Springs, on August 25. It's its second store in the Colorado Springs area...Kewl International has finalized its previously announced agreement with Kool Telecom for the launch of a unique, hockey-based "Collector Series" pre-paid telephone card. The initial series will feature Toronto Maple Leaf star forward Darcy Tucker and is expected to be available at select leading Ontario retailers in September, to be followed by cards featuring other fan favorites in targeted cities throughout the U.S. and Canada... Lifestyle Media Inc., which publishes American Cheerleader and Dance Teacher, plans to launch Pilates Style, the first magazine dedicated exclusively to the exercise.







Breaking Headlines
News...8/23/04
AUGUST 23, 2004


News...8/20/04
AUGUST 20, 2004


News...8/19/04
AUGUST 19, 2004


News...8/18/04
AUGUST 18, 2004


News...8/17/04
AUGUST 17, 2004


News...8/16/04
AUGUST 16, 2004


News...8/13/04
AUGUST 13, 2004


News...8/12/04
AUGUST 12, 2004


News...8/11/04
AUGUST 11, 2004


News...8/10/04
AUGUST 10, 2004