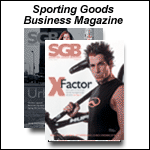 News...8/19/04

AUGUST 19, 2004 -- TIA Tennis Expo Has Big Plans For Orlando

The Tennis Industry Association is coming to the rescue of SGMA. While the latter's management has largely ignored what has been happening with The Super Show without offering any fresh ideas, at least TIA has come up with an action plan make a tennis presentation at the show in Orlando. As reported here earlier, the TIA Tennis Expo will be a show within a show. It has its own web page to alert tennis manufacturers and retailers as to what is happening, http://tiaexpo.com/home.html. If you're in the tennis business, you should check out all the activities and opportunities that await you, including seminars, fashion shows, award ceremonies and cost-efficient exhibits.

At the TIA Expo in celebration of the 20-year anniversary of the Super Show, TIA is working with the Super Show to honor and publish a list of any individual or company who was in the tennis industry in 1985 and is still contributing. Who is eligible? Managers, sales reps, secretary, customer service reps, teaching pros, club managers…anyone who has contributed to sport during the past 20 consecutive years. What about companies? If your company or association has 20 years of consecutive service to our industry, you are eligible too. To qualify, go to http://tiaexpo.com/home.html and click on "20 Years of Service" to the Tennis Industry Awards.

Nike Recalling 9,000 Pairs Of Children's Shoes

The CPSC, in cooperation with Nike, is recalling about 9,000 pairs of children's shoes. They were sold under the Nike Get-Go and Little Get-Go styles. The problem is that a 1.5-inch to 1.75-inch rubber tab at the top of the heel can detach from the shoe, posing a choking hazard to young children. Nike has received three reports of heel tabs separating from shoes. No injuries have been reported. The children's athletic shoes come in various color combinations and were sold in toddler and pre-school sizes 2C through 3Y. They were sold at Nike stores, major athletic shoe stores, independent shoe stores and children's stores nationwide from June 2004 through August 2004 for between $35 and $45.

Wilson Golf Reviving Wilson Staff Brand

As Wilson Sporting Goods celebrates its ninetieth anniversary this year, Wilson Golf announced a new marketing initiative for its premium golf business that will revive the company's Wilson Staff brand. Beginning later this year and into the 2005 season, all premium clubs, balls and accessories will be marketed and sold under the new Wilson Staff brand. "Fifty years ago Wilson Golf was the major player in golf, and Wilson Staff was the brand," said Angus Moir, global business director, Wilson Golf. "Today's announcement marks the end of year-long planning and the start of a whole new focus under the brand that made the company so successful in '50s, '60s and '70s…When the golf division was re-structured a year ago, one thing was clear, we had to create a new, global brand identity for Wilson Golf to return the premium business to profitability. Our new marketing will be 100% Wilson Staff equipment that features specific, breakthrough technologies. The heritage, equity, and respect associated with the Staff brand provides the perfect vehicle to accomplish our goal of elevating Wilson Golf to a position of influence in golf."

Columbia Gets Distribution In Southern Africa and Philippines

Columbia Sportswear made distribution agreements with South Africa-based Foschini Retail Group and Philippines-based Kenrich International Distributor Corp. These new relationships further Columbia's strategy to distribute apparel and footwear to countries in which its products have never been sold, and will commence with Fall 2004 product lines. Foschini Retail Group, a subsidiary of Foschini Limited, will distribute Columbia products throughout South Africa, Namibia, Botswana, Swaziland, and Lesotho. Initially, Foschini will carry Columbia in "Due South," its new retail concept opening late 2004 with seven stores located in Cape Town, Johannesburg, and Pretoria. Foschini is an investment holding company whose shares are listed on the JSE Securities Exchange. Its subsidiaries, including Foschini Retail Group, are one of the foremost independent chain store groups in southern Africa with 1,188 stores at the end of 2003, in areas of menswear, women's fashion and sportswear, sports apparel, jewelry and housewares.

KIDC is a very strong retailer and wholesaler throughout the Philippines. The company plans to sell Columbia in several of their select corporate stores, concept shops, and through key wholesale accounts.

Genesco's Journeys, Hat World Perform, But Underground Station Falters

Genesco CEO Hal Pennington said total sales at Journeys increased 8.5% to approximately $106 million and both same-store sales and footwear-unit comps rose 2%. "We continued to benefit from the strong trend in athletic and solid gains in women's fashion footwear, offset in part by the impact of the shift in the tax-free timing in some states," he said. "We think our merchandise selection looks great for back-to- school and we are excited about our prospects.

"Underground Station reported a same-store sales decline of 11% compared to a 9% increase last year. As expected, Underground Station's business remained challenging during the quarter due to difficult same-store sales and product comparisons. Looking ahead, comparisons begin to moderate and we remain focused on improving this business.

"Hat World registered another strong quarter, with total sales up 30% and same-store sales up 16% reflecting robust demand for our core sports product and ongoing strength in our fashion and branded businesses. We remain excited about this acquisition and the short and long-term opportunities of this business."

Genesco also stated that it is revising upward its fiscal 2005 guidance. The company now expects sales for the year of approximately $1.1 billion and EPS to range from $1.89 to $1.92, including previously announced charges of approximately 8¢ to 9¢ per share associated with the planned closing of Jarman and other underperforming stores in fiscal 2005.

NPD reported that Nike is the top soccer brand in Europe. Its share is 34%, as compared to adidas' 30.2%. The numbers reflect trailing 12-month sales through March.

Deckers Outdoor appointed Tracey Nelson to the newly created position of VP/corporate licensing.

Pacific Sunwear's board of directors authorized the company to repurchase up to an additional $50 million of PSUN common stock. In 1H04, under repurchase authorizations of $75 million, the company repurchased an aggregate of 3,518,200 shares of common stock at an average price of $21.30, for approximately $74.9 million.






Breaking Headlines
News...8/19/04
AUGUST 19, 2004


News...8/18/04
AUGUST 18, 2004


News...8/17/04
AUGUST 17, 2004


News...8/16/04
AUGUST 16, 2004


News...8/13/04
AUGUST 13, 2004


News...8/12/04
AUGUST 12, 2004


News...8/11/04
AUGUST 11, 2004


News...8/10/04
AUGUST 10, 2004


News...8/9/04
AUGUST 10, 2004


News...8/6/04
AUGUST 06, 2004