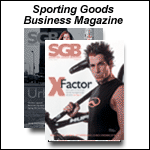 News...8/13/04

AUGUST 13, 2004 -- Jury Awards $2.2 Million To Callaway

A jury in Wilmington, DE, returned a verdict of $2.2 million in favor of Callaway Golf and against Dunlop Slazenger Group Americas Inc. based on a finding that Dunlop willfully engaged in false advertising when it claimed in 2001 and 2002 that the Maxfli A10 golf ball was the "Longest Ball on Tour." Additionally, the jury rejected Dunlop's counterclaim that Callaway used any Dunlop trade secrets.

"We are very pleased that this hard-fought, three-year battle has resulted in a jury verdict finding that Callaway Golf did not use any of Dunlop's trade secrets in the creation of our golf balls," said William Baker, COB/CEO of Callaway Golf. "We also are grateful that the jury found that Dunlop falsely advertised the performance of the Maxfli A10 golf balls. This verdict demonstrates that false statements in advertising simply will not be tolerated. Our thanks go to the judge and jury for their service over the course of this 10-day trial. We also want to thank our trial team and the many other folks who helped us achieve this victory."

Copeland Sports will open its newest store in Salem, OR, in the Lancaster Mall. The grand opening will run from Saturday, August 21 through Sunday, September 5 and features a host of events, equipment demonstrations, and sports contests. The branch is 33,000 square feet.

Modell's plans four new stores in the Baltimore market this year. The first opened today in Carney, MD. Others are scheduled for Baltimore, Laurel and Woodlawn. The chain opened its largest store, 30,000 square feet, in Hanover last year.







Breaking Headlines
News...8/13/04
AUGUST 13, 2004


News...8/12/04
AUGUST 12, 2004


News...8/11/04
AUGUST 11, 2004


News...8/10/04
AUGUST 10, 2004


News...8/9/04
AUGUST 10, 2004


News...8/6/04
AUGUST 06, 2004


News...8/5/04
AUGUST 05, 2004


News...8/4/04
AUGUST 04, 2004


Warnaco Group Buying Ocean Pacific
AUGUST 04, 2004


News...8/3/04
AUGUST 03, 2004