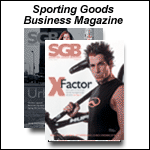 News...8/17/04

AUGUST 17, 2004 -- Soffe Brings Delta Exec In As President

Ken Spires has joined M. J. Soffe as president, effective immediately. He has been currently VP/technical services of Delta Apparel, Soffe's parent company. In his new position, Spires will report to CEO Jim Soffe. Spires will be responsible for the sales and marketing, operations and distribution, manufacturing, planning, and the art department. Joe Cimaglia, Ray Edwards, Pete Gilman, Hunter McMillan, and Steve Wheeler from the sales area will report directly to him. Also reporting to Spires will be Tony Cimaglia, VP/operations, Dick Soffe, EVP/manufacturing, Johnny Mabry, VP/apparel and planning and Dave Robertson, art manager.

Ritz Interactive Acquires eAngler.com

Ritz Interactive, has acquired eAngler.com, one of its largest and oldest competitors in the marine-specialty online shopping space. This marks the tenth announcement of a key acquisition or newly formed strategic relationship by the rapidly expanding Ritz Interactive Web network within the past three years. Now powered by Ritz Interactive's flagship marine superstore BoatersWorld.com, eAngler will offer users new features, a comprehensive archive of useful angling articles, and instant purchasing access to more than 30,000 state-of-the-art fishing and boating products. Online shoppers at the new and improved eAngler site will also receive the added benefits of no sales tax, and free shipping for qualifying orders more than $100.

Dick's Q2 net income Rose 16%

Dick's Q2 net income increased 16% to $17.9 million, operating income increased 23% to $30.8 million, and EPS increased 10% to 34¢ per diluted share as compared to net income of $15.5 million, operating income of $25.1 million, and earnings per share of 31¢ per diluted in 2Q03. Total sales for the quarter increased 18% to $416.1 million. Comp-store sales increased 2.9%. The second quarter 2004 results include $1.2 million of pre-tax store relocation expense, while the prior year's second quarter includes a $1.2 million pre-tax gain on sale of investment. Adjusting for these two items, EPS increased 21%, from 29¢ per diluted share to 35¢. Dick's anticipates reporting EPS for the full year of $1.35-$1.37 per diluted share, which includes EPS of 6¢ from the operations of Galyan's and excludes merger, integration and store closing costs. This is an increase from the guidance provided on June 21 of $1.28-$1.30 and compares to the full year 2003 EPS of $1.05. Net income is expected to approximate $71.7 million, including income of $3.5 million from the operations of Galyan's and FY03 net income of $52.8 million. The company could not give guidance as to what the integration costs will be. Analyst Michael McTighe of First Albany reiterated his buy rating on Dick's. The target price is set to $39.

Merriman Curham Ford initiated coverage of Columbia Sportswear with a neutral rating…Collegiate Pacific said there are no corporate events that have caused the sell-off in its stock. The stock closed at $9.25 on August 12. It was $8.73 today.






Breaking Headlines
News...8/17/04
AUGUST 17, 2004


News...8/16/04
AUGUST 16, 2004


News...8/13/04
AUGUST 13, 2004


News...8/12/04
AUGUST 12, 2004


News...8/11/04
AUGUST 11, 2004


News...8/10/04
AUGUST 10, 2004


News...8/9/04
AUGUST 10, 2004


News...8/6/04
AUGUST 06, 2004


News...8/5/04
AUGUST 05, 2004


News...8/4/04
AUGUST 04, 2004