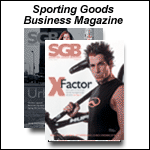 News...8/11/04

AUGUST 11, 2004 -- Nike Acquired Starter, Shaq, Asphalt And Dunkman Marks

Nike acquired 100 percent of the equity shares of Official Starter Properties LLC and Official Starter LLC for a net purchase price of approximately $43 million. The entities are the sole owners and licensors of the Starter, Team Starter and Asphalt brand names as well as master licensee of the Shaq and Dunkman brands, a line of athletic apparel, footwear and accessory products for the value retail channel. The business will be operated by Exeter Brands Group LLC, a newly created operating unit of Nike, dedicated to building brands in the value retail channel. Effective immediately, Mary Gleason, former president and CEO of Group 3 Design, the brand management company that has managed the Starter brand since 1999, will become president of the New York-based Exeter Brands Group. Gleason will report directly to Scott Olivet, VP/Nike, Inc. Subsidiaries, who also oversees Converse, Hurley, Cole Haan and Bauer Nike Hockey.

Nike Contributed $37.3 Million To Non-Profits, Communities

Nike reported that in FY04, it contributed $37.3 million in cash, product and in-kind services to non-profit organizations and community partners around the world, exceeding its annual target of investing 3% of the company's pre-tax earnings for the fourth consecutive year. The total contribution represents 3.3% of the company's FY03 pre-tax profit and served more than 4,500 charitable organizations. Nike's $37.3 million in contributions consisted of $16.2 million in cash grants, or 43% of the donations, and $21.1 million in product and in-kind services, or 57%t of the overall investment.

The NikeGO program has served approximately 150,000 kids since its launch in the US. In September 2002. NikeGO is Nike's signature US community affairs initiative and the company's long-term commitment to getting kids more physically active. The program's mission is to increase physical activity in youth ages eight-15, offering them the support and motivation to become physically active, stay healthy and have fun. In March 2004, NikeGO expanded to Australia with the help of Olympic medallist Cathy Freeman, uniting both Nike's commitment to youth activity and its global reach. Nike also continued its support of a program to ensure that kids in the UK could make the most of their recess time. Zoneparcs, supported by the government and the Youth Sport Trust charity, refurbished playgrounds relying on Nike designs and gave student leaders toolkits to direct play activities. With grants totaling more than $900,000 and involving more than 300 schools in 20 cities across the UK, the Zoneparc initiative is Nike's largest community affairs investment to date in Europe.

This fiscal year, 39% of Nike's contributions were to organizations serving communities outside of the US, including $3 million to Mercy Corps in Uzbekistan, Tajikistan and Kazakstan, and $2 million to World Vision in the Asia-Pacific region. In January 2004, Nike established a micro-enterprise initiative in the Fujian province of China and launched a new phase of the Nike Village in Thailand, which provides community development opportunities for individuals living in half a dozen rural villages adjacent to a small footwear stitching center. Since 1997, Nike has funded micro loans and provided technical assistance to nearly 15,000 largely female borrowers in China, Indonesia, Thailand and Vietnam.

Additionally, through the Wear Yellow Live Strong campaign, in honor of Lance Armstrong and coordinated with the Lance Armstrong Foundation, Nike donated $1 million to the Foundation and is leading efforts to raise an additional $5 million through the sale of yellow wristbands engraved with Lance's mantra: Live Strong. All proceeds benefit LAF programs

Nike US employees contributed more than 71,000 volunteer hours, an increase of 6% from last year, and more than $2.5 million to charitable organizations. Nike matched the volunteer hours at $10 per hour and cash contributions dollar for dollar resulting in an additional $3.1 million toward communities, a slight increase over FY03.

Rea Is Wilson's International Tennis Ball Manager

Scott Rea, the new international tennis ball manager of Wilson Global Racquet Sports, will focus on managing and expanding Wilson's tennis ball market share globally from product testing to marketing. Rae is a former teaching pro with more than 10 years of industry sales and marketing experience. He was previously the sales and marketing director of Yonex USA. Scott will report to Antoine Ballon, the global marketing director of tennis racquets and tennis balls.






Breaking Headlines
News...8/13/04
AUGUST 13, 2004


News...8/12/04
AUGUST 12, 2004


News...8/11/04
AUGUST 11, 2004


News...8/10/04
AUGUST 10, 2004


News...8/9/04
AUGUST 10, 2004


News...8/6/04
AUGUST 06, 2004


News...8/5/04
AUGUST 05, 2004


News...8/4/04
AUGUST 04, 2004


Warnaco Group Buying Ocean Pacific
AUGUST 04, 2004


News...8/3/04
AUGUST 03, 2004