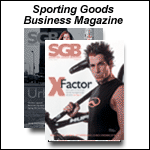 News...8/10/04

AUGUST 10, 2004 -- NSGA Puts 2003 Used Sports Equipment Purchases at $753 Million

Consumers purchased $753 million in used sporting goods equipment in 2003, according to a newly released report by the National Sporting Goods Association. This is the sixth study done by the Association on the used equipment market and reflects only purchases of products surveyed in the Association's Sporting Goods Market in 2004 report.
For 2002, consumers indicated they had purchased slightly more than $852 million in used sports equipment. Used equipment purchases in 2003 were more in line with purchases in 2001 and 2000, $750 million and $744 million respectively.

Used equipment for the outdoor sports (camping, fishing and the shooting sports) represented purchases of almost $395 million, the largest single category. Used exercise equipment had purchases of almost $170 million. Much of the overall decline in 2003 can be attributed to the decline of used equipment for the outdoor sports, which had reached $446 million in 2002.

"With the rise in the number of sporting goods stores that emphasize used equipment sales and the growing use of auctions on the Internet, it was appropriate for NSGA to expand its research to look at this market more closely," NSGA VP/information & research Tom Doyle said. "The purchase of used equipment is a two-edged sword. It may take away from a new equipment purchased initially, but it also may provide the entry point for future purchasers of upgraded equipment."

In certain product categories, the number of units purchased is substantial. In exercise equipment, more than one million pieces of equipment were purchased, excluding small hand equipment and weight sets. "Although the average price is not high, most of these are purchases that did not take place in more traditional channels of distribution," Doyle said.

Purchases of Used Sports Equipment in 2003 uses the same panel as is used for NSGA's Sporting Goods Market report. The report is based on a survey of 60,000 households in which 39 products were surveyed regarding purchases during 2003. "Because of the limited number of products surveyed, the total used equipment market is much larger than the $753 million reported and may easily exceed $1 billion," Doyle said. The report provides information on the number of units sold, average price and total dollars as well as place of purchase information. Included in the place of purchase information are traditional channels of distribution as well as online/Internet purchases and purchases from private individuals. Purchases of Used Sports Equipment in 2003 is available to NSGA members for $125; for non-members, $175.

Bill Lookabaugh, Long-Time Western Rep, Passed Away

Bill Lookabaugh, 75, former Sporting Goods Agents Association Western board member in the '80s, passed away from Alzheimer's and emphysema complications on August 7. Lookabaugh had been a long-time rep, specializing in camping, fishing and sporting lines, and upon his retirement in 1996, son Rich took over the agency that continues today. At the old NSGA Fall Market, Lookabaugh hosted a party in a nearby hotel that was a must for his many friends and accounts. Lookabaugh is survived by wife Gloria, children, Rich and Debbie, seven grandchildren and three great grandchildren. Donations can be made in his memory to Breath Savors, Citrus Valley Medical Center, 210 W. San Bernardino Road, P.O. Box 6108, Covina, CA 91722. Notes of sympathy can be sent to the Lookabaugh family at 529 W. Winnie Way, Arcadia, CA 91007, or phone them at 626-445-8217.

Sun Trust Robinson Humphrey raised Hibbett Sporting Goods to buy from neutral…Smith Barney initiated coverage of Pacific Sunwear with a hold rating.






Breaking Headlines
News...8/13/04
AUGUST 13, 2004


News...8/12/04
AUGUST 12, 2004


News...8/11/04
AUGUST 11, 2004


News...8/10/04
AUGUST 10, 2004


News...8/9/04
AUGUST 10, 2004


News...8/6/04
AUGUST 06, 2004


News...8/5/04
AUGUST 05, 2004


News...8/4/04
AUGUST 04, 2004


Warnaco Group Buying Ocean Pacific
AUGUST 04, 2004


News...8/3/04
AUGUST 03, 2004