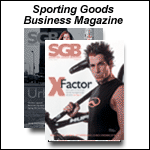 News...8/5/04

AUGUST 05, 2004 -- Foot Locker Q2 Comps Dip 0.5%; Footaction Integration Essentially Complete

Foot Locker reported Q2 sales of $1,268 million, an increase of 12.9%. Comp-store sales decreased 0.5%. YTD sales increased 9.0% to $2,454 million, with comp-store sales down 0.1%. Excluding the effect of foreign currency fluctuations, total sales for the 13-week and 26-week periods increased 11.2% and 6.6%, respectively. "Our US businesses were less promotional during the second quarter and generated a comparable-store sales increase similar to that produced during the first three months of the year," stated CEO Matt Serra. "We are encouraged for the fall season given our improving sales trend during July, which benefited from higher average footwear selling prices than the same period last year. Comparable-store sales remained somewhat soft in our stores that operate in certain international markets."

The company's Q2 total sales increase reflects the 350-store Footaction chain that was acquired as in early May and the Foot Locker store expansion program in Europe. During Q2, the Footaction business was successfully integrated into the company's existing infrastructure and the acquired inventory was substantially liquidated. "With the Footaction integration process essentially complete," Serra said, "including the costs associated with the repositioning of this business, we believe these stores are poised for a profitable fall season. We continue to expect Q2 fully diluted EPS from continuing operations, including the Footaction integration costs, to increase 10 to 20%."

Pacific Sunwear July Sales Up 16%

Pacific Sunwear of California reported that July were $97.2 million, an increase of 16.1%. Same-store sales increased 6.0% on top of a 15.1% same-store sales increase in July 2003. PacSun same-store sales increased 6.1% and d.e.m.o. same-store sales increased 4.7%. Total Q2 sales were $274.8 million, an increase of 17.2%. Company same-store sales increased 6.8% in Q2, with PacSun same-store sales up 7.2% and d.e.m.o. same-store sales up 3.0%.

Famous Footwear Q2 Sales Were Flat; Comps Fall 2.5%

Famous Footwear's Q2 sales were $269.8 million as compared to $268.9 million in the same period last year. Same-store sales for Q2 were down 2.5%. YTD sales for Famous Footwear increased 2.2% to $541.9 million. YTD comps were. Parent Brown Shoe said it now expects Q2 will likely fall below previous guidance of 45¢-50¢, but did not provide specific guidance. Brown also guided lower as recently as July 8.

Shoe Carnival Sales Dipped In July; Comps Plunged 6.3%

Shoe Carnival reported sales for the four-week period ended July 31, 2004 were $46.4 million compared to sales of $47.2 million for the four-week period ended August 2, 2003. Comp-store sales decreased 6.3% in July. CEO Mark Lemond, said, "During the first three weeks of July our comparable-store sales were virtually even with last year. However, our sales in the fourth week of July were negatively affected by certain states shifting their sales tax free weekend from July last year into August. Additionally, numerous schools are reopening later this year requiring us to shift promotions which ran in fiscal July last year into fiscal August this year. With higher gross profit margins during the quarter and tight expense controls, we anticipate coming in at the high end of our previous earnings guidance of 12¢ to 15¢ for the second quarter." Sales for Q2 increased 2.7% to $138.1 million. Comp-store sales decreased 3.7% for the 13-week period.

Jim Weinstein Retires At Age 99

Danner DeStephano, executive director of the New England Sporting Goods Agents Association, announced that the long-time NESAA SPORTRADE attorney, Jim Weinstein, age 99, has decided to slow up a bit, take things a little easier and retire. Ski industry folks will remember Weinstein as the attorney of Ski Industries America who did his best to put a lid on any complaints by retailers vs the manufacturing community at the SIA retail seminar. It was suspected that his first words as an infant were "anti-trust." Replacing Weinstein will be attorney Jim Riebandt, Riebandt & DeWald, Arlington Heights, IL, who is also legal counsel, since 1978 of the Sporting Goods Agents Association.

Big 5's Q2 Comps Grow 3.9%

Big 5's Q2 net sales increased 8.5% to $184.5. Same-store sales increased 3.9% versus the same quarter last year, representing the company's 34th consecutive quarter of same-store sales growth over comparable prior periods. Net income for Q2 increased to $8.0 million, or 35¢ per diluted share excluding a charge of $5 million, or 2¢ per diluted share, net of taxes, associated with the redemption of $15.0 million principal amount of the company's 10.875% senior notes. These figures compare to net income of $6.3 million, or 28¢ per diluted share, in the same period last year. Net income, calculated in accordance with generally accepted accounting principles was $7.5 million, or 33¢ per diluted share.

Sturm, Ruger Posts Q2 Net Loss

Sturm, Ruger's Q2 consolidated net sales were $32.7 million. This represented an increase of 2.9%. In both 2004 and 2003, sales for the six-month period ended June 30 were $72.9 million. Firearms segment net sales increased by $400,000, or 1.6%, to $27.6 million. Net income decreased $1.5 million to a loss of $500,000. The YTD net decreased $2.1 million, or 38.6%, to $3.4 million for the six months ended June 30, 2004.

LaCrosse Footwear Eke Up; Posts Q2 Net Loss

LaCrosse reported consolidated Q2 net sales of $18.6 million, up only slightly. For the YTD, net sales were $42.3 million, up from $38.5 million. The consolidated net loss was $237,000 compared to net income of $4,000. For the 1H04, consolidated net income was $858,000, up from a consolidated net loss of $645,000 in the same period in 2003. Historically, LaCrosse has its strongest sales in the second half of the year, while the second quarter is the company's slowest period.

Zeal Optics hired Jeff Harvie as national sales manager where he will apply his extensive international sales and marketing experience in management within the outdoor and leisure products industries to Zeal's expanding line. Previously, Harvie was the NSM of Bestway. Prior to Bestway, he was NSM of at Uvex Sports. Harvie is responsible for the independent sales force nationwide for all sport categories including ski, snowboard, cycling sports, outdoor, sporting goods, water sports and motor-sport retailers. He is located in Rochester, NY at the Zeal East sales office.

HighGear made an agreement with the US Ski and Snowboard Association to become an official supplier of the US Ski and Snowboard Team. The two-year agreement gives HighGear exclusive worldwide sponsorship in the sports instrument category, and calls for HighGear to produce electronic watches, altimeters and heart rate monitors for the athletes, coaches and sports science staff whose intense training and conditioning program requires highly accurate and user-friendly sports instruments.

Howard Frost has been named EVP/sales of Body Flex Sports, a subsidiary of Hupa International. Body Flex markets and distributes fitness and direct response products under X-Max and several other trademarks. Frost will begin structuring the sales and marketing group immediately. Most recently Frost held the position of VP/sales- special markets of TKO Sports Group, a manufacturer of boxing, fitness and specialty fitness products

First Albany began coverage of Phoenix Footwear Group with a buy rating.






Breaking Headlines
News...8/6/04
AUGUST 06, 2004


News...8/5/04
AUGUST 05, 2004


News...8/4/04
AUGUST 04, 2004


Warnaco Group Buying Ocean Pacific
AUGUST 04, 2004


News...8/3/04
AUGUST 03, 2004


Shorts...08/02/04
AUGUST 02, 2004


NSGA Study: Department Stores, led by Sears, Hike Share in Fitness Equipment
AUGUST 02, 2004


Short news...7/30/04
JULY 30, 2004


Short news...7/29/04
JULY 29, 2004


Short news...7/28/04
JULY 28, 2004