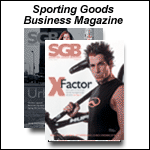 News...8/4/04

AUGUST 04, 2004 -- adidas-Salomon Q2 Sales Increased 7%

adidas-Salomon Q2 sales increased 7% on a currency-neutral basis with improvements coming from all brands and regions. Currency-neutral sales in North America grew 4%, marking the first positive performance in four quarters. Total Q2 Group sales improved by 5% in euro terms to EUR1.468 billion in 2004 from EUR1.392 billion in Q203. Gross margin increased 370 basis points to 48.4%. Q2 operating profit increased 49% to EUR92 million. Net income was up 36% reaching EUR44 million. This equates to basic earnings per share of EOR0.96 and represents an increase of 36% versus the prior year. Currency-neutral sales for the Group increased 5% in 1H04. In euro terms, revenues increased 1% to EUR3.091 billion.

""idas-Salomon has delivered outstanding operational and financial performance in the first half of 2004," commented adidas-Salomon COB/CEO Herbert Hainer. "We have strong momentum, with quarter-on-quarter sales improvements for all brands, a record gross margin and earnings growth of almost 40%. This is the strongest first half year performance in the Group's history."

From a brand perspective, sales growth at adidas set the pace for Group performance in 1H04. Currency-neutral revenues increased 5%. The success of the soccer category, as well as the "Apparel Breakthrough" initiative were the main contributors to this development. At Salomon, revenues increased by 4% on a currency-neutral basis in 1H04, driven by positive developments in the apparel cycling and Nordic categories. Revenues at TaylorMade-adidas Golf increased 3% on a currency-neutral basis driven by the success of the new r7 Quad metalwood which was launched halfway in Q2 The putter and apparel categories also reported solid growth. Currency effects from a strong euro, especially versus the US dollar, negatively impacted sales at all brands in euro terms. As a result, adidas sales in euro terms increased 2% to EUR2.584 billion in 1H04 from EUR2.542 billion in 2003. Salomon sales in euros were up 2% to EUR194 million in 1H04 from EUR191 million in the prior year. TaylorMade-adidas Golf sales in euro terms declined 3% to EUR302 million in 2004 from EUR311 million in 2003

Sportsman's Guide Reports Higher Earnings On Flat Sales

The Sportsman's Guide reported Q2 sales of $38.9 million compared to the $38.0 million reported for the same period one year ago. The company reported net earnings of $797,000, or 15¢ per fully diluted share for the quarter, a 23% increase when compared to the $646,000, or 12¢ per fully diluted share, reported for the three months ended June 30, 2003. The increase in net earnings and earnings per share from last year's Q2 was due primarily to higher Internet-related sales. Internet-related sales for Q2 were just over 43% of total catalog and Internet sales, setting an all time record. Internet-related sales as a percentage of total catalog and Internet sales were approximately 36.5% for Q203.

DA Davidson maintained its buy rating on Pacific Sunwear. But the target price has been raised from $28 to $30. The analysts mentioned that the company is expected to post 6% same-store sales growth for the month of July. The analysts forecast Pacific Sunwear's EPS for Q204 at 23¢, representing 6.9% Q/Q growth. The company is likely to post 17.6% revenue growth for the quarter, according to DA Davidson.







Breaking Headlines
News...8/4/04
AUGUST 04, 2004


Warnaco Group Buying Ocean Pacific
AUGUST 04, 2004


News...8/3/04
AUGUST 03, 2004


Shorts...08/02/04
AUGUST 02, 2004


NSGA Study: Department Stores, led by Sears, Hike Share in Fitness Equipment
AUGUST 02, 2004


Short news...7/30/04
JULY 30, 2004


Short news...7/29/04
JULY 29, 2004


Short news...7/28/04
JULY 28, 2004


146 Million Americans Enjoying Outdoor Activities
JULY 28, 2004


Shorts...7/27/04
JULY 27, 2004