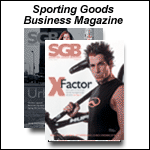 News...8/6/04

AUGUST 06, 2004 -- Burton Trade Transactions Converted To Payment from Procurement

TradeCard Inc. has automated Burton Snowboards' trade transactions from procurement to payment. Benefits for the world's top snowboarding brand include improved working capital management, the elimination of letters of credit, and major business process efficiencies. According to Tom D'Urso, the company's treasurer, "Our procurement-to-payment costs will be one-third to one-half of last year because of TradeCard." Burton Snowboards and its suppliers use TradeCard to conduct global trade transactions online. TradeCard electronically routes, matches and stores trade documentation, from purchase orders to payment information. Each party has appropriate access to view and amend documents as the transaction progresses. Payments are automated based on supplier compliance of purchase order terms and conditions. Discrepancies are managed online.

"TradeCard breaks down the wall between finance and operations," says D'Urso. "I use its corporate-wide view of procurement data to forecast working capital requirements. Now I can keep less cash on hand, and I have the right foreign currency at the right time to pay suppliers." TradeCard calls this Just-in-Time Working Capital Management. In addition to streamlining processes, Burton also utilizes TradeCard's Automated Supply Chain Financing program, which delivers early payment to suppliers in exchange for a discount off invoice. Suppliers sign up for the program in lieu of more traditional financing or factoring arrangements.

D'Urso said, "Our trade transactions created mountains of paperwork, which made it tough to capture early payment discounts. By automating these transactions, we're able to offer suppliers payment in five days at a discounted rate. We're surpassing the return we saw from extending payment terms. Plus, we no longer tie up time and working capital with letters of credit."

One of Burton Snowboards' largest suppliers, Canada-based Trak Sports, is on 30-day payment terms. "Our business with Burton increased by 56% this past year," said Doug Barbor, president. "Supporting this growth on 30-day terms stretched our cash thin. We had to hire 60 more people and start purchasing far more raw materials. Now that we can opt for five-day payment terms, we have the cash we need to support Burton and grow our business."

Buyers can fund an Automated Supply Chain Financing program with their own cash or through financing from one of TradeCard's partner financial institutions. The latter option is available at favorable rates because of buyers' good credit and the visibility that partner financial

"Our suppliers sometimes ship 30 to 40 times on a single purchase order," said D'Urso. "Because TradeCard automatically matches relevant procurement and fulfillment documents, we really benefit from time savings. We've also created cool workflows on TradeCard, including payment authorization and audit trails for handling discrepancies. It's very slick, especially compared to phone calls and e-mails going into our A/P department."

Buyers and suppliers securely connect to TradeCard using just a web browser, eliminating the need for any hardware or software investment. Organizations can also link TradeCard to their ERP systems, to enhance existing data. Burton chose this approach, integrating TradeCard with its SAP implementation in under 25 business days, a process that," said D'Urso, "could not have been smoother."

Everlast Has Flat Revenues; Earnings Dipped In Q2

For Q2 and corresponding 2003 period, Everlast Worldwide net revenues were both $14.5 million. Net revenues in Q204 would have been 4% higher than reported '03 net revenues after reflecting a change in revenue sources. Net licensing revenues advanced 51% to $2.4 million vs. $1.6 million in the 2003 period. For Q2, the company achieved a 26% increase in operating income to $712,000, while EBITDA increased 11% to $1.0 million over the 2003 comparable period. Net income available to common stockholders was $79,318, or 3¢ per basic share, compared with $111,159, or 4¢ per basic share, in the year earlier period.

Super Show Looking To Lure Skateboard Exhibitors

The Super Show wants to have a Board Sports Action Expo as part of next years show. The show will have a special exhibit and demo area. The show has partnered with pro skateboarder Pete Kelly, owner of INIT STYLE, to oversee the creation of the area. "The skateboarding community needs a better feel for the demands of the broader retail market," Kelly said. "Likewise, larger retailers need to develop a deeper understanding of our sport and its unique culture in order to present skateboarding products with the kind of authenticity skaters expects. Board Sports Action Expo at The Super Show is the perfect place to jump-start this process. The networking possibilities alone are worth the trip."

Bob Pegg was a familiar face in the team sports industry in the 80s and 90s. He worked in sales positions at Riddell and MacGregor. ISG learned he recently passed away at age 57. In February 1997, he resigned as president, Donzis Athletics, to accept a position as CEO of Ameracare, a developer of active adult retirement communities. Later, he was a successful salesman of Florida condos for Hammock Beach in Florida.

Stephens Inc. reiterated its overweight rating on Big 5 Sporting Goods. The 12-month target price is set to $29.00…Merrill Lynch downgraded Brown Shoe to neutral from buy…Pacific Growth Equities upgraded Quiksilver from under weight to equal weight.

Goldwin will add Coleman, Victorinox and Teva apparel to its offerings in Japan. The manufacturer-wholesaler already offers The North Hace, Helly-Hansen and Ellesse.

It looks like New York State will be a battle ground for outdoor big boxes, according to Buffalo Business First. Bass Pro Shops in negotiating with the state regarding a major waterfront development in Buffalo. Cabela's is scouting locations in Chautaugua County. Gander Mountain has a 103,000-square-foot store in Middletown, NY, and has plans for a string of doors in upstate New York.






Breaking Headlines
News...8/6/04
AUGUST 06, 2004


News...8/5/04
AUGUST 05, 2004


News...8/4/04
AUGUST 04, 2004


Warnaco Group Buying Ocean Pacific
AUGUST 04, 2004


News...8/3/04
AUGUST 03, 2004


Shorts...08/02/04
AUGUST 02, 2004


NSGA Study: Department Stores, led by Sears, Hike Share in Fitness Equipment
AUGUST 02, 2004


Short news...7/30/04
JULY 30, 2004


Short news...7/29/04
JULY 29, 2004


Short news...7/28/04
JULY 28, 2004