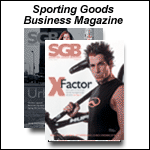 Short news...7/28/04

JULY 28, 2004 -- Torpedo Sports Merging With Slot Machine Company

Torpedo Sports signed a binding letter of intent to acquire Interactive Games, Inc., a developer and licensor of interactive casino technologies and slot machine games to the rapidly growing Native American Class II, Class III and charitable gaming markets. The subsequent merger is subject to the execution of a definitive merger agreement and other customary closing conditions. Torpedo Sports USA, formerly operated through its wholly-owned subsidiary, Torpedo Sports, Inc., Quebec, as a manufacturer and distributor of outdoor recreational products for children. The company recently announced its intention to liquidate its recreational products business and explore other business opportunities.

Pillsbury Resigns At Nike Golf

Dave Pillsbury resigned as US GM of Nike Golf, effective at the end of August. Pillsbury has accepted the position of COO of the PGA Tour Golf Course Properties, which owns and manages the Tour's Tournament Players Club Network. Pillsbury joined Nike Golf in April 2003 after 14 years with the American Golf Corp., operating in a variety of management roles throughout his tenure. His last post was serving as president of AGC. In his 15 months with Nike Golf, Pillsbury oversaw the company's US. business, including sales, operations, marketing and sports marketing while reporting directly to president Bob Wood.

Missouri Court Throws Out Gun Liability Suit

Basing its decision on a Missouri statute that blocks "junk" wsuits vsfirearms manufacturers, the Missouri Court of Appeals, Eastern District upheld the trial court's dismissal of the City of St. Louis's suit alleging the lawful sale of quality firearms created a public nuisance. The court pointed out that the city's case against the highly regulated firearms industry was prohibited by statute. "he enactment of this statute seems to be in response to suits like this one, which attempts to apply theories of tort liability to the significantly regulated industry of manufacturers, distributors and dealers of firearms,"the court said. "aving found the legislature has prohibited this type of suit in Missouri, we need not address the merits of this suit,"the court added.

American Wave International, manufacturer of wetsuits, sports protection gear, accessories and more, relocatedits headquarters to Coeur D'lene, ID, from its former location of Templeton, CA. The new address is 606 West River Rd, Coeur d' Alene, ID 83814.

The International SPA Association named Precor the official fitness equipment provider for the association. The three-year agreement was launched at the 10th annual ISPA Media Event last week in New York City. The sponsorship also includes a strong presence as an exhibiting sponsor at the annual ISPA Conference & Expo.

Collegiate Pacific has been issued a five-year contract by the General Services Administration to supply sports equipment to military and federal agencies worldwide.






Breaking Headlines
News...9/1/04
SEPTEMBER 01, 2004


News...8/31/04
AUGUST 31, 2004


News: 8/30/04
AUGUST 30, 2004


News...8/27/04
AUGUST 27, 2004


News...8/26/04
AUGUST 26, 2004


News...8/25/04
AUGUST 25, 2004


Shorts...8/24/04
AUGUST 24, 2004


News...8/23/04
AUGUST 23, 2004


News...8/20/04
AUGUST 20, 2004


News...8/19/04
AUGUST 19, 2004