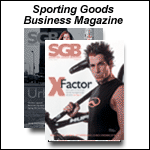 Russell Buying Huffy Sports

JULY 20, 2004 -- Russell Corp. acquired the assets of Huffy Sports Co., a division of financially troubled Huffy Corp., for $30 million. Huffy Sports is a leading supplier of basketball equipment with projected 2004 sales of $65 to $70 million.

"Huffy Sports is a leader in basketball backboards and related systems, providing a full range of quality products for consumers and institutions," said Jack Ward, COB/CEO. "While the division has other products, including inflatable balls, basketball backboards account for more than 80% of its revenue with strong market share both in the US and internationally."

Huffy Sports sells basketball equipment under the Huffy Sports, Sure Shot and HydraRib brands, and has held a license with the National Basketball Association for use of the NBA league and team logos for nearly a quarter century. The company also licenses the NCAA mark and has been the official supplier to the NCAA's Final Four Championship for 24 of the last 27 years, including 2003 and 2004. Additionally, Huffy Sports has backboard systems at more than 150 NCAA Division I schools.

"Over the years, Huffy Sports has developed patented products that increase the playability, safety and ease of assembly for its basketball backboard products," Ward added. "The HydraRib brand is one of the best known performance brands in basketball systems.

"Coupled with our Spalding division and our recent acquisition of American Athletic, Huffy Sports will help solidify our position as a leader in basketball equipment." Spalding is the official basketball of the NBA, American Athletic has its basketball systems in 12 NBA arenas and the NBA has agreed to transfer the Huffy Sports' license agreement to Russell as part of the acquisition.

Russell anticipates the Huffy Sports acquisition will be accretive in 2005, but is forecasted to be 4¢-5¢ per share dilutive for the 2H04. The projected dilution will be offset by the profits from the recently announced sale of its investment interest in Marmot Mountain, Ltd. As announced last week, Russell has an 8.5¢ per share one-time gain in the second quarter from the sale that will be reinvested into the company.

Huffy Sports employs approximately 200 people in its office and assembly operations in Sussex, WI. It sells products through a variety of channels, including specialty sporting goods retailers, toy stores and mass merchandisers in addition to institutional sales.

Robert Lafferty, Huffy's CFO, commented, "The proceeds from this transaction will reduce our term and revolving debt by approximately $18.0 million and provide approximately $9.0 million to fund current working capital requirements, although availability under our revolving credit facility remains limited. The company's secured lenders have agreed not to test covenants through December 31, 2004, however, there can be no assurance that the company's strategic actions to date will resolve its liquidity issues. We continue to review the valuation of intangible assets and certain entries specifically related to customer deductions and credits related to the Huffy Sports Canada business (formerly known as Gen-X Sports). While not final, in addition to the significant operating loss previously announced, a preliminary quantification of the impact of the revaluation of intangible assets, together with recording a full valuation allowance against deferred tax assets, would cause the first quarter loss to reduce the company's equity to a negative number. The company continues to work through these accounting issues but is unable to predict when it will finalize its financial statements."











Breaking Headlines
News...9/2/04
SEPTEMBER 02, 2004


News...9/1/04
SEPTEMBER 01, 2004


News...8/31/04
AUGUST 31, 2004


News: 8/30/04
AUGUST 30, 2004


News...8/27/04
AUGUST 27, 2004


News...8/26/04
AUGUST 26, 2004


News...8/25/04
AUGUST 25, 2004


Shorts...8/24/04
AUGUST 24, 2004


News...8/23/04
AUGUST 23, 2004


News...8/20/04
AUGUST 20, 2004