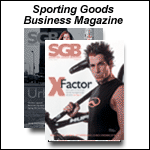 Short news...5/25/04

MAY 25, 2004 -- Kerbis Is Gone From Sports Authority

The Sports Authority announced Elliott Kerbis, president and chief merchandising officer, has resigned to spend more time with his family. The company will actively pursue a successor. In the interim, Doug Morton, CEO, will oversee Kerbis' areas of responsibility. Morton stated, "The board and I would like to thank Elliott for his leadership and direction during the important post-merger transition time and his efforts in helping to create the nation's largest full-line sporting goods retailer. Elliott was integral in building a strong merchandising team from the combined companies. We wish him all the best in his future endeavors."

Voters Approve Bond Package For Bass Pro

Voters in Garland, TX, approved issuing up to $23.7 million in general obligation bonds to lure a Bass Pro. The proposal had been hard fought by Academy Sports & Outdoors, which spent $28,000 opposing Bass Pro's benefit package. While there is increasing scrutiny of the packages offered to Bass Pro and Cabela's, the incentives are going through. In Buffalo, Bass Pro is being offered incentives worth $80 million to anchor a redevelopment of the city's empty municipal auditorium. In Louisiana, Bass Pro critics failed to convince a court to stop a $50 million package Denham Springs offered. Bass Pro Shops is already in Grapevine, TX, so nearby Fort Worth is offering $40 million to lure Cabela's. Buda, TX, a town of 3,600 near Austin, approved a similar deal last week. In Kansas City, Cabela's received $66 million. Cabela's received $28 million to locate near Detroit and $27 million to open in Hamburg, PA. It's been estimated that Bass Pro and Cabela's have received as much as $500 million in incentives.

Outlast Takes Over Frisby License

Outlast Technologies consolidated its position in Phase Change Materials (PCM's) through the acquisition of substantially all of the remaining assets of bznkrupt Frisby Technologies. Reportedly, There was an auction in Winston-Salem, NC, and the assets went for $460,000. The acquired assets include various technology licenses, the "Thermasorb" trademark, logo and website, the Frisby R&D library, product development databases, test reports and intellectual property rights in the field of phase change materials, customer and supplier databases, and office and lab equipment. Outlast plans to continue serving existing Frisby customers for their PCM product requirements. Additionally, these former Frisby customers will now have access to a wider range of Outlast PCM products, including fibers, coatings, coated fabrics and foams.

Site Launched To Mobilize Hunters For Election Day

A project of the Hunting and Shooting Sports Heritage Foundation, VoteYourSport.com has been launched and will be continually updated through Election Day, November 2. The site is designed to be an evolving, interactive repository of information. Associated print, radio and television commercials will encourage sportsmen and women to visit the site, where they'll become more informed and motivated voters. They'll also be urged to help spread the "vote your sport" message among their peers. "Four years ago, the phrase 'your vote could make the difference…' had become a tired cliché repeated by political activists every Election Day. But then America elected a president by the unbelievably close margin of only a few hundred ballots," said Doug Painter, HSSHF president. "Now there's no mistaking the wisdom behind that old phrase. Special interest groups from across the country recognize, this year more than any in recent history, that your vote really can make the difference."

According to Painter, a mobilized and educated force of hunters and shooters could wield enough clout to decisively swing local, state and even national elections. "Responsive Management data show that 85% of hunters are registered to vote, and 74% voted in the 2000 elections. Those are much-higher levels of participation than you'll see in most subsets of American society. Still, the remaining 15% that's not registered represents a force of more than two million votes. Add those who are registered but inclined to remain dormant, and now we're talking about nearly four million votes. We need all hunters and shooters at the polls this year, casting votes for candidates who are committed to preserving our traditions," said Painter.

Sport-Haley's Loss Widens

Sport-Haley posted a Q3 loss of $693,000 vs last year's Q3 loss of $79,000. The bigger loss was accentuated by several causes. As a result of an analysis of discontinued or aging inventories, performed by management, the company increased its inventories valuation allowance by $288,000 during Q104. It did not record such an increase it its valuation allowance during Q303. The company also recorded a charge of $150,000 in severance costs upon the resignation of its former president, Robert Haley, at the effective date of his termination on March 31.

Shorts: Matthew Knight, 34, oldest son of Phil and Penny Knight, apparently died in an accident. He was diving in Lake Ilopanga, near the capital of San Salvador when the fatal accident occurred Sunday. Knight was in Central America to shoot video footage for a nonprofit organization that runs orphanages. He would fly to El Salvador a couple times a year to help with fundraising. In addition to his parents, Knight is survived by his wife, Angie, their sons, Logan, 3, and Dylan, six months; and a brother, Travis, and a sister, Christina, both 30.

Nike will go forward and set up its own subsidiary in India following a decision not to renew the license of Sierra Trading Enterprises…RBC Capital Markets initiated coverage of Deckers Outdoor with an outperform rating.

Antiqua Group signed a multi-year license to produce a new line of Major League Soccer sportswear featuring both team and MLS logos. The merchandise includes tees, fleece, polo shirts, bags and lightweight sports jackets. The Antiqua product will be available in stadiums and at www.MLSGear.com.









Breaking Headlines
Short news...6/15/04
JUNE 15, 2004


Lowrance Restates Profit on Change in Accounting of Options
JUNE 15, 2004


Russell Corp To Acquire American Athletic
JUNE 15, 2004


VF Corp Buys Kipling
JUNE 15, 2004


Short news...6/14/04
JUNE 14, 2004


Short news...6/11/04
JUNE 11, 2004


Short news...6/10/04
JUNE 10, 2004


Short news...6/9/04
JUNE 09, 2004


ispo Summer Will Host 1,100 Exhibitors From 40 Countries
JUNE 09, 2004


Footlocker.com Will Manage Olympic Online Store For USOC
JUNE 08, 2004