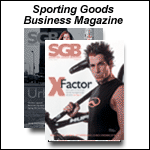 Short news...6/10/04

JUNE 10, 2004 -- Modell's Gets $5.3 Million In Incentives To Buy DC

According To Crain's New York Business, The New York City Industrial Development Agency approved a package of real estate and sales tax incentives to help Modell's buy a distribution center in the Bronx. The 115-year-old, $500 million company will get $5.3 million in incentives to help it purchase the Bronx facility, which it currently leases. Modell's has more than 2,400 employees in New York City and plans to add 115 employees as a result of the project.

Holsters Being Recalled, Could Cause Gun Discharge

First Samco Inc., through its Fobus USA Holster Division, of Southampton, PA, is recalling some 3,200 holsters. A plastic or leather strap on the gun holster can catch the trigger of the gun when inserted into the holster causing the gun to unintentionally discharge, posing an injury hazard to the user. There have been eight reports of Glock handguns unintentionally discharging when being inserted into the gun holster, and one report of a user injuring his finger when a Glock unintentionally discharged while being inserted into the gun holster. The gun holsters, made in Israel, are designed to hold a Series 17 and Series 19 Glock handgun fitted with a laser-sight light.

Forzani Group Buying Back Shares

The Forzani Group, Canada's largest retailer of sporting goods, announced that the Toronto Stock Exchange has accepted its application for a normal course issuer bid to purchase from June 11, 2004 to June 10, 2005 certain of its outstanding Class A shares. As at May 31, 2004, there are 32,628,329 Class A shares issued and outstanding. The number of Class A shares which may be purchased during the period of the bid will not exceed 1,000,000 Class A shares, which is approximately 3.06% of the issued and outstanding Class A shares.

The bid has been put in place because Forzani believes that the Class A shares are undervalued in the market and are a good investment for the company at current and recent prices. All Class A shares purchased through the bid will be returned to treasury for cancellation.

May Co. Outbids Federated For Marshall Field's

May Department Stores bought 62 Marshall Field's locations from Target, reportedly beating out a bid from Federated. The final price was $3.2 billion. Wall Street had expected Target to gain $2-$2.5 billion from the sale. The sale is expected to result in an estimated after-tax gain for Target in the range of $1 billion, somewhat exceeding $1.00 per share, in Q2 and Q3. Target also announced today its plans to repurchase $3 billion of its common stock. May will retain the Marshall Field's banner and will operate it as separate BU. Nine Mervyn's doors in the Twin Cities were also included in the deal. Target planned to close these Mervyn's stores. May spokeswoman Sharon Bateman said the stores would either become Marshall Field's or be redeveloped. She said the company would not bring any of its other banners into those locations. The headquarters of Marshall Field's will remain in Minneapolis. Target said that the review of a sale of Mervyn's is continuing, and that there might be a development in two to three months. Standard & Poor's quickly said it may cut its ratings on May's debt rating. S&P said it might cut May's long-term rating of "BBB-plus," the third-lowest investment-grade rating, and its "A-2" short-term rating. "Because the acquisition will be debt financed, May's leverage will increase substantially on a pro forma basis, even if a portion of the added debt is attributed to Marshall Field's accounts receivable," S&P said.

Huffy May Lose NYSE Listing

Huffy has received an early warning letter from the New York Stock Exchange indicating that with the recent decline in market capitalization and the anticipated significant loss in Q104, the corporation could fall below the Exchange's continued listing criteria as outlined in the NYSE Listed Company Manual. The letter, which stated that "no action is required at this time," also indicated that the Huffy could expect to receive formal notification from the NYSE should it trigger any of these criteria, and identified the actions and timelines that the company would have to take in order to return to conformity with the Exchange's continued listing criteria.

10 Community Sports Programs Get NikeGo Grants

The first NikeGO Factory Store grants, a way to recognize and reward local non-profit organizations dedicated to helping kids get active through sports and recreational activities, have been made. In its first year, the program will award 10, $5,000 grants ($2,000 in cash and $3,000 in product) to organizations in 10 local factory store communities and plans to expand the number of grants and markets in the future.

Each year, the NikeGO Factory Store Grant Program will seek to award organizations committed to helping get kids active through sports or recreational physical activities. Qualifying non-profit organizations and their programs must meet the following criteria to be eligible for a grant: involve eight-15 year olds; increase youth physical activity; measure impact; and be fun, sustained programs created or requested by kids.

The following organizations were awarded grants: Boys & Girls Club of Imperial Beach, Imperial Beach, CA; Snap-Hold-Kick Clinics, Fontana, CA; Boys and Girls Club of Jackson County, Commerce, GA; After School All Stars, Orlando, FL; Howell Highlander Basketball Camp, Howell, MI; East End Titans Baseball, Riverhead, NY; Boys & Girls Club of Lancaster, Lancaster, PA; Charles Davis Foundation, Nashville; San Marcos Parks & Recreation Department, San Marcos, TX; and Friends of Youth, Redmond, WA.

Cabela's Reduces IPO Share Count

Cabela's reduced the number of shares offered in its IPO to 7.813 million shares from 9.375 million shares. Major selling stockholders have reduced the amount of shares they plan to offer. The underwriters' option to buy additional shares to cover over-allotments has also been reduced to 1.172 million shares from 1.406 million shares. The underwriters are led by Credit Suisse First Boston and J.P. Morgan. JPMP Capital Corp., McCarthy Group Inc., Wachovia Capital Partners 2003 and the Teachers Insurance Annuity Association of America have brought the number of shares offered by stockholders in the IPO down to 1.563 million shares from 3.125 million shares.


All retailers and fitness buyers who register for the Health & Fitness Business Expo + Conference before June 30, 2004 will be entered to win two free nights at a designated hotel during the expo. Early registration will save buyers the $25 dollar registration fee. Buyers will receive expo badges in the mail, and be automatically entered to win two-free hotel nights (retailers/buyers who have already registered will also be automatically entered into this drawing). To register online or download form, click on the link below:
http://www.healthandfitnessbiz.com/healthandfitness/registration_hnf.jsp

The White House rebuffed a request from 130 Republican and Democratic members of Congress. They wanted the administration to persuade the World Trade Organization to delay tbe phase-out of textile quotas. The textile industry expects that India and China will swiftly flood the world markets. This would not only affect US producers, but also underdeveloped countries that have been given special access to the European and US markets.

The Kansas City Star endorsed a proposal to limit gifts to sitting Presidents. It noted that President George W. Bush has received a $7,500 boat dock from John Morris, founder of Bass Pro Shops, for the president's ranch lake in Crawford, TX. "The dock is something Bush ought to pay for himself because it is off-limits to the public," the paper said. "Last year, President Bush and his family accepted 17 gifts valued at $22,355. Included were $3,625 in golf clubs and equipment, $1,000 gold cuff links, three pairs of Mizuno running shoes valued at $360 and a $1,992 outdoor barbecue/smoker."








Breaking Headlines
Short news...6/10/04
JUNE 10, 2004


Short news...6/9/04
JUNE 09, 2004


ispo Summer Will Host 1,100 Exhibitors From 40 Countries
JUNE 09, 2004


Footlocker.com Will Manage Olympic Online Store For USOC
JUNE 08, 2004


Short news...6/8/04
JUNE 08, 2004


Madsen Will Retire Next Year From REI; COO Jewell Will Take Top Spot
JUNE 08, 2004


Short news...6/7/04
JUNE 07, 2004


Short news...6/4/04
JUNE 04, 2004


Short news...6/3/04
JUNE 03, 2004


Finish Line's Q1 Numbers Answers Serra With 14% Comp Gain And Increased EPS Guidance
JUNE 03, 2004