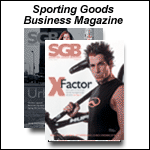 ispo Summer Will Host 1,100 Exhibitors From 40 Countries

JUNE 09, 2004 -- ispo summer 04 will once again provide an overview of the entire range of international sports equipment and sports fashion for the international trade. From Sunday until Tuesday, July 4-6, approximately 1,100 exhibitors from 40 countries (more than 70% from abroad) will present their latest products spanning sports fashion collection, product innovations, and technical advances. They will spread out across 950,000 square feet at the Munich Trade Fair.

ispo's role is not only that of trend and innovation scout, but one of market shaper, actively addressing and developing topics. Start-up competitions and international awards, trainee promotion and key account programs, summits and forums, workshops and seminars, as well as athletic events supplement exhibitor product presentations. Plus, ispo's central location in Munich affords participants in the European Union (25 member states and 450 million consumers) an ideal gateway to the sporting goods market.

A summary follows of several ispo communities and special events featured for the show:

sportswear_ and beachwear_ispo (Hall A2) Exhibitors include Arena, Brugi, Campagnolo, Casa di Stella, Daniel Hechter, Joy Sportswear, Killtec, L-Fashion Group, Maier Sport, Medico, Mistral, Seafolly, Solar, Speedo, Sportalm, and many others. Beachwear Fashion and Sportswear Fashion shows (on a runway) will feature the latest in functional and fashionable apparel for the 2005 summer season. Along with fashion shows, the Colour Forum of the Worth Global Style Network (WGSN), the International Designer's Exhibition of Active Sport (IDEAS), and the Promostyl Trend Barometer provide additional trend information.

board_ispo (Hall A3) encompasses globally established as well as young, independent brands such as Addict, Alis, Alpine Stars, Billabong, Brunotti, Chiemsee, Control, Element, Es, Flip, Gallaz, Globe, I-Path, Nikita, Oakley, O'Neill, Quiksilver, Roxy, Spy, The North, Vans, World Industries and Zipper. Retailers, industry leaders, athletes, and media will meet at the "board_ispo skate summit" to exchange ideas on the latest developments and trends in skateboarding. And, for the third time, the "seed bed" project brings young, yet exceedingly high-quality and innovative streetwear labels to the international Boardsports Community in Munich, a source of information for the specialized retailers looking for ways to extend their range of products.

inline_ispo takes up the ball in Hall A4, which was established last summer as a stand-alone community. Fila Skates, Head, Hudora, K2, Nike Inline, Powerslide, Roces, Rollerblade, Rollerderby, Rossignol Skates, Salomon, Xero Wheels and many more provide an overview of tomorrow's hits for the international trade, whether for competition, recreation, cross-training or endurance.

textrends_ispo, the special community for the pre-production phase, is also housed in Hall A4. Winners of the start-up competition "ispo BrandNew," celebrating its tenth anniversary this summer, are also presented here. This year's winners include a transparent folding kayak, cult sneakers from the GDR era, kite surfing fashions for women, a new style of bodyboard, power pogo sticks, and more. Plus, a fashion show stage provides the perfect site for presenting the winners of BrandNew's sportswear competition category.

Hall B1 houses the buyers associations as well as racket_ispo with such vendors as AET, Champion, Chiodi, Cornilleau, Dunlop, Fischer, Gala, Gosen, Head, Isosport, Kirschbaum, Liski, MTS, Nassau, Pacific, Roebel & Fiedler, Sartor, Sponeta, Sport Creber, Sport Enebe, Sport System, Sunflex, Toa, Vega, Wilson and Yonex.

running_ispo and football_ispo share Hall B2, featuring adidas, Asics, Champion, Concurve, Converse, Ecco, Jako, Kappa, Life Fitness, Loeffler, Lotto, New Balance, Newline, Pearl Izumi, Polar, Pony, Reebok, Sigma, Tao, Thorlo, Tri.me and others. This is also the site of the Speed Soccer Field, where junior league teamswill compete. At the center of the hall, the "Runner's World Action Point" provides comprehensive information on endurance sports. For the first time, a jury consisting of international dealers and the media will award the "Runner's World ispo Award" for shoes, apparel, accessories and walking/Nordic walking.

outdoor_ispo (Hall B3) will feature exhibitors such as adidas eyewear, Buff, Camelbak, Columbia, Deproc, Dolomite, Exel, Fischer/Löffler, Fizan, Gabel, Gumotex, Helly Hansen, Hi-Tec, Kamik, Karhu, Komperdell, Leki, Lizard, Lowa, Meindl, Mephisto, Merrell, One Way, Ploner, Polartec, Profeet, Salomon, Sorry, Suunto, Swix, Tecnica, Trespass, Trezeta, W.L. Gore and Ziener. This summer's ispo Outdoor Award will once again be presented in the categories hardware, footwear, textile and accessories.

Retailers will gain insight into the Running and Outdoor sectors, as the two communities are connected through Nordic Fitness, one of the main focal points at ispo summer 04. ispo will feature several practice courses, introductory Nordic Walking courses, the Nordic Fitness Summit, as well as lectures on the subject, the Nordic Walking Village in the atrium, the "Nordic Challenge" competition with ambassadors Evi Sachenbacher, Rene Sommerfeldt, Tobias Angerer, Peter Schlickenrieder, Ronnie Ackermann and Georg Spaeth of the Nordic Ski Championships, and the Nordic Walking Congress of the German Nordic Walking Association, DNV. In addition, the latest Nordic Fitness collections are an important element of the new Fast Forward Fashion Show.

fitness_ispo with exhibitors Bänfer, Bio Matrix, Body Sculpture, Carl Lewis Fitness, Dittmann, Hammer Sports, Ironmaster, Kolckmann, Life Fitness, Life Gear, Sunteco, Supreme, Tonic, Valenti Sante and others is found in Hall B3, while Hall B4 is occupied by international country representations at sourcing_ispo.

Sport Scheck and ispo celebrate the final day of the European soccer championships in Portugal together with big-name partners. On Sunday, July 4, Hall A6 will be transformed into a spectacular soccer stadium under the banner of "100% Leather," where up to 10,000 guests are expected. Further information can be found at www.100prozentleder.de. Trade visitors to ispo can also watch the finals on a mega-sized screen in the atrium of the fairgrounds on "ispo community night."

As for networking, ispo summer 04 offers many activities: To expand and strengthen relationships to American dealers, ispo is planning a Retailer Tour for dealers of skate, surf and footwear stores to follow last summer's Retailer Tour for American outdoor dealers. Various dealer programs are in the making for Europe and in particular for middle and eastern European countries. Retailers will become aware of the latest products at ispo summer 04, connect with other retailers in their field, attend seminars and events, and take advantage of synergies within the different sports categories and segments.

The Key Account Project as well as the Trainee Project will be continued at ispo summer 04. Together with partners Gore Bike and New Balance, ispo offers workshops and an informational event for trainees in the sports equipment branch, preparing them for their future roles.

ispovision, the trade show for sports inspired fashion, will be in Hall A1. Beside the Yachting Style and Premium Sportstyle segments, it is the first time for the Golf fashion segment to be integrated into the "Park Village" within Style City. It will also be the first time for a comprehensive market overview to be available as early as July in this fashion segment. The first European Sportstyle Summit is an entirely new program, where well-known guests from industry and trade will discuss developments in this segment. A Daily Fashion Show will expand the fashion show concept during fair hours to give dealers an opportunity for purchase planning and inspiration within their tight daytime schedules.






Breaking Headlines
News...8/20/04
AUGUST 20, 2004


News...8/19/04
AUGUST 19, 2004


News...8/18/04
AUGUST 18, 2004


News...8/17/04
AUGUST 17, 2004


News...8/16/04
AUGUST 16, 2004


News...8/13/04
AUGUST 13, 2004


News...8/12/04
AUGUST 12, 2004


News...8/11/04
AUGUST 11, 2004


News...8/10/04
AUGUST 10, 2004


News...8/9/04
AUGUST 10, 2004