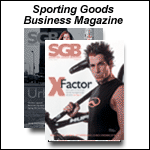 Footlocker.com Will Manage Olympic Online Store For USOC

JUNE 08, 2004 -- The United States Olympic Committee signed an agreement with Footlocker.com to manage the official online store and design the official catalog of the US Olympic Team for the 2004, 2006 and 2008 Olympic and Olympic Winter Games. The agreement includes the creation of www.usolympicshop.com, an online retail store. A relationship of this type is a first for the US Olympic Team.

It is expected that Footlocker.com's extensive consumer base will bring US Olympic Team apparel into the homes of more than 20 million consumers via the Internet and specially designed US Olympic Team apparel catalogs. The product offerings through the online retail store, usolympicshop.com, will be coordinated in conjunction with the apparel catalog series that will roll out later in June. The catalog will feature Olympians and 2004 US Olympic Team hopefuls, along with licensees like Roots, adidas and Aminco.

"In this new partnership with the leading provider of sporting goods sold direct-to-customers, Footlocker.com will help us reach a larger audience of sports fans and Olympic enthusiasts," said Jim Grice, chief marketing officer of the USOC. "Retail continues to be an important revenue stream for the USOC and this partnership will help us create more opportunities for America's athletes."

"We are very pleased to be associated with the United States Olympic Committee," stated Dick Johnson, president/CEO of Footlocker.com. "An important strategic priority for our company is initiating new partnerships with well-known third parties to leverage our industry-leading infrastructure. We believe this arrangement with the USOC will be an important new business venture for our company."

The agreement secures Footlocker.com as an official licensee of the USOC. With this designation, Footlocker.com will become the distributor of the official licensed collections of US Olympic apparel, and other merchandise provided by the more than 60 USOC licensees.






Breaking Headlines
News...8/20/04
AUGUST 20, 2004


News...8/19/04
AUGUST 19, 2004


News...8/18/04
AUGUST 18, 2004


News...8/17/04
AUGUST 17, 2004


News...8/16/04
AUGUST 16, 2004


News...8/13/04
AUGUST 13, 2004


News...8/12/04
AUGUST 12, 2004


News...8/11/04
AUGUST 11, 2004


News...8/10/04
AUGUST 10, 2004


News...8/9/04
AUGUST 10, 2004