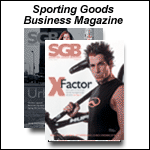 Short news...6/15/04

JUNE 15, 2004 -- Quiksilver Sales, Earnings Up 23%

Consolidated Q2 Quiksilver revenues increased 23% to $322.6 million. Consolidated net income increased 23% to $27.8 million. Q2 EPS were $0.47 versus $0.40 for Q203. Revenues in the Americas increased 16% to $148.5 million from $127.5 million. As measured in U.S. dollars, European revenues increased 29% to $140.3 million from $108.5 million. As measured in euros, European revenues increased 14%. Asia/Pacific revenues increased 30% to $33.2 million compared to $25.6 million in the second quarter of fiscal 2003. As measured in Australian dollars, Asia/Pacific revenues increased 3%.

CEO Bob McKnight noted, "We are incredibly pleased with our recent acquisition of DC Shoes. In addition to giving us a strong new brand capable of significant growth on a global scale, the infusion of talent and dedication into our management team and operations is of tremendous benefit to our culture and capabilities. We continue to regard DC Shoes as a significant catalyst for our business, and we are looking forward to demonstrating its potential to our shareholders."

Quiksilver also raised its guidance for the third and fourth quarters, and said it expects per-share earnings for its fiscal year to range between $1.27 and $1.29. The firm formerly forecast approximately $1.25 for the year.

Footlocker Reaffirms Guidance

Foot Locker said it remains on track to increase second-quarter earnings by 10 percent to 20 percent, and for a low single-digit percentage increase in same-store sales, CEO Matthew Serra said on Monday. The earnings forecast translates to per-share profit of about 27 cents to 30 cents. Analysts polled by Reuters Estimates on average forecast 29 cents. Foot Locker a year earlier earned $36 million, or 25 cents per share, on sales of $1.12 billion. Foot Locker issued its update as it gave a presentation at Credit Suisse First Boston Investors Conference.

Majestic Althletic Sponsors Women's Fastpitch Softball League

Majestic Athletic has entered into a three-year sponsorship and licensing deal as "Official Supplier" of team uniforms and athletic wear, including jerseys, jackets, shorts and practice apparel, for the National Pro Fastpitch (NPF) women's professional softball league. Replica NPF jerseys, as well as NPF logo t-shirt and v-necks, will be available for each of the six NPF teams at games and select retailers nationwide. Each team will have two different uniforms, the "The Windup" and "The Cage," for home and away games. The uniforms combine blend the performance of traditional baseball jerseys with the look and feel of more stylish basketball jerseys and materials. Said Faust Capobianco IV, president, Majestic Athletic, "This is a natural extension of our commitment to bring innovation and value to all of the 'diamond sports,' and a tremendous opportunity for Majestic Athletic, the National Pro Fastpitch League, Major League Baseball, retail partners, and fans. As National Pro Fastpitch continues to gain popularity and attract fans, we look forward to the increased opportunities to connect with the sport and its teams and fans through the apparel we create." Majestic recently won the contract to outfit all 30 Major League Baseball teams. It currently makes uniforms for 15 teams.

Savvier Countersues Nautilus Over Bowflex Trademark

Savvier, LP, the manufacturer and marketer of exercise and fitness products based in Carlsbad, CA, , has filed a filed a lawsuit against Nautilus Group in U.S. District Court for the Central District of California. The suit seeks a court determination that Savvier'slicensed Body Flex trademark and Nautilus Bowflex trademark are not confusingly similar, and that the Body Flex trademark has priority of use as it has been used in commerce since the early 1980s. Savvier said the action was filed in response to a suit filed by Nautilus, seeking to enjoin Savvier from using the Body Flex trademark. Joseph P. Costa, attorney for Savvier, stated, "Nautilus' original suit is entirely without merit. The Body Flex trademark has been actively employed in commerce for nearly 20 years, which we believe is prior to the introduction of Bowflex. The Savvier and Nautilus products are in no way similar, and we believe the differences are clearly apparent to consumers. It is difficult to comprehend why Nautilus would pursue litigation claiming the marks are similar as that could result in the loss of the Bowflex mark, which will obviously have significant ramifications for their business. We do not believe that Nautilus' counsel was aware of the priority of use of the Body Flex trademark when they filed the original suit against Savvier, and our efforts to bring this fact to their attention have been to no avail, leaving us with no recourse but to defend our brand vigorously."

Bauer Nike Hockey Meets With Union Representatives

Bauer Nike Hockey president and CEO Chris Zimmerman and senior management staff met with representatives of the United Steelworkers of America (USWA), and other unions. In a statement, Zimmerman said Bauer Nike informed union leaders of the significant progress it made consolidating the St-Jerome plant that has led to fewer layoffs than anticipated and additional hirings in Research and Development. Bauer Nike also agreed to further expand the pre-retirement program beyond what was initially voluntarily presented to employees. "We recognize that this is a difficult situation for our affected employees. Therefore, to help minimize the challenges of this transition, we ensured employees were provided with many months advance notice, fair severance packages and, in consultation with Local 967, we are providing
outplacement counselling, in addition to exceeding all statutory obligations," said Zimmerman. He added that Bauer Nike Hockey is faced with the same competitive realities that face the hockey equipment manufacturing industry as a whole. "The decision to realign our Canadian operations was made in response to competitive market pressures and the realities of an increasingly competitive global marketplace, and is necessary for the long-term health of our company. It should be noted that half of the outsourced production will remain in Canada, distributed among suppliers in Quebec and Ontario."

Clif Bar Appoints New CEO

Clif Bar, the Berkeley, CA-based maker of energy bars, has named Sheryl O'Loughlin, EVP of brand, as CEO. She replaces founder Gary Erickson, who had held variously the co-CEO and CEO post since 1992. Erickson will continue his involvement in the company, becoming more active in new product development, package design and disseminating the company's unique story. O'Loughlin joined Clif Bar Inc. in 1998 and most recently led marketing, sales and research and development for the $100 million company.

Gold Gym Sold

Brockway Moran & Partners, Inc., a Florida-based private equity firm, signed a definitive agreement to sell Gold's Gym International, Inc. to a group led by TRT Holdings, Inc., a privately-owned, diversified holding company whose assets include the Omni Hotel chain. The transaction is expected to close in late July 2004.
Brockway had owned the gym since 1999. Said Gene LaMott, President and CEO of Gold's Gym, "Brockway Moran & Partners has been an outstanding partner over the past five years, and Gold's Gym has prospered under their ownership. We are excited to enter the next stage of our growth and believe TRT will be a valuable partner that will help further the Gold's Gym brand and our presence worldwide."

Shorts: JB Sports' top apparel buyer, Jeff Bee, has left the UK's largest sporting goods chain, as part of the company's drive to cut its costs. He has been replaced by Stuart Middlemass, a former colleague of JB CEO Tom Knight from his days at Blacks Leisure, who has been promoted to Bees' position. (Source: SGB UK)...Pacific Sunwear ranked 46, Big 5 Sporting Goods, 62, Hibbitt Sporting Goods, 65, in Business Week's cover story on the "Hot Growth Companies -- The 100 best small companies."...Teva is designing a new line of shoes made especially for elephants. The shoe is specifically being made for Tina, a 34 year old Asian elephant suffering from a debilitating foot disease who resides at The Elephant Sanctuary in Tennessee...ISG erred when it referred to Emma O'Reilly as a doctor. She worked for several years as Lance Armstrong's masseur, physical therapist and personal assistant.








Breaking Headlines
News...8/20/04
AUGUST 20, 2004


News...8/19/04
AUGUST 19, 2004


News...8/18/04
AUGUST 18, 2004


News...8/17/04
AUGUST 17, 2004


News...8/16/04
AUGUST 16, 2004


News...8/13/04
AUGUST 13, 2004


News...8/12/04
AUGUST 12, 2004


News...8/11/04
AUGUST 11, 2004


News...8/10/04
AUGUST 10, 2004


News...8/9/04
AUGUST 10, 2004