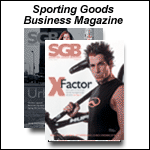 Short news...6/14/04

JUNE 14, 2004 -- Global Brand Marketing/Datta Are Recipients Of Awards

Global Brand Marketing, Inc., owner of Pony International and Dry-shoD, and global footwear licensee for Diesel, XOXO, Nautica and Mecca, has been he recipient of several awards:
· "Entrepreneur of the Year" to Killick Datta by the South Coast Business & Technology Awards;
· "Company of the Year" by the Goleta Valley Chamber of Commerce;
· Pacific Coast Business Times ranked GBMI #5 of their list of the top 50 largest tri-county based private companies
· Ernst & Young "Entrepreneur of the Year" has nominated Killick Datta as a finalist for its award.

The South Coast Business & Technology awards recognize achievements of outstanding business and technology leaders. Over 500 business leaders attended the annual reception. All proceeds benefit the Scholarship Foundation of Santa Barbara.

The Goleta Valley Chamber of Commerce is a business-oriented membership organization that helps to advance the interests of the Goleta Valley through a program of service to businesses and public leadership. Awards are given to business leaders and companies recognized for their contribution to the community.

Leading tri-county business publication Pacific Coast Business Times honored several regional firms during its annual awards as part of its 101 One Hundred celebration. GBMI was recognized as one of the top five largest privately held companies in the tri-county region.

The Ernst & Young Entrepreneur of the Year award honors entrepreneurs whose ingenuity, hard work and perseverance have created and sustained successful, growing business ventures. The year-long program culminates in an annual conference each year during November.

Italian Boot-Maker Makes US Debut

Calzaturificio Zamberlan, Pievebelvicino, Italy, has been crafting outdoor footwear for 70+ years. Now, for the first time, Zamberlan products will be sold and serviced in the US. Zamberlan USA will handle US sales, marketing, fulfillment and customer service. It company will be headquartered in Golden, CO, and directed by John Cranford. Cranford brings over 20 years of outdoor footwear experience to the new venture having worked with Asolo, Vasque and most recently AKU. "Zamberlan is well known in nearly every major market outside of the USA," said Cranford. "Several major US retailers have purchased it directly from Italy; they thought it was that unique." Zamberlan's Trek Lite was labeled the "killer deal" among day hikers in Outside Magazine's 2004 Buyers' Guide.

Zamberlan footwear is currently available at REI, Blue Ridge Mountain Sports and a select group of specialty shops throughout North America.

Cranford plans to complete the hiring of key reps and support personnel over the next few weeks, well in advance of the Outdoor Retailer Summer Market. Zamberlan footwear can be seen at the OR show in booth 5346.

Book Accuses Lance Armstrong Of Using Banned Substances

A book entitled "LA Confidential – the secrets of Lance Armstrong" charges the five-time Tour de France champion of using banned substances since recovering from cancer in 1998. Written by Sunday Times writer David Walsh and cycling specialist Pierre Ballester, excerpts are expected this week in L'Express, a French magazine. They will cite US Postal Team doctor Emma O'Brien. She claims that Armstrong asked her to dispose of a bag of syringes following the Tour of Holland in 1998. Armstrong is already threatening legal action.


Converse named Brian Forde VP/US footwear sales. He had been US eastern regional footwear SM of Nike…Robert Mangione was promoted to VP/US sales of Nutica Footwear, a unit of Global Brand Marketing, Inc. In his new position, Mangione will oversee all aspects of US sales operations for Nautica Footwear and will be based at company headquarters in Santa Barbara, CA.






Breaking Headlines
News...8/20/04
AUGUST 20, 2004


News...8/19/04
AUGUST 19, 2004


News...8/18/04
AUGUST 18, 2004


News...8/17/04
AUGUST 17, 2004


News...8/16/04
AUGUST 16, 2004


News...8/13/04
AUGUST 13, 2004


News...8/12/04
AUGUST 12, 2004


News...8/11/04
AUGUST 11, 2004


News...8/10/04
AUGUST 10, 2004


News...8/9/04
AUGUST 10, 2004