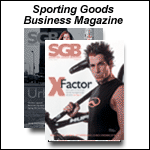 Short news...6/11/04

JUNE 11, 2004 -- Outdoor Chains Are Tops In Service

The top three industry retailers perceived by their customers to have excellent/good service are all outdoor-oriented businesses. At the top were REI, Cabela's and EMS. All three had ratings above 90% in the recent SGB Brand Awareness and Retailer Assessment Study. At the bottom, were Champs, Big 5 and Famous Footwear. The difference between at the bottom Champs and REI at the top was 80 percentage points, 93.4% vs 13.2%. Hibbett Sporting Goods was the first sporting goods chain to make the tops in service list.

The data are from the SGB Brand Awareness and Retailer Assessment Study prepared by the Leisure Trends Group. Headlines from the survey include: Top 20 Brands: By overall population; by age 16-65; by age and gender (10-15%); by gender; by ethnicity; by region; by residence area; by presidential choice; by sports participation; by auto type; and by leisure habits. Other portions include brand awareness (10-65); brand power ratings, footwear brand imagery (10-65); and much more. For more information, contact Jeff Nott, 646/654-4464, [email protected]

Ashworth Q2 Revenues Hit A New Record

Ashworth's consolidated Q204 net revenue increased 4.0% to a record $54.7 million. Consolidated Q2 net income increased 32.6% to $5.7 million, or 41¢ per diluted share compared to consolidated net income of $4.3 million, or 33¢ per diluted share for Q203. In February 2004, Ashworth sold its existing distribution center facility in Carlsbad, CA, and recorded an after-tax gain on disposal of fixed assets of $1.0 million. Without the gain on sale of fixed assets, Ashworth would have reported record consolidated net income of $4.7 million, or 34¢ per diluted share.

EJ Footwear has decided to end its licensing arrangement for the Hummer Footwear brand. Roper Apparel and Footwear is assuming the footwear license.

Moody's Investors Service may cut the long-term debt ratings for May Department Stores Co. after the retailer said it was paying $3.24 billion to acquire 71 Midwestern department stores from Target. Moody's currently rates May Department Stores' long-term senior unsecured debt at "Baa1," the third lowest investment-grade rating. The rating agency affirmed May Department Stores short-term rating of "A-2." Now that Federated lost out in the bidding for Marshall Field's, Wall Street expects the former to go after Dillard's.






Breaking Headlines
News...8/20/04
AUGUST 20, 2004


News...8/19/04
AUGUST 19, 2004


News...8/18/04
AUGUST 18, 2004


News...8/17/04
AUGUST 17, 2004


News...8/16/04
AUGUST 16, 2004


News...8/13/04
AUGUST 13, 2004


News...8/12/04
AUGUST 12, 2004


News...8/11/04
AUGUST 11, 2004


News...8/10/04
AUGUST 10, 2004


News...8/9/04
AUGUST 10, 2004