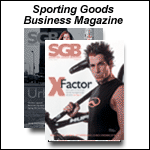 Russell Corp To Acquire American Athletic

JUNE 15, 2004 -- Russell Corp said it has signed a contract to acquire the assets of American Athletic, Inc. (AAI) for $13 million. AAI's sales for 2004 are projected to be approximately $20 to $22 million and it is anticipated the acquisition will have no significant impact on Russell's earnings for the year. The acquisition is expected to close this week.

Founded in 1954, AAI manufactures and markets athletic equipment for high schools, universities, professional teams and athletic clubs globally. The company offers a variety of products including basketball and volleyball equipment, athletic mats and gymnastics apparatus under a variety of brands, including American Athletic and BPI. AAI supplies athletic equipment to a variety of venues, including stadiums for 12 National Basketball Association (NBA) teams and more than 100 NCAA schools.

"During its 50-year history, AAI has become internationally known for providing highly engineered products of excellent quality for the athletic equipment market," said Jack Ward, Russell's chairman and CEO. "The company's involvement with high school and college athletics, as well as with professional teams from the NBA, certainly strengthens our growing position as a sporting goods company that can provide a strong portfolio of brands and products."

Russell Corp noted that it already has a significant connection to the NBA through its Spalding brand as the official basketball of the league and Russell Athletic outfits more than 200 Division I teams in the NCAA.
In 1996, AAI moved into the basketball market when it acquired Basketball Products International (BPI). In addition to its strength in basketball and volleyball, the company is the world's leading supplier of gymnastic equipment.

AAI is based in Jefferson, Iowa where it operates three plants and employs approximately 150 people. Its products are sold by dealers and a direct sales force. Its products include portable backstops, ceiling suspended backstops and team basketball products, including backboards, rims, pads and accessories; a complete line of gymnastics apparatus and mats; volleyball systems, referee platforms and accessories; divider curtains; batting cages; and protective padding.







Breaking Headlines
News...8/20/04
AUGUST 20, 2004


News...8/19/04
AUGUST 19, 2004


News...8/18/04
AUGUST 18, 2004


News...8/17/04
AUGUST 17, 2004


News...8/16/04
AUGUST 16, 2004


News...8/13/04
AUGUST 13, 2004


News...8/12/04
AUGUST 12, 2004


News...8/11/04
AUGUST 11, 2004


News...8/10/04
AUGUST 10, 2004


News...8/9/04
AUGUST 10, 2004