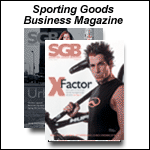 Mission Hockey Merges with ITECH Sport

MAY 04, 2004 -- Mission Hockey of Santa Ana, California and Montreal-based ITECH Sport Products Inc. have agreed to merge. The new organization, Mission-ITECH Hockey, combines the market leader in roller hockey equipment with the market leader in facial protection. It will be 100 percent owned by individuals tied to hockey, including the Naegele family, principal owners of the NHL Minnesota Wild; Kevin Compton, principal owner of the NHL San Jose Sharks; and ITECH Hockey founder and former NHL player, Robin Burns. Mike Whan, Mission Hockey's current CEO, becomes CEO of Mission-ITECH Hockey.

The merger creates a full-service hockey company and places Mission-ITECH Hockey amongst the largest hockey companies in the world, according to a statement. Mission Hockey has been an industry leader in roller hockey for the past 9 years. It is also one of the preeminent ice hockey brands, experiencing double-digit growth over the past year in virtually every ice hockey equipment category in which it competes -- sticks, skates, pants, and gloves. Founded 20 years ago, ITECH is recognized worldwide as the pioneer in head, facial and goalie facial innovation and is one of the fastest growing helmet and goalie equipment brands. Combined, nearly half of today's NHL players use Mission-ITECH Hockey equipment.

Whan, said, "Mission-ITECH Hockey now has major advantages relative to our key competition, significant growth in each of our key categories, clear and distinctive brands in each segment, and most importantly, an ownership team that is 100% hockey!"

Bob Naegele Jr., chairman of the newly-formed Mission-ITECH Hockey said, "We scoured the hockey landscape for companies fitting three criteria: a good business partner, complementary products and strong talent within the organization. ITECH was the logical choice, and joining forces with them makes us an even stronger, more competitive hockey organization. Mission's strength in skates, sticks, and pants evolves from a strong history of roller hockey innovation; while ITECH's position in helmet/facial, goalie, and protective gear, stems from its Canadian ice hockey roots."

Compton adds, "We fully intend to do what it takes to become the brands of choice for hockey retailers and consumers for premium, high-performance products."

Burns said, "It's rare when you find individuals that share your personal faith, love of product and passion for hockey. Hockey is more than business for this leadership team -- it's a way of life. With the strength of our brands, and the commitment of this ownership team to winning, the future of Mission - ITECH Hockey is limitless."





Breaking Headlines
Short news...5/5/04
MAY 05, 2004


OR Confirms Speakers At Summer Market Conference Program
MAY 05, 2004


Mission Hockey Merges with ITECH Sport
MAY 04, 2004


Short news...5/4/04
MAY 04, 2004


Short news...5/3/04
MAY 03, 2004


ispo Will Give Nordic Walking Special Focus
MAY 03, 2004


Short News...4/30/04
APRIL 30, 2004


Huffy Hires Lazard Freres
APRIL 29, 2004


Nautilus Group Earnings Plunge On Small Revenue Gain
APRIL 29, 2004


Big 5's Net Income Doubles
APRIL 29, 2004