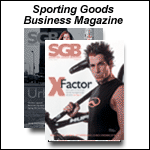 Short news...5/3/04

MAY 03, 2004 -- US sporting goods manufacturers maintained a healthy rate of sales growth in 2003, while controlling costs and managing assets well. However, a reduction in gross margin attributable to pricing pressure resulted in weaker bottom line results in 2003 compared to 2002. That's the key finding of SGMA International's 21st Annual Study of Financial Performance – 2004 Edition. SGMA's comprehensive report is based on actual results reported by 61 manufacturers (publicly and privately held) in the athletic footwear, sports apparel and sport equipment segments, having combined sales of $31.1 billion in wholesale value in 2003. Here are some important facts derived from this report.
(1) Sporting goods manufacturers' sales growth (+6.8%) was strong and on par with that of 2002, but lagged behind the sales growth rate of all non-durable goods manufacturers in 2003.
(2) Productivity growth (sales/employee) improved in 2003 (+3.7%) indicating good utilization of human resources.
(3) Industry profitability declined slightly from 2002. Return on sales (5.2%), return on assets (8%) and return on equity (13.1%) all declined in 2003. This was primarily caused by a decline in gross margin from 38.6% in 2002 to 35.5% in 2003.
(4) Manufacturers controlled assets well as the fixed assets by total assets ratio and liquid asset turnover ratio both improved.
(5) There is a fairly high degree of leverage of assets which is a concern given the current healthy sales rate and the prospect of interest rate increase.
(6) Advertising spending increased in 2003, while R&D spending turned down.
"The industry proved resilient considering the consolidation and pricing pressures which manufacturers have been experiencing", noted Sebastian DiCasoli, SGMA's director of market intelligence. "There are signs that the pressure on prices are easing somewhat and, hopefully, an interest rate increase is not imminent." The 55-page report is comprised of narrative analysis of survey results, stock price, net income and EPS data for 34 publicly owned sporting goods manufacturers, as well as statistical tables for 31 sales/financial measures displayed in total and grouped by company sales volume, major product sector an type of ownership.

JP Morgan reiterated neutral weight rating on adidas-Salomon. Analysts believe the company will report declines of 3.6% and 10% in its Q1 sales and operating profits, respectively. JP Morgan expects the company's order backlogs to have increased by 5% in constant currency terms during Q1.

First Albany reiterated its strong buy rating on Big 5. The target price has been raised from $31 to $32.

A federal grand jury indicted a security employee and a co-worker of Cabela's in Kansas City, KS, alleging they stole nearly $88,000 in merchandise and transported it to Missouri for sale on eBay. One employee conspired to make false bids in an effort to drive up the prices.

Tommy Bahama named Kathi Collins NSM of its women's division. She had previously served as VP/sales and marketing of Forte Cashmere.

Heisman Trophy winner Herschel Walker, tennis legend Billie Jean King, and other sports professionals and Olympians will be attending a press conference at the Cannon Office Building Terrace on Wednesday. They will be supporting a new proposal by P.E.4LIFE to battle the epidemic of childhood obesity. Representatives James Gibbons (R-NV), Kay Granger (R-TX), John Peterson (R-PA) and Ted Strickland (D-OH) will join P.E.4LIFE president/CEO Anne Flannery in announcing a new three-part initiative to improve the health and well-being of American youth: (1) Increased funding for the Carol White Physical Education Program. Now in its fourth year, the PEP program grants ($70 million in FY 2004) are invigorating P.E. programs and attracting more young people to healthy and active lifestyles; (2) Improved P.E. programs following P.E.4LIFE Institute guidelines that aren't about making baskets or scoring goals, but increasing heart rates. The P.E.4LIFE program is putting the fun back into sports, fitness, recreation and exercise in a way that inspires all students to want to be active everyday of their lives; (3) creation of the new Center for the Advancement of Physical Education to lead policy change efforts and measure results.

Collegiate Pacific stated that operating income for Q304 ending March 31, 2004 is expected to "materially exceed" previous estimates of $1 million. Michael Blumenfeld, CEO, stated: "We are seeing signs of strong operating leverage as we move into the second half of our fiscal year. This leverage is primarily the result of stronger than expected growth in our organic business units during Q3, and controlled expenses as it relates to the generation of these sales. The company previously pre-announced Q3 sales are expected to beat the $9.8M estimates by more than 10%. We believe that operating income will show substantial leverage on these sales and materially exceed previous estimates. It is important to re-iterate that Q3 results will not include any contribution from the recently closed Kesslers Team Sports acquisition."

Everlast Worldwide Q104 sales were $14.1 million, representing an increase of $1.7 million, or 14% over the 2003 corresponding period. Net licensing revenues increased 26% to $2.1 million. Combined, net revenues were $16.2 million representing an increase of 16%, or $2.2 million over the 2003 period. For the quarter, the company achieved operating income of $1 million, an increase of 131%, while EBITDA increased to $1.4 million, representing a 77% increase over the 2003 comparable period. Net income available to common stockholders was $188,000, $0.06 per basic share, as compared to $16,000, $0.01 per basic share in 2003.






Breaking Headlines
Mission Hockey Merges with ITECH Sport
MAY 04, 2004


Short news...5/4/04
MAY 04, 2004


Short news...5/3/04
MAY 03, 2004


ispo Will Give Nordic Walking Special Focus
MAY 03, 2004


Short News...4/30/04
APRIL 30, 2004


Huffy Hires Lazard Freres
APRIL 29, 2004


Nautilus Group Earnings Plunge On Small Revenue Gain
APRIL 29, 2004


Big 5's Net Income Doubles
APRIL 29, 2004


Columbia Q1 Sales Surge 22%; Net Income Hits Record
APRIL 29, 2004


Short news...4/29/04
APRIL 29, 2004