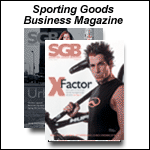 Short news...5/4/04

MAY 04, 2004 -- The FTC (Federal Trade Commission) has given the green light to Foot Locker's purchase of Footaction stores. In a statement, Foot Locker said that the that the waiting period required under the Hart-Scott-Rodino Antitrust Improvements Act had expired in connection with its proposed purchase of approximately 353 Footaction stores, and it expects to the transaction to close before the end of this week. Foot Locker originally offered $165 million for the stores, but increased its bid after rival Finish Line made a $195 million offer in a April 22nd bankruptcy court auction. Dale W. Hilpert, CEO of Footstar, Footaction's owner, says, "We look forward to working with Foot Locker on a smooth transition."

Schutt Sports has agreed to a platinum sponsorship with the Texas High School Coaches Association for 2004-2005. The partnership recognizes Schutt as the "Official Football Helmet of the Texas High School Coaches Association". The THSCA consists of high school and college coaches of all sports dedicated to the belief that athletics is a very important part of the educational process. Now in its 74th year, the THSCA has grown from 28 members to nearly 16,000, making it the largest coaches association in the world. Along with the designation as the official helmet, the sponsorship allows Schutt to reach coaches, parents, and players in many ways. The Texas High School All-Star Game, which will be played at Rice Stadium on July 27, will showcase the new Schutt DNA helmet. Schutt will also have a large presence at the THSCA conference in Houston, banners and a link on the official website (www.THSCA.com), a full year's advertising in Texas Coach magazine, and a preferred vendor listing in the THSCA Buyers Guide.

Galyans Trading's new CEO Ed Holman received $1.8 million in total compensation in 2003, while other top execs saw their pay drop after profits plunged, according to Galyan's just-issued proxy statement filed with the Securities & Exchange Commission. Holman, hired in September 2003 as president and chief operating officer, became CEO March 1 after Robert Mang resigned as chairman and CEO. Holman's total compensation was boosted by a $705,000 bonus, $720,000 in restricted stock awards, and $83,605 related to relocation expenses. Mang's compensation totaled $610,587 last year, down 10 percent from the $682,111 in 2002. His salary was $600,000 last year, up from $550,000 the year before, but he received no bonus in 2003 versus a 2002 bonus of $120,313. The proxy statement also shows that C. David Zoba, executive vice president received $458,000, down 28% from 2002; Charles F. Nelson, former senior vice president: $272,500, down 1.5%; and Edward S. Wozniak, senior vice president and CFO: $273,000, down 31.6%.

Gander Mountain has selected Minneapolis-consultants, nParallel to redesign its footwear department. The nParallel program includes strategic brand interpretation, environmental and fixture design, graphics production, fabrication, warehousing and shipping, and installation. Says Andy Carlin, Gander Mountain regional VP, "As we add more stores and introduce our big-box format, we are learning how to adapt merchandising to improve product presentation to customers in larger stores. We chose nParallel, based on their track record with other clients, to deliver a solution that makes footwear stand out and helps us capture greater market share."

Gift registries at sporting goods chains? REI said a new gift registry launched this spring garnered 6,000 gift lists nationally in eight weeks. The registry, typically used for weddings, can be created at home, at REI.com or by phone; or in the store by using hand-held scanners to register items. REI says the success supports a survey showing that couples enjoy outdoor activities together. "The response to our newly integrated gift registry has exceeded every projection," says Joan Broughton, REI VP of multichannel programs. "This blend of great customer service and technology delivers an easy to use feature that is fun for our customers, whether they are registering or buying." Favorite gifts on the lists included gender-specific backpacks; lightweight tents; cooking gear, like the GSI Hard-Anodized No-Stick Extreme Cook Set; and technology gadgets, such as Garmin eTrex GPS.

LaCrosse Footwear Inc. reported net income of $1.1 million, or 18 cents a share, in the first quarter of 2004, up from a net loss of $600,000 in the same period of 2003. Sales advanced 19.4% to $23.7 million. Retail sales of LaCrosse brand products increased, due to the introduction of the Quad Comfort line of work boots, increased sales of sporting boots, as well as strength in winter boots and waders. Sales for Danner increased, driven by the successful introduction of new recreational products, as well as a large purchase by the U.S. military. Safety and Industrial sales were down as the company continued its strategic reduction in the number of products being offered for sale in the private label and mass merchant markets, the strategic elimination of low-margin products, and reduced sales of lower priced or commodity products. Said Joseph P. Schneider, President and CEO of LaCrosse Footwear. "In recent years, we successfully managed our strategic transition to a product development, marketing and sourcing company, with a major consolidation of operations and cost reductions. Moving into 2004, we are encouraged with dealer responses to our innovative new products, including our new LaCrosse Quad Comfort and Danner Agitator lines."

Easton Sports has launched a new top-tier bat called the Stealth. Matt Arndt, director of baseball/softball products for Easton, said, "The Stealth truly represents the top of Easton's industry-leading bat line. In addition to our patented ConneXion technology that gives players unmatched handle-to-barrel energy transfer and more '"whip" through the hitting zone, the Stealth features our exclusive Sc888 Triple 8 alloy and our revolutionary Opti-Flex composite handle technology to provide hitters with more flex and added pop." The Stealth adult baseball bat comes in two different flexes: Regular (red barrel fading into a silver braided handle) and Stiff (black barrel fading into a red braided handle). It will be available May 1, 2004 with an MSRP of $299.99. The Stealth will also be offered in versions for Senior Youth Baseball, Youth Baseball, Slow-Pitch Softball, and Fastpitch Softball.

Cramer Products Inc., the sports medicine company, has entered into an agreement to acquire the assets of Cosom Sporting Goods of Thorofare, N.J., a top supplier of sporting goods to schools, recreation programs, and senior centers. "As an industry leader, we are always looking to grow with strategic acquisitions," says Thomas K. Rogge, president and CEO chief executive officer of Cramer Products, Gardner, Kan. "Cosom is absolutely the best in its class for many physical education products, including hockey sticks and their Fun Ball. Cosom's reputation is impeccable, and many of their product lines lead the industry in sales." The transaction will be complete around the first of June. At that point, the Cramer and Cosom physical education lines will be merged together to form one line that will be marketed as Cosom by Cramer. Tom Swartz, president and CEO of Cosom Sporting Goods, said, "We know that Cramer shares our commitment to providing exceptional, personalized service and high quality products. Our customers will continue to be in very good hands, and that was our number one concern when considering this transaction."

Smith Optics has hired Brian Cotsonas as East Coast regional sales manager. Cotsonas most recently worked as the East Coast sales manager for Eyeking/Hobie Polarized Sunglasses. He also held a position as the national sales director for Gargoyles, Anarchy and Angel Eyewear. As a result of restructuring its sales department, Smith will also appoint Central and Western regional sales managers. Linda Rodney, who has worked at Smith for several years overseeing national sales, will become the Central regional sales manager and will handle a majority of Smith's national accounts. A West Coast regional sales manager will be announced soon. All three sales managers will report to Blair Clark. Smith's VP of sales.

Merrill Lynch downgraded adidas-Salomon from "buy" to "neutral." Merrill Lynch said it was concerned about the reduced visibility for a sustained upturn in US athletic footwear market in the near term. The analysts also do not anticipate any potential currency benefits for the company's earnings performance in 2H04.

Nike scored highest among apparel firms in a ranking of how consumer goods companies treat online browsers. The Customer Respect Group, an international research and consulting firm based in Washington D.C., assigned a Customer Respect Index rating to each company on a scale of one to ten based on a customer's online experience when interacting with companies via the Internet. Nike earned an 8.3 rating; followed by Timberland Co., 7.5; Nine West Group, 7.2; Reebok, 6.9; Levi Strauss, 6.6; Polo Ralph Lauren, 5.9; Kellwood, 5; The North Face, 4.9; Russell Athletic, 4.2; Olga lingerie, 4.1, and Van Heusen, 3.1. Customer Respect Group based its ratings on interviews of Internet users and its own analysis of more than 1,000 web sites. Key factors included simplicity, responsiveness, privacy, attitude, and principles.










Breaking Headlines
Short news...5/5/04
MAY 05, 2004


OR Confirms Speakers At Summer Market Conference Program
MAY 05, 2004


Mission Hockey Merges with ITECH Sport
MAY 04, 2004


Short news...5/4/04
MAY 04, 2004


Short news...5/3/04
MAY 03, 2004


ispo Will Give Nordic Walking Special Focus
MAY 03, 2004


Short News...4/30/04
APRIL 30, 2004


Huffy Hires Lazard Freres
APRIL 29, 2004


Nautilus Group Earnings Plunge On Small Revenue Gain
APRIL 29, 2004


Big 5's Net Income Doubles
APRIL 29, 2004