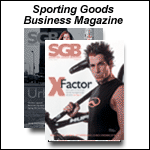 Short News...4/30/04

APRIL 30, 2004 -- TaylorMade-adidas Golf introduced a new golf club trade-in program designed to benefit both consumers and retailers. Called TaylorMade Trade Advantage, the program allows consumers to trade in qualifying pre-owned clubs at participating retailers in the US in exchange for a discount on new TaylorMade equipment. A wide variety of brands qualify for trade-in. Acceptable brands are listed in PGA.com's Value Guide. Any club listed in the Value Guide, regardless of brand, will be accepted for trade-in so long as the club or clubs have trade-in value and meet the conditional requirements specified in the program rules. Accepted types of clubs include drivers, fairway woods, hybrids, irons, wedges and putters. "One of the advantages of using PGA.com's Value Guide as the basis for accepted trade-ins is that consumers can log onto the website themselves at www.pga.com/valueguide to determine whether the clubs they've chosen to trade in are an accepted brand, and to get an idea of the range of trade-in values that their trade-in clubs might be worth," said Rob McClellan, director of global eMarketing. Participating retailers judge the value of trade-in equipment according to detailed guidelines listed in TaylorMade's Trade-In Club Condition Grading Assistant, which is easily downloaded from TaylorMade's new business-to-business website, www.tmag.biz. The responsibility for judging the value of the club lies with the retailer, who makes the final decision as to whether the trade-in club has value, and if so, what that value is.

Wells Fargo Securities raised its FY04 estimates on Big 5 to $1.61 from $1.55. The FY05 estimate was raised to $1.87 from $1.80. The target price was raised to $30 from $29. A buy recommendation remains. WFS reiterated its buy rating on Columbia Sportswear, but lowered its EPS estimate for FY04 to $3.25 from $.3.32. FY05 was lowered from $3.75 to $3.64. The target price remains the same, $61.

The board of directors of the Fair Labor Association voted this week to accredit Reebok International Ltd.'s program to implement a rigorous workplace code of conduct in the footwear factories making the company's products. The vote followed FLA's extensive review of independent factory monitoring and verification reports of supplier facilities conducted by accredited external monitors, and a thorough audit of the monitoring protocols, training programs and auditing systems used for Reebok's footwear program. FLA is a non-profit organization that combines the efforts of industry, non-governmental organizations, colleges and universities to promote adherence to international labor standards and improve working conditions worldwide…Reebok completed its offering of $350 million of 2.0% convertible debentures due 2024, which includes the exercise by the initial purchasers of their option to purchase an additional $50 million aggregate original principal amount of debentures. The company has also issued a notice of redemption to redeem the $250 million outstanding principal amount of its 4.25% convertible debentures due 2021 on May 17, 2004. The redemption price on May 17, 2004 is equal to 102.125% of the principal amount of the convertible debentures, together with accrued and unpaid interest, if any, up to but not including the redemption date.

DuPont and subsidiaries of Koch Industries finalized the sale of INVISTA, formerly DuPont Textiles & Interiors, for $4.2 billion, including the assumption of debt and certain joint venture and equity interests covered under a non-binding letter of intent.






Breaking Headlines
Short News...4/30/04
APRIL 30, 2004


Huffy Hires Lazard Freres
APRIL 29, 2004


Nautilus Group Earnings Plunge On Small Revenue Gain
APRIL 29, 2004


Big 5's Net Income Doubles
APRIL 29, 2004


Columbia Q1 Sales Surge 22%; Net Income Hits Record
APRIL 29, 2004


Short news...4/29/04
APRIL 29, 2004


Inventory Liquidations Slash Russell Profits 85%
APRIL 29, 2004


Saucony Has Record Q1 Sales & Earnings
APRIL 28, 2004


GSI Has Record Q1 Revenues; Loss Is Reduced
APRIL 28, 2004


Short news...4/28/04
APRIL 28, 2004